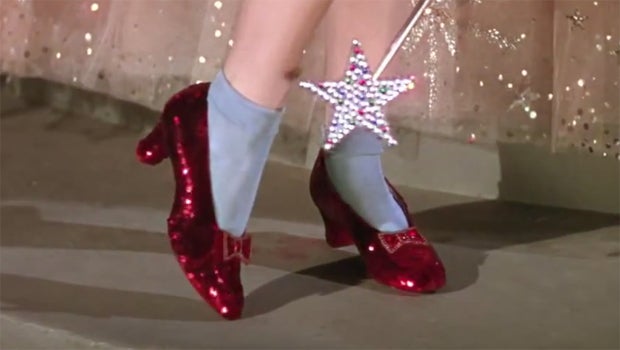 ​Movie memorabilia: The stuff that dreams are made of
YOU MUST REMEMBER THIS ... Even the most beloved of Hollywood treasures run the risk of disappearing, which is where movie-loving collectors of memorabilia come in. Our Cover Story is reported now by Ben Tracy:
Dorothy's sparkling slippers are perhaps the most unforgettable footwear in movie history. Yet the only place they called home after the 1939 film "The Wizard of Oz" wrapped was a dingy storage room on the MGM studio lot.
"The studios looked at this stuff like junk," said James Comisar, one of the foremost collectors of Hollywood's history. His archive fills a massive warehouse in Los Angeles -- his treasures, once considered studio trash.
"They didn't want to store it; they wanted to get it off the books," he said. "So oftentimes they would sell it in the parking lot to the cast and crew members, or they would just throw it away."
In 1970 MGM held the first large studio auction. The legendary movie factory was struggling and selling off its famed backlot to developers.
Everything from tanks to classic cars to "Ben-Hur" chariots went on the auction block. One of several sets of Dorothy's ruby slippers sold for $15,000. That pair was later donated to the Smithsonian.
Hollywood legend Debbie Reynolds bought many of the items at the MGM sale and others over the years. Hers was considered the finest collection ever assembled.
In 2011 she gave Tracy a preview as she got ready to sell it to pay off debt. There was Julie Andrews' dress and guitar from "The Sound of Music"; Audrey Hepburn's costume from "My Fair Lady"; and a more airy article of clothing from "The Seven-Year Itch" -- one of the most iconic dresses in all of movie history.
All told, Reynolds' sale brought in $26 million.
When asked why she began collecting, Reynolds said, "It was mostly emotional. I couldn't believe that they were getting rid of all these iconic pieces that I considered to be historical and should be saved."
Reynolds was ahead of her time. Now, a lot of people want a piece of Hollywood's past.
"The reason I think these items appeal to so many people is that it's a deeply personal emotional connection to a film," said Laura Wooley, one of the top appraisers in Hollywood.
She says new items are being found in basements and boxes every year.
"Most of them are there only because some of the costumers kind of set some things aside," said Wooley. "'Cause they thought, you know, Humphrey Bogart wore this, maybe we shouldn't put it back in the rack under Men's Size 38 jackets for someone else."
"Are the studios approaching this differently today?" asked Tracy. "Is there someone on the set of 'Harry Potter' collecting wands and saying, 'These will be worth money some day'?"
"You bet your life!" said Wooley. "They are very much on top of it these days. I think that many of the studios have absolutely learned their lesson. They see the treasures that got away."
Treasures such as the Maltese Falcon, from the classic 1941 film.
The statue -- "the stuff that dreams are made of" -- was sold in 2013 by a retired Beverly Hills dentist who had owned it since the 1980s.
Bonhams Auction House has partnered with Turner Classic Movies for auctions that have brought in $15 million.
"When we sold the Maltese Falcon a couple of years ago, we noticed that a lot of the people who were really interested in the piece were contemporary art collectors," said Catherine Williamson, director of entertainment memorabilia at Bonhams. "They were looking at it more as a piece of sculpture that also happened to be a relic from this incredible film that they all knew and loved."
In fact, the Falcon's buyer is known more for buying Picassos. Casino mogul Steve Wynn paid more than $4 million to land the Maltese Falcon.
Last year the piano Sam played again and again in "Casablanca" sold for more than $3 million, as did a costume of a certain lion best known for his lack of courage.
The seller of the Cowardly Lion costume from "The Wizard of Oz" was James Comisar. He found the Lion in 1995 when he placed a want ad for Hollywood memorabilia in the newspaper.
One day his phone rang: "I didn't call this guy back for a number of months. And he kept calling me, and I went out to see it, and he had this real lion laying on his conference room table. It was made out of real lion! The costume matched like a fingerprint because it was a real lion hide. Every birthmark and hair swirl and scar lined up perfectly."
But the Lion was in awful shape. So Comisar hired two art conservators, Irena Calinescu and Cara Varnell. It took them two years to bring the cowardly creature back to life.
"It was one of those pieces that was really important to do," said Varnell. "You know, sometimes you work on things, it's like, 'Ah, I've done 20 of these. How many more can be interesting? Eh.' But the Cowardly Lion has a special place in everybody's heart."
"And we grew very fond of him!" laughed Calinescu.
Comisar sold the costume because he needed the money to fund his growing collection of television memorabilia -- such as Adam West's Batman costume; Captain Kirk's from the first season of "Star Trek"; Lucille Ball's polka dot dress; and Pamela Anderson's swimsuit from "Baywatch."
Varnell helped him restore George Reeves' Superman sweater, and Calisnescu worked on the signpost made famous on "MASH." It had been rotting in a garage in Phoenix for 20 years.
Comisar is planning on turning his 10,000-piece collection into a television museum.
"You're like a total TV geek about this," said Tracy.
"I am a foaming fanboy like you wouldn't believe!" Comisar laughed.
Debbie Reynolds also wanted a museum for her collection. She could never find enough support in Hollywood to build it, and her pieces are now scattered across the world.
Some in Hollywood say that's unfortunate given that the Motion Picture Academy is about to turn a corner in Los Angeles into a $300 million museum.
Which brings us back to the ruby slippers. Actor Leonardo DiCaprio and director Steven Spielberg led a group of investors that recently bought another pair of the shoes used in the movie for an undisclosed amount of money. They donated them to the Academy, where they are now, finally, back home.
"Do you think 100 years from now people will still be talking about a pair of ruby slippers?" asked Tracy.
"Absolutely," said Laura Wooley. "I'd be really sad to think of a world where we wouldn't be. 'There's no place like home' -- who's not gonna know what that means in a hundred years? I hope that's not the case, 'cause I think, again, that would be a very sad place to be!"

For more info:
Thanks for reading CBS NEWS.
Create your free account or log in
for more features.