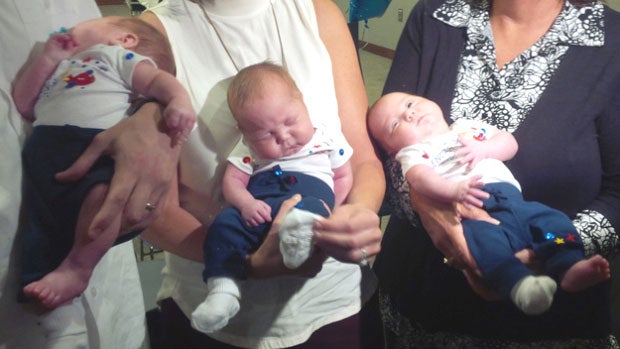 New York woman gives birth to rare identical triplets
MINEOLA, N.Y. -- A Long Island woman is happy -- times three, after giving birth to rare identical triplets at the beginning of July.
Kelli Fenley, 33, gave birth to the identical triplets at Winthrop University Hospital on July 1, reports CBS New York and WCBS Radio.
"It's a miracle," Fenley said. "We always ask, 'Why us? Wow. Why us?' And for some reason or other, it happened, and it's an absolute miracle and it's a blessing to have."
Owen Michael, Noah Charles and Miles John each weighed a little over 2 pounds when they were born reports CBS New York. Doctors report that the boys are very healthy.
Fenley and her husband, Jason, already have a 2-year-old son named Aidan. They are adjusting to their expanded family.
"They eat every three hours, so it's a matter of just feeding, burping, changing, letting them nap, and then we start all over again," Kelli said.
In order to tell the boys apart, the couple paints their toenails different colors.
"Each baby has a different color. One's blue, one's gray, one's green ... one of their toenails is painted that particular color and we like to keep them when we dress them in the same color," Fenley explained.
But Jason told WCBS even if they look alike, their different personalities are already shining through.
"Noah is the most fussy, without a doubt. Miles is, I like to call it, aloof, but Kelli says laid back. And then Owen, he's kind of more outgoing already," he said.
The couple said they are getting help from family.
Thanks for reading CBS NEWS.
Create your free account or log in
for more features.