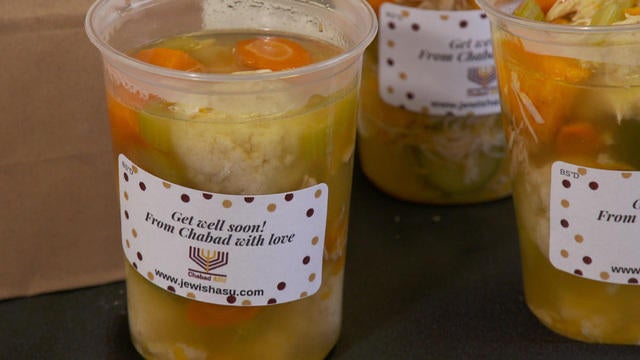 Arizona couple delivers homemade chicken soup to sick college kids
Our series, A More Perfect Union, aims to show that what unites us as Americans is far greater than what divides us. Most of us would say that a bowl of hot soup is especially good when you're not feeling well and chicken soup has been a popular cold remedy for generations. John Blackstone met an Arizona couple who brings the comforts of home to sick college students, one bowl at a time.
---
For more than a decade, Rabbi Shmuel Tiechtel and his wife Chana have brought bowls of homemade chicken soup to Arizona State University students who are feeling under the weather.

"It's warm, it's homey, it makes you feel better. And it's not just the chicken soup, it's the fact that somebody thought to come and give it to you – the fact that someone cares. I think chicken soup shows caring with love," Tiechtel said.

The couple, who runs Chabad House, a Jewish student center near campus, said their soup program started organically but is now growing quickly.
Any ASU student – not just Jewish ones – or their parents can place an order for soup delivery over the phone or through an online portal at no charge. The Tiechtels deliver about 15 bowls every week.
While many Jewish students may be familiar with tradition of matzo ball chicken soup, others are trying it for the first time.

Marlene Widawer, who lives near Los Angeles, ordered a bowl for her daughter Hannah when she got sick last year.

"It's kind of scary when you think about your kid, you can't get to your kid…but just to have this one small thing that Chabad can do for the kids, it gives me as a mom, living all these miles away, some peace of mind," Widawer said.
Marlene's daughter, Hannah, said it "immediately" cured her.
"It's really a beautiful thing that when I'm so far from home, somebody is still here to make me chicken soup and to give it to me like my mom did," she said.

Hannah is now the president of the Chabad board and stores extra chicken soup in her own freezer to deliver to other students in need.
Just seeing the smile on a student's face….it makes it all worth it.
"We hope that they will feel that they received some good and in turn they will pay it forward," Chana Tiechtel said. "The more goodness we can have going on, I mean our world would be so much of a better space. If we can change the world with one bowl at a time, that would be really good."
Thanks for reading CBS NEWS.
Create your free account or log in
for more features.