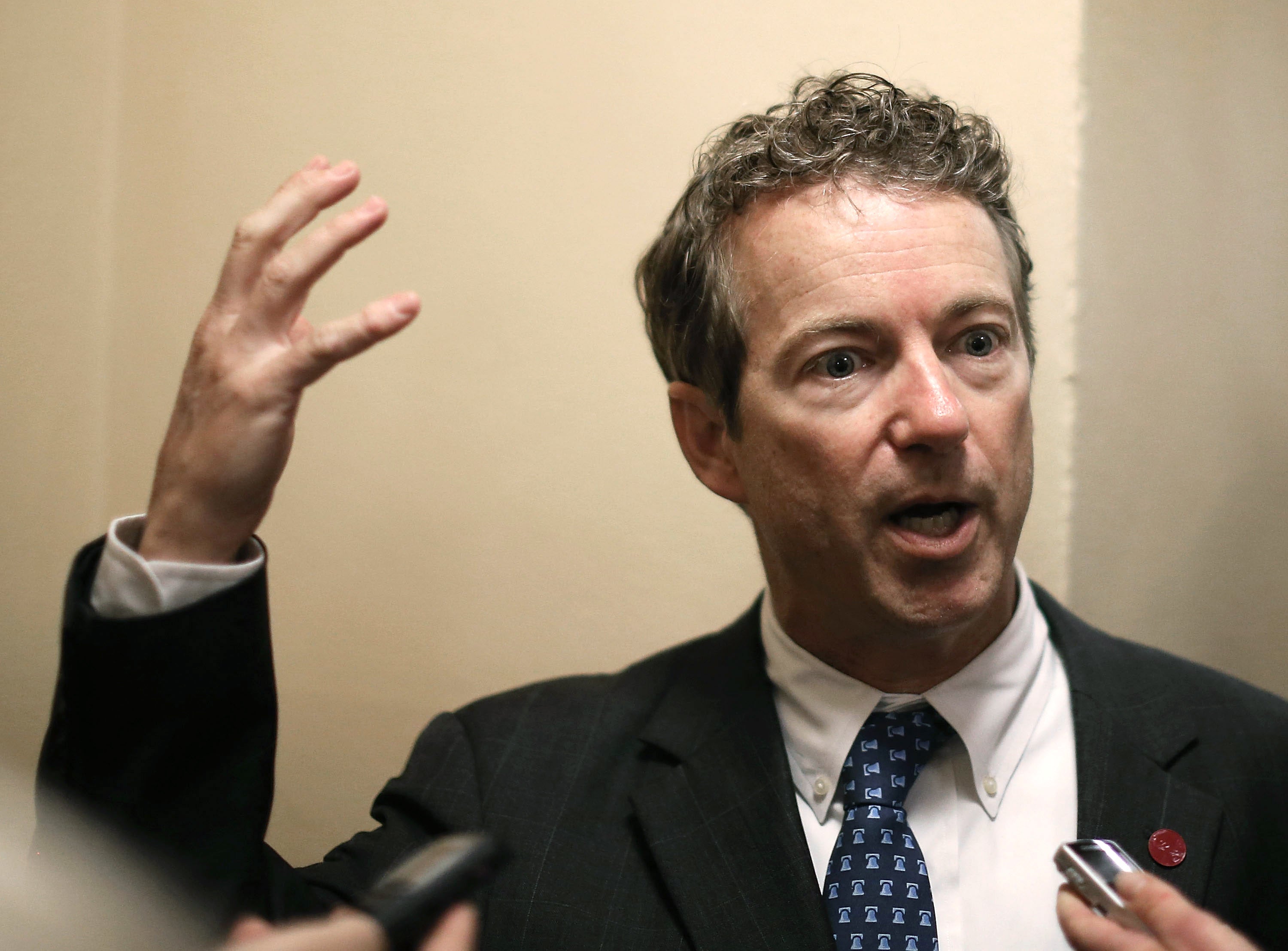 More evidence emerges of plagiarism in Rand Paul's work
Updated at 1:05 p.m.
Reports continue to emerge that Sen. Rand Paul, R-Ky., has a habit of using other authors' work in his own speeches and writings without giving them credit. The latest: an op-ed Paul wrote for The Washington Times on mandatory minimum sentencing borrowed verbatim from an article on the same topic written by Dan Stewart and published in The Week a week before Paul's own piece.
The overlap was originally reported by the website Buzzfeed, which found several copied sentences that outline the growth of the prison system, criticism of mandatory minimum sentencing, and tell the story of a Florida man named John Horner who was subject to a mandatory minimum penalty after selling some prescription painkillers to a friend who turned out to be a police informant.
"We've always known that the audience of The Week consists of smart, busy people who want to feel even smarter, including a lot of people on Capitol Hill," Bill Falk, the editor in chief of The Week, told Buzzfeed. "We'd like to thank Sen. Paul for his endorsement."
In an interview with the New York Times Tuesday, Paul admitted that he had "made mistakes" and said new procedures were being put in place to make footnotes available "if it will make people leave me the hell alone."
"In the thousands of speeches and op-eds Sen. Paul has produced, he has always presented his own ideas, opinions and conclusions. Sen. Paul also relies on a large number of staff and advisers to provide supporting facts and anecdotes - some of which were not clearly sourced or vetted properly," said Paul senior adviser Doug Stafford in a statement to CBSNews.com. "Footnotes presenting supporting facts were not always used. Going forward, footnotes will be available on request. There have also been occasions where quotations or typesetting indentations have been left out through errors in our approval process. From here forward, quoting, footnoting and citing will be more complete. Adherence to a new approval process implemented by Sen. Paul will ensure proper citation and accountability in all collaborative works going forward."
Paul also told the Times that no staffers were being fired over the incidents of plagiarism.
Paul has been under fire for borrowing language since MSNBC's Rachel Maddow accused him of citing Wikipedia descriptions of the movie "Gattaca" during a speech at Liberty University. Since then, the list of language copied from other sources has continued to grow, including the revelation that Paul's response to President Obama's 2013 State of the Union address included a line about increasing unemployment rates taken directly from an Associated Press report.
"It's been a footnote frenzy going on. They have looked at my works including all of my speeches which 98 percent of those are extemporaneous. I can't quote everything perfect. I'm not perfect," Paul said to Fox News host Sean Hannity Monday night, arguing that he was the only person being held to such a high standard because of political motivations.
In an interview with ABC's "This Week" after the allegations came to light, Paul said he didn't think that speeches should be held to the same standard as scientific papers.
"When I wrote scientific papers, I sometimes had statements with eight footnotes for one sentence. Is that what you want me to do for my speeches? If it's required, I'll do it. But I think I'm being unfairly targeted by a bunch of hacks and haters. And I'm just not going to put up with people casting aspersions on my character," Paul said.
He added that "if dueling were legal in Kentucky, if they keep it up, you know, it would be a duel challenge. But I can't do that, because I can't hold office in Kentucky then."
Thanks for reading CBS NEWS.
Create your free account or log in
for more features.