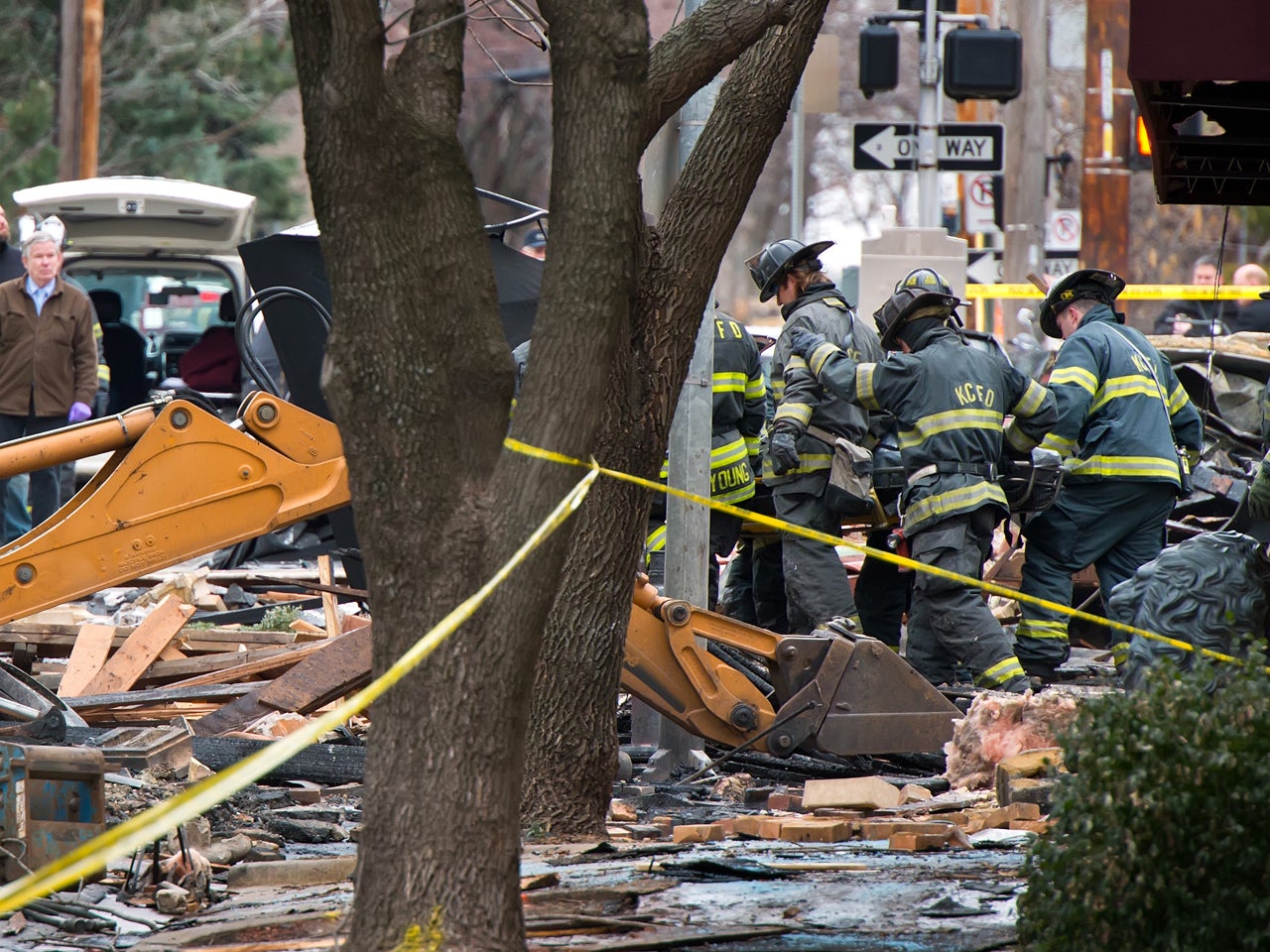 Mom: Waitress the likely K.C. restaurant blast victim
KANSAS CITY, Mo. It was a beloved fixture on Kansas City's culinary scene for more than 27 years. A legendary wine list, well-reviewed food, hospitable staff and intimate setting made JJ's a smart choice for everything from popping a cork on a rare varietal to popping the question.
But a deadly blast Tuesday reduced the Country Club Plaza landmark to scorched rubble and apparently killed an employee, casting an indelible pall on the years of fond memories shared by patrons and staff alike.
The blast occurred after a construction crew apparently struck a natural gas line, touching off an explosion that could be felt for nearly a mile.
Fifteen people were injured, two critically, and the remains of one body were found in the rubble. The victim has not been formally identified, but Genny Cramer said she was confident, based on information from authorities that it was her daughter, Megan Cramer, a server at JJ's, who was killed.
"We talked on the phone the day she died," Genny Cramer said. "She said she was doing well and was getting ready for work. She told us she loved us, and we told her we love her too. It is very sad. We're going to miss her so much."
CBS Kansas City affiliate WCTV says, "A representative of Cramer's family sent out a letter late Wednesday afternoon describing the 46-year-old woman as 'a poet, writer, attorney, social activist, and server -- loved and was beloved by those with whom she met and interacted."'
Jimmy Frantze, JJ's owner, said Wednesday experts were looking into the cause and that he was worried about his workers.
"I've talked to about half my employees," he said. "They are all upset. They lost a co-worker."
Frantze opened JJ's in 1985 and quickly found success.
Oenophiles coveted its knockout wine list, by some estimates 1,800 bottles deep. In 2005, JJ's won its second Grand Award from Wine Spectator magazine, one of only 84 restaurants worldwide to earn the honor that year.
"If you were a wine aficionado, it was a great place to go," said Mary Bunten, 49, who lives about a mile away but walked her dogs past the wreckage Wednesday. "I was looking at the helicopter pictures and looking at water and wine running down the street. I wonder if they are going to rebuild it. It had a lot of character to it."
Locals knew JJ's as a prime after-work stop, though it won broader attention after receiving consistently high ratings from contributors to Zagat's restaurant guides.
Many workers at regulars said Wednesday their thoughts were foremost with the injured and family of the deceased.
A Missouri Gas Energy official said a subcontractor working for a cable company hit a natural gas line with an underground borer more than an hour before Tuesday's explosion. MGE Chief Operating Officer Rob Hack said a Heartland Midwest worker called 911 at 4:54 p.m. Tuesday to report hitting a gas line near the restaurant.
MGE workers arrived at the scene shortly after, and Hack said those who had remained inside the restaurant before the blast were urged to get out. Evidence suggests the ignition point was inside JJ's, Fire Chief Paul Berardi said, but he didn't say what might have sparked the gas.
The explosion shattered glass in nearby buildings, and the resulting inferno sent an ominous smoke plume high above the outdoor shopping district.
Brad Russell, a lawyer for Heartland Midwest, released a statement late Wednesday expressing sympathy for the victims and saying the company is cooperating with authorities. "We are reserving any public comment until the completion of a thorough investigation," the statement concluded.
Until Tuesday night's explosion, JJ's had managed to survive in the shadow of a large construction project that has been under way across the narrow, one-way street for seven years. The work had complicated access to the street-corner restaurant, and a server needed hospital treatment in 2006 after she was struck by a rock sent flying by blasting for excavation of the construction site.
The construction project languished and eventually stalled out in 2008.
"We go in there all the time," said Amber Blahut, 29, who lives nearby and JJ's was a favorite spot to meet up with friends. "It's one of those places that there's been so much construction for so long that for a restaurant like that to maintain such a following."
It's uncertain whether Frantze will rebuild. The development that stalled out has been restarted and is expected to open later this year with a large law firm as a chief tenant, theoretically providing a new JJ's with a well-heeled clientele.
But on Wednesday, Frantze was noncommittal.
"We're dealing with the loss of a business so I'm not sure," he said.
Thanks for reading CBS NEWS.
Create your free account or log in
for more features.