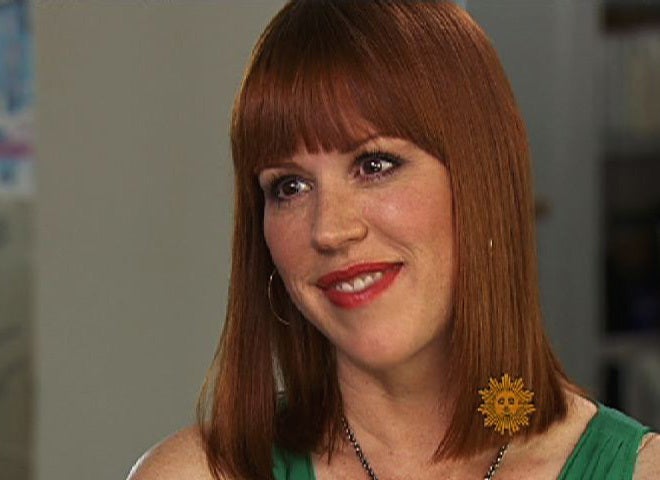 Molly Ringwald on life after teen angst
Back then, Molly Ringwald Now she is a grown-up woman, playing all sorts of roles both on TV and in life. With Mo Rocca now we'll pay her a visit:
"The Secret Life of the American Teenager" is just one of TV's melodramas exploring adolescent angst.
But the most famous teenager on that show is the 43-year-old woman who plays mom: Molly Ringwald.
"How is this possible, you know?" she chuckled. "Everyone else can turn 40. I'm Molly Ringwald. I'm so associated with being young and being with a teenager."
"You're not allowed to get old," said Rocca.
"No, no," she replied.
In the 1980s Molly Ringwald was "the" teenager, starring in a trilogy of coming-of-age films ...
She said it was "pretty odd" going through the same things teenagers go through while playing a teen. "And it was also, you know, a lot to go through! I mean, those movies really propelled me into pretty intense stardom at a pretty young age."
Today, Ringwald is a wife, mother, and author of a book - part advice manual for other 40-somethings, part memoir.
"The book is very personal in parts," Rocca remarked, "but on only one page do you talk about being a celebrity."
"Oh, really? What page?" Ringwald asked.
Page 90."
"Wow!" she laughed. "That's interesting. Hmmm."
Celebrity, it seems, was never part of the plan - her own or her family's.
"I didn't have parents who were, you know, racing to get a reality television show, you know? Or looking to benefit in some way from their daughter's fame."
She was just a 6-year-old kid who liked singing when she began performing with her father, jazz pianist Bob Ringwald, who is blind.
She he used to tell people, "Someday I'll be known as Molly Ringwald's father."
"I think he's an amazing pianist, but when I think of my dad I think of him as an amazing father, first and foremost," Molly said. "I like to say, jazz music is kind of like my musical equivalent of comfort food. You know, it's always where I go back to when I just want to feel sort of grounded."
Molly would often read out loud to her father, and soon started performing for a much larger audience on TV.
It wasn't long before writer/director John Hughes turned the kid into a star.
"What do you think John Hughes saw in you?" Rocca asked.
"A kindred spirit, I think," she replied. He also, Ringwald said, "liked my face."
Before they even met, Ringwald was his muse. Hughes had asked his agent for photos of promising young actresses ...
"And my headshot was among this giant stack that he received," she recalled. "And he put it up over his desk and wrote 'Sixteen Candles,' basically over a weekend."
Hughes had an intense connection to his own adolescence.
"He remembered his high school locker combination, which I always thought was really incredible," Ringwald said. "I don't remember my locker combination!"
Hollywood's take on high school had never seemed so real, thanks to the girl at the center of it all.
In "Sixteen Candles," as the girl whose family forgets her birthday ...
In "The Breakfast Club," as the uptight preppy serving weekend detention ...
And in "Pretty in Pink," as the working class daughter who makes her own prom dress.
"I kept everything from 'Pretty in Pink,' except for the dress because I disliked it so intensely," she said. "And of course that is the thing that I would love to have now."
"It's not so bad," Rocca said.
"Well ... it is kind of bad!" she laughed. It's kind of terrible. But it's so iconic now."
On screen Ringwald could be funny, pining, insecure - in other words, an ordinary teenager.
The New Yorker's film critic was an early fan ... Pauline Kael wrote that Ringwald had a "charismatic normality."
"That always seemed like a backhanded compliment to me," Ringwald said. "When I first read it when I was a teenager, 'cause you don't want to be considered 'normal' when you're a teenager. You want to be extraordinary."
The transition to adult roles was difficult for Ringwald. She turned down the leads in "Ghost" and "Pretty Woman," and her career seemed to go into freefall.
But her life did not.
"I should have been a tragedy. I should have just exploded, you know, or imploded or something. Or, you know, gotten involved in drugs or done something terrible."
Yes, the usual Hollywood script has the former teen star melting down at this point.
But Ringwald was too, well, normal for that.
"I just needed to leave Hollywood," she said. "And I was living a life that I didn't really relate to."
So she moved to Paris, studied French, and dyed her famous red hair - blond.
"You sort of performed an intervention on yourself," Rocca said.
"In a way, yeah," she said. "I thought, this is going to be my college education. I just felt like that's where I needed to be at that time."
When she returned to the U.S., she settled in New York, acting mostly on stage.
Then over e-mail she was introduced by friends to Panio Giannopolous.
"I thought he was older than me. I thought he was kind of swarthy and short. For some reason I thought he was gonna be short," she said.
"Yes. Yeah, she thought, 'Short, hairy, giant eyebrows, dark hair,' yeah, it was a pretty flattering image she had in mind of me, yeah!" Panio laughed.
Her most important project now was a personal one.
"I was very focused on having kids. It was sort of one of the sticking points in our relationship in the beginning," Ringwald said.
"And how did this focus manifest itself? Rocca asked.
"By me asking him when he was going to be ready to have kids, pretty much on the second date," Ringwald replied.
The couple married - and have three children.
These days Ringwald is finding comfort once again in singing - a normal pleasure in the extraordinary life of America's former favorite teen.
For more info:
Thanks for reading CBS NEWS.
Create your free account or log in
for more features.