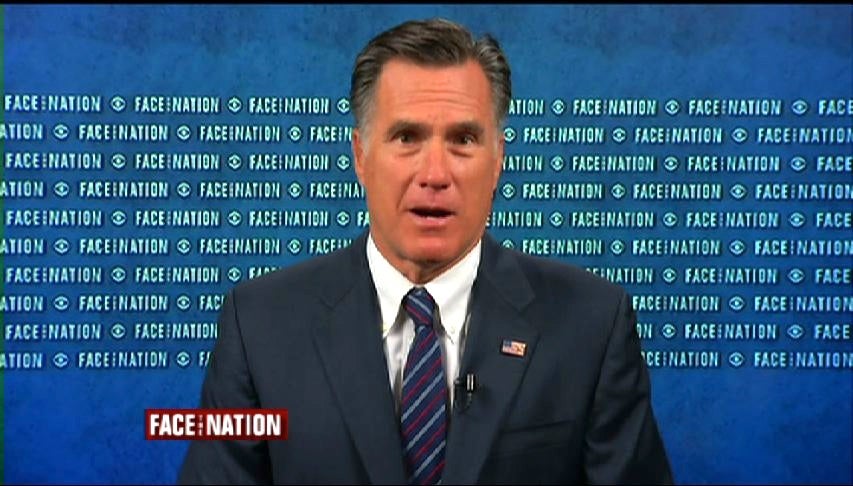 Mitt Romney slams Obama for "naivete" in Russian relations
Mitt Romney, the former Massachusetts governor and 2012 GOP nominee, said on "Face the Nation" Sunday that President Obama's has displayed poor judgment, ineffective leadership, and a mishandling of the civil war in Syria that spurred Russian President Vladimir Putin to annex the Crimean Peninsula.
"Well, there's no question but that the president's naivete with regards to Russia, and his faulty judgment about Russia's intentions and objectives, has led to a number of foreign policy challenges that we face. And unfortunately, not having anticipated Russia's intentions, the president wasn't able to shape the kinds of events that may have been able to prevent the kinds of circumstances that you're seeing in the Ukraine, as well as the things that you're seeing in Syria," Romney said. "We really need to understand that Russia has very different interests than ours. This is not fantasyland, this is reality where they are a geopolitical adversary. They're not our enemy, but they are certainly an adversary on the world stage."
Many of Romney's supporters say the crisis in Ukraine has vindicated the former presidential candidate, who sparred with Mr. Obama during a presidential debate over Russia. The president mocked Romney for calling Russia the U.S.'s number one geopolitical threat because the Cold War was long over.
Romney has returned in recent weeks to highlight his criticism of Obama's Russian reset policy and slam him for mishandling the entire crisis.
"I think effective leaders typically are able to see the future to a certain degree, and then try to take actions to shape it in some way. And that's of course what this president has failed to do, and his Secretary of State Hillary Clinton as well," Romney said on "Face the Nation." "Had we, from the very beginning of the demonstrations in Ukraine, had we worked with our allies and said, 'Look, let's talk about the kinds of severe sanctions we would put in place if Russia were to decide to move,' and had we then communicated that to Russia beforehand...had we communicated those things, there's always the potential that we could have kept them from invading a country and annexing it into their own."
Romney also suggested that more aggressive action in Syria could have deterred a Russian invasion.
But Sen. Dick Durbin, D-Ill., in a separate interview on "Face the Nation" history showed Putin has always been undeterred by other U.S. military excursions abroad.
"In the midst of our wars in Iraq and Afghanistan, Putin invaded the Republic of Georgia," Durbin said. "Let's call it for what it is. Here is Vladimir Putin with a failing Soviet franchise. And when he can't win the hearts and minds of his neighboring nations, he uses energy extortion, masked gunmen, and barbed wire. Now, he is a bully, and we've got to call him for what he is. But this notion that some sanction is going to stop a former colonel in the K.G.B. from his ambitions of a Russian empire is naive."
Durbin also took issue with Romney's charge that there isn't a single country that respects the United States more today than it did when Mr. Obama took office in 2009.
"Governor Romney's suffering from political amnesia. Does he remember the reaction of the rest of the world to our invasion of Iraq? The fact is that many of our stalwart allies of the past thought it was a terrible decision. What President Obama has done is restore a working relationship," he said.
The president has already imposed sanctions on several Russian and Ukrainian officials and warned of more penalties to come that could target entire Russian industries, but senators from both parties say that more will be needed to resolve the conflict in the region.
"The fact of matter is unilateral sanctions by the United States are good, but not sufficient," Durbin said. When more countries get involved, Durbin said, "it has a potential of greater impact on Russia and discouraging Putin."
"If Vladimir Putin is conscious and aware of his standing in the world economy, he has to understand that this aggression in Crimea is not helping the reputation of Russia as a modern nation where you can do business. He's back to the old Soviet ways, and a lot of folks are going to hold back and pull back as a result of it. I think he may have second thoughts," Durbin added.
Sen. Kelly Ayotte, R-N.H., who also appeared on "Face the Nation," from Ukraine, where she was traveling for meetings Sunday, urged the U.S. to move ahead with sanctions on Russia's financial and energy sectors.
"The Russian economy is a one-trick pony. They're totally focused on natural gas and oil. And so if we were to impose greater sanctions on economic sectors, I think we could have a significant impact on Putin and then he would get the message," she said.
Ayotte suggested that further help for the Ukrainian military in the form of technical and communications assistance, and the possible supply of small arms, could help bolster their defenses against Russian troop buildup on Ukraine's eastern border.
The Senate is set to take up a measure when it returns Monday that would provide loan guarantees to Ukraine as well as approve reforms to the International Monetary Fund (IMF) being sought by the White House. But the House is moving ahead with legislation that does not contain the reforms, meaning it could be longer still before any legislation on the Ukraine crisis reaches the president's desk.
"I think it's awful, and Senator [John] McCain and I agree: We need a bipartisan stance by the Senate and by the House as quickly as possible this week in support of Ukraine, in support of sanctions against Russia, in support of a loan to Ukraine so that they can weather this storm as their economy gets back on its feet," Durbin said. "Let's not have political intrigue on Capitol Hill undermining our support and our declaration that we stand behind Ukraine."
Thanks for reading CBS NEWS.
Create your free account or log in
for more features.