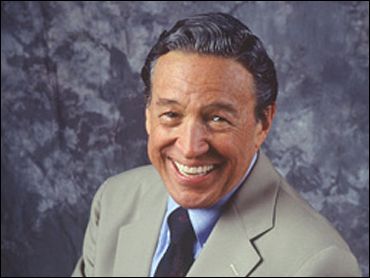 Mike Wallace Retires From '60 Minutes'
Saying that as his 88th birthday approaches and the prospect of traveling around the world to pursue stories is not as appealing as it used to be, Mike Wallace announced his retirement from 60 Minutes on Tuesday.
Wallace will remain at CBS News as Correspondent Emeritus.
Wallace, who has been with the program since its inception in 1968, issued the following statement:
"I've often replied, when asked, 'I'll retire when my toes turn up.' Well, they're just beginning to curl a trifle, which means that, as I approach my 88th birthday, it's become apparent to me that my eyes and ears, among other appurtenances, aren't quite what they used to be. And the prospect of long flights to wherever in search of whatever are not quite as appealing."
"But CBS is not pushing me. I'll be in a comfortable office on the same floor - just around the corner from where I've holed up for the past 43 years - available, when asked, for whatever chore CBS News, 60 Minutes, the CBS Evening News have in mind for me.
"Plus, longer vacations, of course."
Wallace shared with CBS Evening News anchor Bob Schieffer what he thought of the job.
"To go around the world, to talk to almost anybody you want to talk to, to have enough time on the air, so that you could really tell a full story," Wallace said. "What a voyage of discovery it was."
CBS News President Sean McManus released the following statement:
"Mike Wallace is one of a few giants of broadcast journalism for whom a list of endless superlatives can't and don't do justice. From his genre-creating early days in radio to his standard-setting work on 60 Minutes for the past 38 years, and from datelines all over the world, Mike has completely embodied what good, tough, fair journalism should be over the course of his 60-plus years in the business. And he's broken more than his share of big stories along the way."
"I'm very pleased that he'll remain at CBS News as Correspondent Emeritus. There is no finer journalist from whom everyone in the news business can learn."
And 60 Minutes Executive Producer Jeff Fager issued this statement:
"Mike Wallace has been the heart and soul of this broadcast since he and Don started it almost four decades ago. Millions and millions of Americans have tuned in to 60 Minutes on Sunday nights over all those years to see him in action and to find out what questions he would be asking each week."
"I'm glad he'll be around to do an occasional interview. He's had such a powerful impact on all of us who work here, on how we conduct interviews and how we report stories, that there will always be a piece of Mike in everything we do."
---
Wallace's experience as a newsman dates back to the 1940s, when he was a radio newswriter and broadcaster for the Chicago Sun. After serving as a naval communications officer during World War II, he became a news reporter for radio station WMAQ Chicago. He first joined CBS in 1951, left the network in 1955 and returned in 1963, when he was named a CBS News correspondent. His numerous television credits include "Night Beat" (1956-57) and "The Mike Wallace Interview" (1957-60). From 1959 to 1961, he anchored the Peabody Award-winning public affairs series "Biography," which focused on a wide range of historical figures including Mao Zedong, Joseph Stalin, Helen Keller, Mark Twain, Babe Ruth and Clarence Darrow.
Wallace's no-holds-barred interviewing technique and enterprising reportage are well known, and his numerous and timely interviews read like a who's who of newsmakers: George Bush, Ronald and Nancy Reagan, Jimmy and Rosalynn Carter, Gerald Ford, Richard Nixon, Lyndon B. Johnson, John F. Kennedy, Deng Xiaoping, Manuel Noriega, the Ayatollah Khomeini, Menachem Begin, Anwar el-Sadat, Yasir Arafat, the Shah of Iran, King Hussein, Hafez Assad, Muammar Qaddafi, Kurt Waldheim, H. R. Haldeman, Vladimir Horowitz, Itzhak Perlman, Johnny Carson, Mikhail Baryshnikov and Leonard Bernstein, among many others.
Wallace has written several books, including "Mike Wallace Asks," a compilation of interviews from "Night Beat" and "The Mike Wallace Interview," published in 1958, and more recently, "Between You And Me," a look back at some of the more memorable interviews he has conducted over the course of his illustrious career. He also wrote a memoir, "Close Encounter," with Gary Paul Gates, which was published in 1984.
Wallace reported from Vietnam in 1962 and, after returning to CBS, covered the war several times between 1967 and 1971. In September 1990, CBS News presented a one-hour special, "Mike Wallace Then and Now," which recalled Wallace's 40 years of reporting and interviewing.
In September 2003, he received a Lifetime Achievement Emmy, marking his 20th Emmy. In May 2002, he won the Fred Friendly First Amendment Award given by Quinnipiac College for his journalistic contributions to free speech. Wallace won the Robert F. Kennedy Journalism Award grand prize and television first prize in 1996 for the "CBS Reports" broadcast "In the Killing Fields of America" (January 1995), a three-hour report he co-anchored on violence in America.
His other professional honors include 19 Emmy Awards, three Alfred I. duPont-Columbia University Awards, three George Foster Peabody Awards, a Robert E. Sherwood Award, a Distinguished Achievement Award from the University of Southern California School of Journalism and a Robert F. Kennedy Journalism Award in the international broadcast category.
In June 1991, he was inducted into the Television Academy Hall of Fame, and in September 1991, he was honored by the Radio/Television News Directors Association (RTNDA) with the Paul White Award. In 1993, he was named Broadcaster of the Year by the International Radio and Television Society.
Wallace graduated from the University of Michigan in 1939 with a B.A. degree. He has a son, Chris, and a daughter, Pauline, and lives in New York with his wife, Mary Yates.

Thanks for reading CBS NEWS.
Create your free account or log in
for more features.