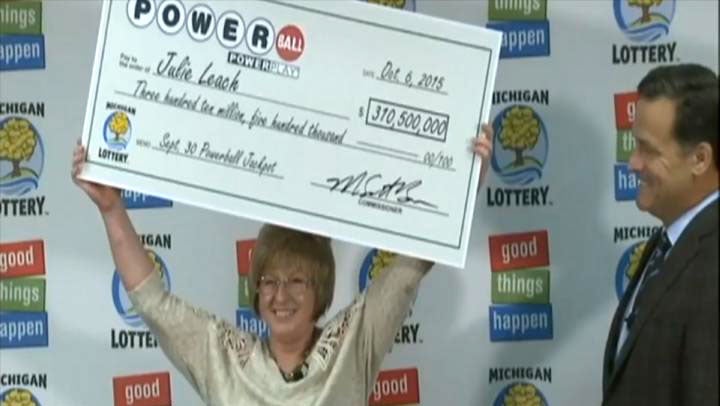 $310M Powerball jackpot winner: Take this job and ...
LANSING, Mich. -- A supervisor at a Michigan fiberglass factory who won a $310.5 million Powerball jackpot said Tuesday that she immediately quit her "nasty, dirty" job and will build houses for her family.
Julie Leach of Three Rivers said she was having a "really bad night" working the third shift when she took her lunch break at McDonald's. She checked the five numbers in the drive-thru line.
"I keep going to sleep and waking up with the same beautiful dream," the 50-year-old told reporters during a news conference at the Michigan Lottery headquarters. Her partner of 36 years, Vaughn Avery, and some of their children and grandchildren looked on.
"I'm going to take care of my kids," Leach said. "I don't want them to have to work like I had to work and deal with the kinds of things I had to deal with over life. I just want to make it a good life for them, take care of them."
She took a one-time lump payment of $197.4 million, about $140 million after taxes.
Leach played in a lottery pool with her co-workers. But she stopped to buy $20 worth of extra tickets at the Three Rivers West Shell gas station on the way to work Wednesday night. At first, she did not believe she had won, returning to the Aquatic Bathware plant to ask co-workers to verify it. Then she went home and woke up Avery.
"He wanted to go to work. I said, 'Are you crazy? We don't have to work anymore,'" Leach said.
"We've always talked around campfires and stuff, that if we ever won the lottery we wanted to buy a bunch of land and build all of our kids a home and basically have our own little community."
Thanks for reading CBS NEWS.
Create your free account or log in
for more features.