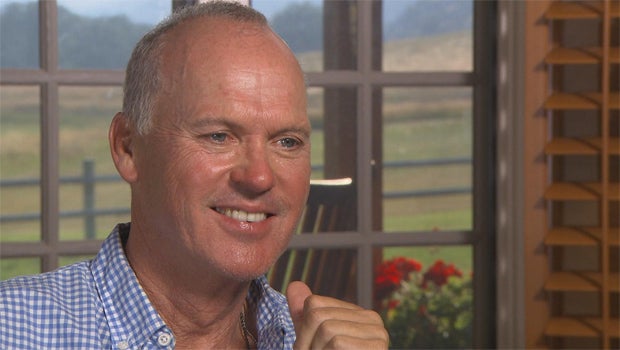 ​Michael Keaton takes wing in "Birdman"
Michael Keaton was a stay-at-home dad in the 1983 movie "Mr. Mom." At 63, he now has a new movie coming out, and an interesting story to tell to Lee Cowan, in this Sunday Profile:
"When I said we were going to come chat," said Cowan, "these pretty hardcore fans of yours said, 'Oh my gosh, where's he been? We want to see more of him!' Do you get that a lot?"
"And then when you were driving out here you went, 'Yeah, where HAS he been?" laughed Keaton.
WHERE actor Michael Keaton has been IS remote. It's close to nothing, except perhaps, heaven. For the past 25 years, he has made Montana his home -- Big Sky country, with big thunderstorms to match.
It's his "home on the range" where the deer and the antelope really DO play.
"Sure is worlds away from Hollywood, though, isn't it?" said Cowan. "Is that kind of the point?"
"Yeah, but I'm not one of those you know, 'I hate Hollywood guys.' I don't know how NOT to live like this."
So this is where he's been geographically. But our question was really more about where Michael Keaton's been professionally.
After all, it's been a long time since he played the bad-mannered zombie in "Beetlejuice." And there have been countless super-hero films since Keaton first donned that black cape.
"Where I've been is just, you know, being a person living life," he said. "It's not really very complicated. I mean, certainly I didn't drop out. There were a lot of people who weren't knockin' on my door, but there were a some knocking on my door and I was going, 'That's not really what I wanna do.'"
"Did you ever lose interest in it?"
"Yeah, yeah I got tired, I got bored of hearing myself," Keaton said.
But his latest role, in the film "Birdman," has him more engaged than ever -- and has some people even talking Oscar.
Keaton plays Riggan Thomson, an actor who became a household name for playing The Birdman, a comic book superhero. But the role haunts the rest of his career. We find him as he's trying to mount a comeback on Broadway, to prove to his fans that he's more than just an actor in a crazy costume.
"So, it's not autobiographical, but it's pretty darn close; it's weird," said Cowan.
"Oh yeah! Of course, yeah, it's amazing."
The part wasn't written for or about Keaton; it's an odd coincidence.
"I probably relate less to this character than anybody I've ever done, that's the irony," Keaton said. "I'm not, I've never been that."
"You don't have that voice in your head telling you, 'You need to be...'"
"I've got other voices in my head!" he laughed.
He is, truth be told, Michael Douglas (that's Keaton's real name), born the youngest of seven in Pittsburgh in 1951.
"I was pretty funny," Keaton said. "And I must have liked the attention. It's weird, 'cause I actually don't like attention. But I must have liked the attention."
His first exposure to show business came in the neighborhood - "Mister Rogers' Neighborhood," to be exact, as a prop man at PBS station WQED. But Fred Rogers was neighborly enough to give a struggling actor a chance in front of the camera, too.
Michael Douglas only changed his name to Michael Keaton because there were two other Michael Douglases that were just a little more famous at the time.
It wasn't his name that got him noticed, but his frenetic energy, in the film "Night Shift." He had a certain charm that made him perfect for playing likeable wise-guys.
And when "Mr. Mom" came around, casting Keaton seemed a no-brainer. He was witty, dry, and especially funny.
But Keaton could also do drama, whether as a coke addict in "Clean and Sober," or a sociopath in "Pacific Heights."
"I like to let the reins out," he said. "I like to have the bit out of my mouth, you know? I like to run, 'cause it feels good. So you know, I'm fairly fertile."
Somewhere in that fertile mind of his, he found what director Tim Burton was looking for, for the character of Beetlejuice.
"Frankly, I don't, to this day I couldn't tell you what his idea was exactly," Keaton said. "I developed a walk. And I created a kind of talk. And I asked for fake teeth. That was free rein. 'Cause you can never say, 'My character wouldn't do that.'"
But when it came time to play the Caped Crusader, even some of his fans balked. The good-natured funny man, they feared, would never be dark enough to play the Bat.
Keaton said, "It never occurred to me it would be an issue one way or another. I mean, to this day I think it's funny. Now I dig it. Now I love it. I really think it's awesome."
"But there were, like, petitions, right? People were writing to Warner Brothers and saying, 'Oh no, you can't have Mr. Mom play Batman'?"

"Yeah! Villagers with torches, coming to get me!"
"Batman" went on to be one of the biggest-grossing films of the decade. "Batman Returns" was, too.
But when it came time for "Batman III," Keaton bowed out, even after being offered a reported $15 million to do it.
"What was it about 'III' that you just didn't like?" asked Cowan.
"Sucked!"
"Yeah? I guess that pretty much sums it up."
"Yeah, it just was awful!"
Keaton never really disappeared. He's pretty much been as busy as he's wanted to be. He couldn't resist doing the voice of Barbie's Ken in "Toy Story III." But nothing, not even "Batman," has been as demanding as "Birdman."
The film is shot in long, unbroken takes; it plays more like a theater production than a movie.
"It was the most intense thing I'll probably ever do," he said. "I can't imagine doing anything this hard."
Turns out Michael Keaton hasn't been hiding from anything out in Montana -- perhaps he's just been waiting for a role as fascinating as his view.
"I never use the word lucky. I don't believe in luck. You make life or you take opportunities and you turn that into something, but good fortune, man, unbelievable."

For more info:
Thanks for reading CBS NEWS.
Create your free account or log in
for more features.