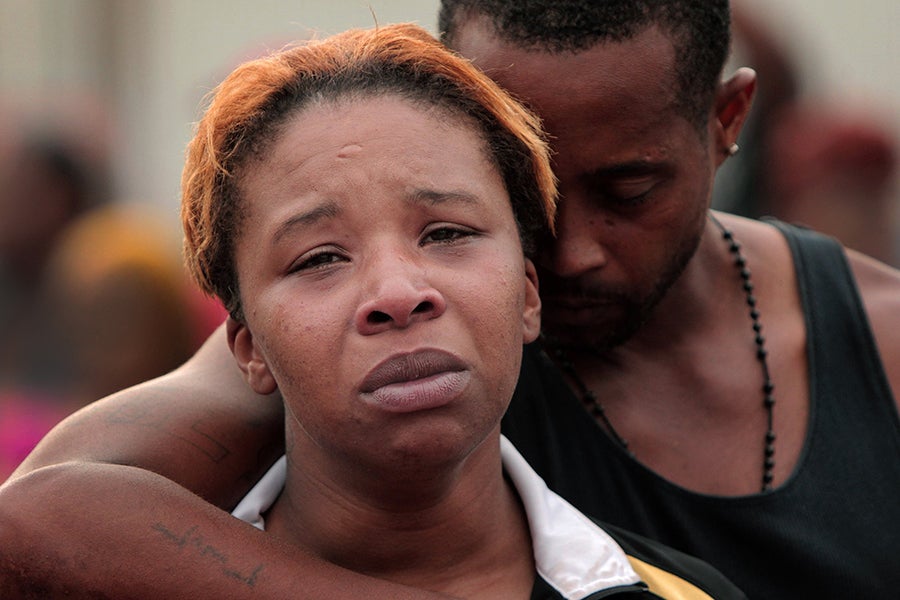 Michael Brown's mom's book recalls his death, life
ST. LOUIS -- Lezley McSpadden was taking a cigarette break from her grocery store job when a friend called to say someone had been shot in the street near Canfield Green Apartments in Ferguson.
Within minutes, her cellphone rang again. It was a family member declaring the victim was McSpadden's 18-year-old son, Michael Brown. The shooter was a police officer.
The next moments that sultry August day grew more and more intense as McSpadden's co-worker drove her to the scene in the St. Louis suburb where she quickly spotted clothing that matched her son's: a yellow sock on a leg the sheet had not covered and a red St. Louis Cardinals cap on the ground.
McSpadden recounts what happened that fateful day two summers ago in her autobiography, "Tell the Truth & Shame the Devil," set to be released Tuesday and co-written by Lyah Beth LeFlore.
The book chronicles McSpadden's life growing up in tough St. Louis neighborhoods, her experiences raising Brown, the devastation his shooting brought, and her push to honor his memory. Brown's death became a catalyst in the national Black Lives Matter movement.
McSpadden, 36, said in an interview with The Associated Press that she wants readers to know "what a sweet person he was and how gentle he was and that he always tried to do the right thing."
"I also want people to know that before this happened we were just regular people, ordinary people that sent their kids to school, went to work, and fried fish on Fridays and barbecued on Saturday," she said.
Michael Brown and a friend were walking on Aug. 9, 2014, when Ferguson police officer Darren Wilson told them to get out of the street. Wilson realized Brown fit the description of a suspect in a store theft that occurred moments earlier. Heated words turned into a scuffle between Brown and Wilson, who was still inside his squad car.
The two separated, but Wilson has said the 6-foot-5, nearly 300-pound Brown moved menacingly toward him once he was out of the police vehicle and that he shot him in self-defense.
The shooting of a young, unarmed black man by a white officer angered people in the neighborhood, and the crowd at the scene became more infuriated when Brown's body lay in the street for four hours in the summer heat. The initial unrest in the Missouri town lasted for days and turned violent at times.
More protests gripped Ferguson after a St. Louis County grand jury declined to charge Wilson. The U.S. Justice Department also cleared him. He resigned in November 2014.
The family's wrongful death lawsuit is still making its way through court. McSpadden said she had hoped Wilson would apologize, but he never did.
McSpadden has spoken before a United Nations committee at a human rights conference in Switzerland, appeared at presidential campaign events for Hillary Clinton and been featured in a Beyonce video with Trayvon Martin's mother and others holding photos of their slain loved ones.
"I just don't look at myself as being an activist or any of those things people try to label me as," McSpadden said. "I've always just wanted to be treated fair and equal, and that's what I'm fighting for, for my son right now."
She was 16 when she gave birth to Brown. She said the happy, chunky child with a winning smile rarely got into trouble.
In her book, McSpadden recalls her fourth-grader son being invited to read his Martin Luther King Jr. essay to the school board. Besides writing, he also liked to figure out how things were put together. Once she found a high school-aged Michael taking a computer apart and reassembling it.
The summer of 2014, Brown was staying with McSpadden's mother at Canfield Green Apartments. When McSpadden got the call about a shooting near the complex, she became worried. She said the second call left her gasping for air.
"Nette Pooh, the police just shot Mike Mike," McSpadden recalled her sister saying, using both her and her son's nicknames.
McSpadden ran inside the grocery store where she worked, screaming: "I need to get to my son! The police just shot my son!"
The co-worker who drove her from the suburb of Clayton to Ferguson weaved through a maze of police cars and officers as they reached the scene.
"I caught a glimpse of a blood-covered white sheet laying over the form of a motionless body stretched out on the ground and screamed, throwing my arms into the air, "Naw, naw, naw, that ain't my child! It can't be!" McSpadden writes in her book.
She demanded to know which officer shot her son.
"I wasn't in denial. I was in shock. I was in panic mode," McSpadden told the AP. "I needed to know and I wanted to see for my own self, and they wouldn't let me see and they wouldn't tell me anything."
She said she and one officer argued, trading profanities.
"He put his middle finger up and he put it in my face and he took an assault rifle and he posed with it," McSpadden said, her anger and sadness still apparent.
Thanks for reading CBS NEWS.
Create your free account or log in
for more features.