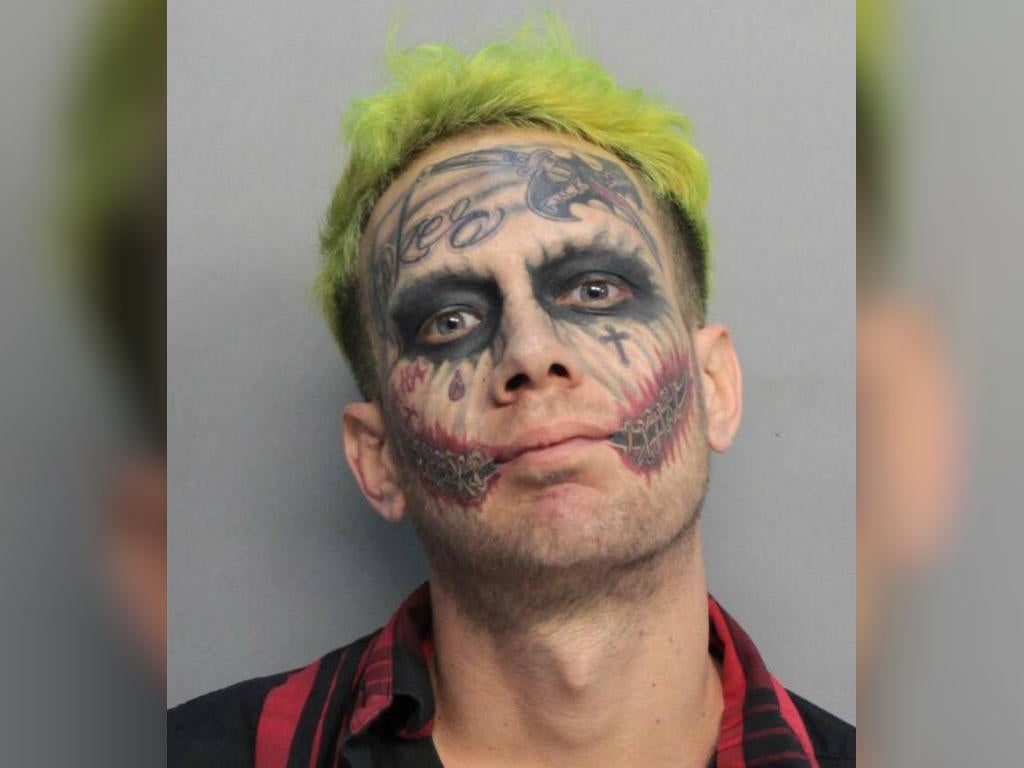 Tattooed "Joker" lookalike arrested after pointing gun at cars, Miami police say
FORT LAUDERDALE, Fla. -- A distinctive looking man was picked up by police Tuesday in southwest Miami-Dade and is facing a weapons charge, CBS Miami reports.
Just after 6:30 p.m., police received reports describing a man with facial tattoos and green hair — bearing a striking resemblance to the Joker in the "Batman" movies — after allegedly pointing a gun at passing cars on a local street.
When an officer arrived he spotted 29-year-old Lawrence Sullivan, who fit the description, walking out the front gates of a nearby apartment complex.
The officer questioned Sullivan while conducting a pat-down. He reportedly found a Smith & Wesson .380 in one of Sullivan's pockets and placed him under arrest.
Sullivan was charged with carrying a concealed weapon.
In court, Sullivan was given an assistant public defender, but he declined the state's services.
"I don't even feel like signing the paperwork right now. I am not in the mood for that," he said.
The judge found probable cause for the charges.
Sullivan's mother and two sisters are speaking out because they want to defend him. They said he's never done something like this before and his mother does not believe he would have threatened anyone with a gun.
"I feel terrible and this is something where he should have known better," his sister Monica Sullivan said.
"I'm his mother, and I don't believe he would have done something like that," Roxanna Sullivan said.
Sullivan, whose distinctive look is reminiscent of Jared Leto's Joker in "Suicide Squad," mixes and matches his representations of various Jokers on his face.
On each of his cheeks, he has a tattoo that looks as if his mouth has been split ear to ear and then stitched back together. The tattoo is similar to the imagery in the "The Dark Knight," where the late Heath Ledger portrayed the Joker.
The word "Joker" is scrawled on the right side of Sullivan's forehead while the left side has a tattoo of The Batman logo with the words "F**K Batman" on the wings and dagger piercing the bat's heart.
The comic book Joker's signature "Ha, Ha, Ha" is tattooed below his right eye.
And if that was not enough, there's a "666" and an upside down cross tattooed just in front of his right ear.
His family said he recently put tattoos on his face as an expression of his artistic side.
"He's a good kid. You know. He has a lot of tattoos. But he's a nice kid with some problems. He is mentally disabled and is handicapped," his mother said.
Records show he was arrested four years ago for a marijuana charge.
In profanity-laced posts on YouTube, he talks violently and a weapon is visible. Sullivan's two sisters and mother said he's an entertainer, who created the posts to have fun and would not harm anyone.
"He's a very goodhearted person. He doesn't look for any problems," Monica Sullivan said. "They misjudged him by the way he looks. It's not right."
They said he actually has a passion for helping homeless people and helping his mother, who has multiple sclerosis.
His bond was set at $5,000. Sullivan's sister told CBS Miami she's going to post that bond.
Thanks for reading CBS NEWS.
Create your free account or log in
for more features.