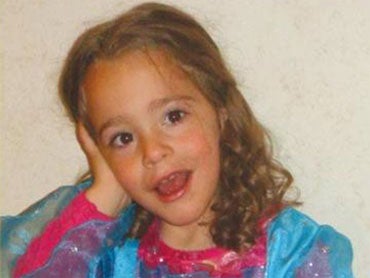 Mexico Shocked by Discovery of Girl's Body
From the billboards lining Mexico City's choked highways, the wisp of a girl is larger than life. One hand holds her face in a shy pose; the other lightly brushes over a pink-and-blue princess dress. Beneath, black block letters make a desperate plea: "Help us find her."
In a country so brutalized by violence that bodies hanging from bridges and heads in garbage bags barely merit a headline, the disappearance of 4-year-old Paulette Gebara Farah struck a chord.
Paulette's disappearance became the talk of the town - on the streets, in restaurants, among construction workers and maids, in the comment sections of newspaper Web pages, and on social networking sites such as Twitter and Facebook.
It was every parent's worst nightmare: Paulette's mother, a lawyer, tucked her into bed in their luxury apartment in a safe suburb. When her nanny went to wake her the next morning, she was gone. Adding to the distress, Paulette had a disability that made it difficult for her to walk or talk.
What kind of monster would snatch a tiny, helpless girl from her room, people wondered, and what kind of kidnappers would fail to demand a ransom?
National television channels rushed the parents live onto the nightly news. Radio stations implored listeners to call an 800 number with tips. Mothers forwarded e-mails seeking information about Paulette. And as Mexicans loaded up their cars for the Holy Week holiday, many hugged their children just a little bit tighter.
Much of that compassion turned to rage and disbelief last week when investigators searching Paulette's apartment for signs that clothes or suitcases had been removed stumbled on her tiny body, wrapped in sheets and wedged between the mattress and the frame of her very own bed.
The coroner said she died by suffocation.
Police said the prime suspect is her mother.
"How could she?" asked the tabloid Metro, plastering a crude Mexican expression over a picture of Lizette Farah, teary-eyed in the role of grieving mother.
The allegations recall the case of Susan Smith, the young mother from South Carolina who said she had been carjacked but was convicted of strapping her two sons into their car seats and rolling the car into a lake.
Farah, 34, has not been charged and she proclaimed her innocence Saturday through her lawyer. She and her husband, Mauricio Gebara, 38, and the couple's two nannies were released from custody Sunday after several days of questioning, but authorities said they are still under investigation. They were ordered to turn in their passports and are barred from leaving the region surrounding Mexico City. Police also are looking for an unidentified man they want to talk to.
Farah and Mauricio Gebara issued extraordinary public pleas for help in finding their daughter, whose image plastered signs on lampposts, in supermarkets and on billboards.
"The only thing I want is to get my child back," a solemn Farah, seated on the bed under which Paulette was later found, told Univision. "She's a special girl who needs her parents; who cannot survive on her own; who has a family that adores her and is willing to give up their own lives for her."
By Thursday, the image of a distraught mother had given way to that of a cold and manipulative woman.
"We have before us a lawyer - intelligent, bold, astute. She has always remained very distant in matters of affection and emotional attachment. She has lied," Sandra Yadeum, a legal psychiatric expert working with investigators, told a news conference. "In short, there are characteristics that speak of a mental disorder."
Mexicans expressed their anger over Paulette's death and offered speculation about possible motives.
"What a disgrace," Sol Sanchez, 46, an office worker at a private school in Mexico City, wrote on her Facebook page. "It's an atrocity. It infuriates me."
Uriel Rodriguez, a 24-year-old office worker in Mexico City, surmised that Paulette's parents could have seen their disabled child as a burden, while office worker Georgina Reyes speculated that Farah might have been overwhelmed trying to juggle work and special-needs motherhood.
"But that's no justification," said Reyes, 50. "She had two nannies."
Many expressed cynicism that - even if guilty - the rich parents would never be convicted.
"Sure enough they're going to nab the poor garbage man or the gardener, and they'll screw them over because they're poor, while they let the rich parents off the hook," wrote a reader on the Reforma newspaper's Web site.
Others urged their fellow citizens to keep an open mind: "They are innocent until proven guilty," another Reforma reader wrote.
Whatever the truth behind Paulette's killing, the news of her disappearance and death has hit a national nerve already jangled by daily tales of bodies hanging from overpasses and ruthless drug cartel hit men spraying army checkpoints with bullets.
"This affects our faith in humanity," said Guadalupe Loaeza, a contemporary Mexican writer and renowned social commentator. "Why kill a child? ... It's monstrous what we are hearing."

Thanks for reading CBS NEWS.
Create your free account or log in
for more features.