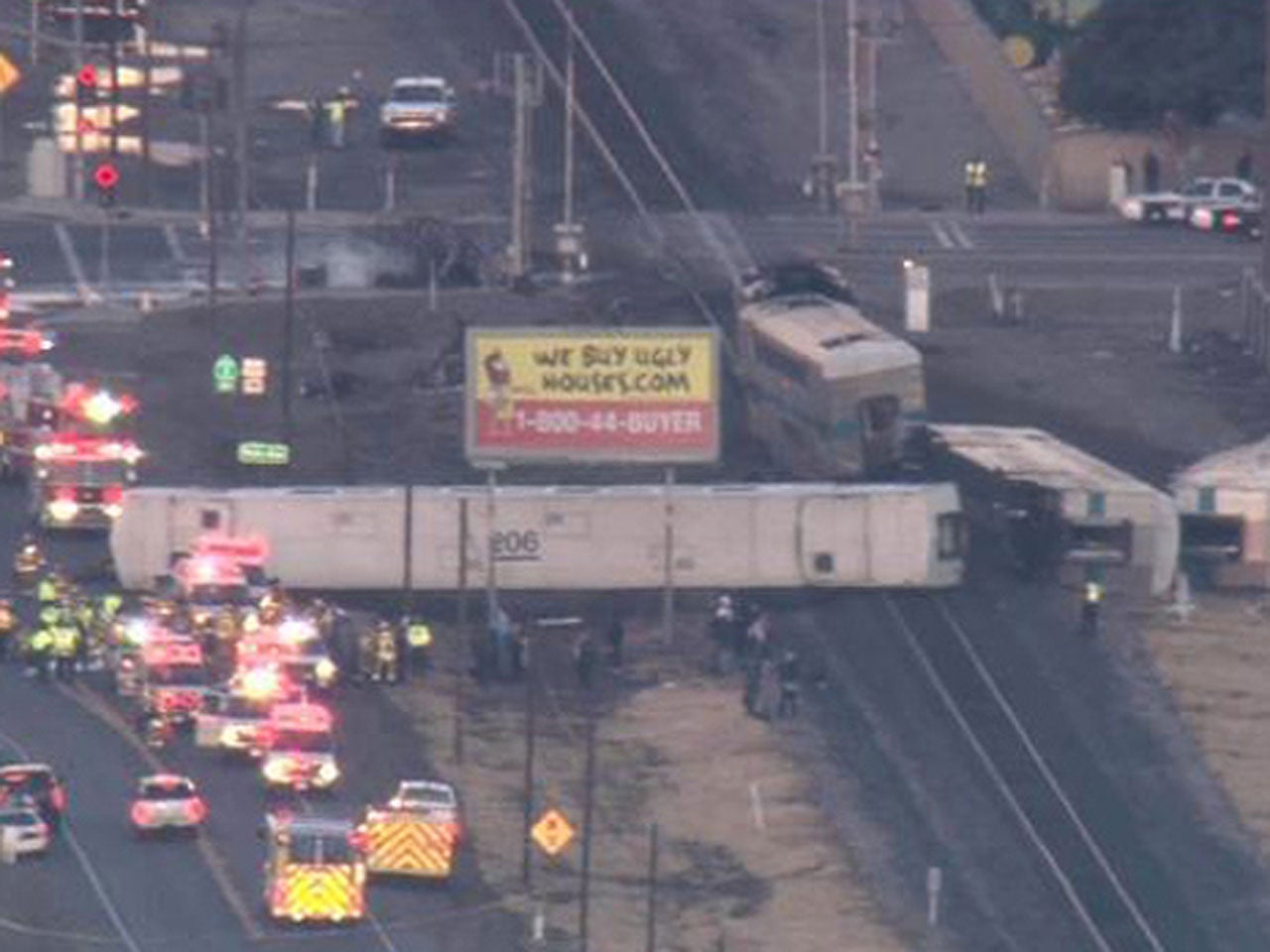 Train derailment near L.A. leaves dozens injured
OXNARD, Calif. - A Metrolink train derailed Tuesday morning after it collided with a tractor trailer on the tracks in Ventura County, injuring dozens, officials said.
The driver of the truck fled the scene when first responders arrived, but was arrested "some miles down the road unharmed," officials said, adding the driver is currently in police custody. It is unclear if charges have been filed.
An investigator has told The Associated Press the accident occurred when the truck became stuck on the tracks as the driver turned before the crossing. The investigator says the driver is not from the area and made a premature right turn.
An official investigation is ongoing.
Sergio Martinez with the Ventura County Fire Department said there were a total of 51 involved in the accident, including the train's engineer and other railroad employees. Of those, 28 were transported to hospitals, with four in critical condition.
The VC Line 102 train, which was headed southbound to Los Angeles, hit the truck around 5:45 a.m. near 5th Avenue and Rice Street in Oxnard, according to the Ventura County Fire Department.
"For some reason there was a tractor trailer on the tracks there at Rice Avenue and Train 102 collided with it," Scott Johnson of Metrolink told CBS Los Angeles.
Martinez said the train was being pushed east by a read locomotive at its normal speed in that spot of about 79 miles per hour. Officials said the preliminary investigation indicates the driver saw the truck on the tracks "from a great distance" and attempted to apply the brakes.
All five of the train's cars are considered derailed, and three of them are lying on their side.
The truck caught fire and was left such a scorched and mangled wreckage officials were still not sure late Tuesday morning what type of truck it was.
Martinez said lots of Army equipment passes through the area, but he was not sure that the truck involved in the accident was with the military.
Metrolink reports that all Ventura County trains will experience extensive delays due to the accident.
Thanks for reading CBS NEWS.
Create your free account or log in
for more features.