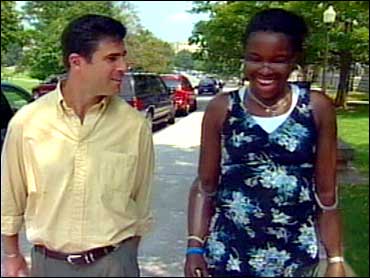 Meningitis: Silent Killer
As at so many schools around the country, students at Virgina Tech are moving in their necessities and luxuries.
For the freshmen, it is a world of unknowns. For Rayna DuBose, it's coming home. She says she's not starting over but continuing what she started after a break.
It was a bad break for Rayna, who contracted meningitis in her freshman year. It is called the silent killer, and it often plagues college freshman. The Early Show national correspondent Jon Frankel reported on Rayna's brave battle back.
In April of 2002, she was winding down her freshman year at Virgina Tech. She had played well as a scholarship athlete for the basketball team, had made lots of friends and was enjoying campus life.
"I thought I was just really tired," Rayna said. "I didn't know what it was 'cause a few times during the year I had been diagnosed with dehydration, not drinking enough water and just getting enough fluids in my body from workout out so much."
For Rayna parents, the worst nightmare they thought they would hear about their daughter was that it would take her a little longer to graduate.
"But what has happened to her, that's the last thing we expected to hear, though," Willie DuBose, Rayna's father, said.
They heard, despite Rayna receiving a school-required vaccine, their daughter had contracted bacterial meningitis. In 36 hours, the infection was racing through her body.
"Besides her being in a coma, everything was going south," Willie said. "Her kidneys shut down completely. She had a heart attack.
"In the next couple of days, the progression started where actually her fingertips, her hands were slowly dying."
Doctors at the University of Virginia Medical Center were left with one option.
"I remember them telling me that they were going to have to do it, because all the blood had stopped running to my fingers and my toes, and I just remember being real scared," Rayna recalled.
"That was a bad day — devastating," said Willie. "I looked at the physician and of course my first question is, 'You're going to take my babies hands and feet?'"
After Rayna spent three weeks in a coma, doctors amputated her hands and feet.
Rayna's women's basketball coach, Bonnie Henricksonher, remembers her player's first question being, "Will I walk?" Rayna's second question was, "Will I play?" And her third question was, "Can I come back to school?"
Following extensive rehab, Rayna was determined to let nothing slow her down. Although she can't play basketball, she has her scholarship and will be a student assistant coach.
"I don't think about what happened," she said. "I try not to let it bring me down."
Rayna will continue to make up for lost time, and she may never find out how she got meningitis.
---
Meningitis Foundation of America's Dr. James Conway visited The Early Show Tuesday to give some answers about the deadly disease and he also discussed the symptoms, plus how to avoid getting the disease.
Conway describes meningitis as inflammation of the meninges, the lining that surrounds the brain. The disease should not be confused with encephalitis, he says, which is inflammation of the brain itself.
There are two distinct types of meningitis; viral (caused by a virus) and bacterial (caused by a bacteria). Bacterial meningitis, while it is comparatively rare, is by far the most dangerous and is sometimes fatal.
Conway says the bacteria which cause bacterial meningitis live in the back of the nose and throat region and are carried at any given time by between 10 to 25 percent of the population. It causes meningitis when it gets into the bloodstream and travels to the meninges. What triggers this movement in a small number of unfortunate people remains the subject of research. With viral meningitis, the viruses responsible can be picked up through poor hygiene or polluted water
Conway explains that both types of meningitis are spread by coughing, sneezing and kissing. But, he says, they should not be regarded as either water-borne or air-borne. They cannot live for long outside the human body.
Anyone can contract the disease, although certain age groups — those under 5-years-old, those 16- to 25-years-old and people over 55-years-old — are more susceptible than others.
Meningitis can occur at any time but elsewhere in the world there is a pattern which shows that bacterial meningitis occurs more in the winter months (November-March inclusive). Conway says viral meningitis sees most cases occurring during the summer months.
With both forms of meningitis, there will be a wide variation in exactly how the disease affects a sufferer in the long term. Tiredness, recurring headaches, short-term memory difficulties and concentration problems are often reported, as are temper tantrums, forgetting recently learned skills and babyish behavior in children.
Mood swings, aggression, balance problems and clumsiness can all make daily life difficult both for the sufferer and his/her family and friends but these should pass in time. Deafness (permanent or temporary) is a more serious outcome, while epilepsy/seizures, sight problems and brain damage have been known but are relatively rare.
The symptoms of meningitis are:
Flu-like symptoms

Significant headache and neck stiffness

Sensitivity to light

Rash

Thanks for reading CBS NEWS.
Create your free account or log in
for more features.