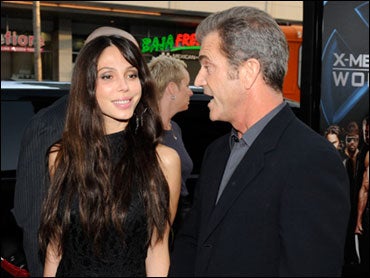 Mel Gibson Slur vs. Latinos Caught on Tape?
Another day, another hate-filled tirade caught on tape from a man sounding very much like Mel Gibson.
This time, the man aims his vitriol at Latinos as he screams at Gibson's ex-girlfriend, reports CBS News Correspondent Ben Tracy.
He also seems to indicate he's having money problems.
It's the third such taped rant to be posted on gossip website RadarOnline.
Pictures: Stars with Anger Issues
On Tape: Mel Gibson in Death Threat vs. Ex?
Mel Gibson's Thickening Legal Quandary
Can Mel Gibson's Career Survive Latest Ugliness?
Mel Gibson Alleged Rant Audio Posted Online
Did Mel Gibson Beat Up His Ex?
Gibson's venom is directed at his ex-girlfriend, Russian singer Oksana Grigorieva, with whom he's in a bitter custody dispute over their eight-month-old daughter. She's the one who made the tapes.
"I'll report her to the f ***ing people that take f ***ing money from the w**backs, OK?"
In another of the tapes, the man uses "the N-word" to describe African-Americans.
While complaining that Grigorieva had dressed too provocatively, the man is heard saying, "If you get raped by a pack of n***, it'll be your fault."
But his main target has been Grigorieva.
"You're a f***ing using whore," he says. "Now, I own you. Go look after my child!." "She's my child too," she responds. "Yeah, I know," he says. "Unfortunately, you c*** whore! I hope she doesn't turn out like you!"
"At this point," says Sharon Waxman, CEO of TheWarp.com, "I think everybody just wants to cover their ears!"
She notes that Gibson tirades have gone on for years. After a barrage of anti-Semitic remarks following a DUI arrest in 2006, Gibson blamed alcohol, issued two public apologies, and entered rehab.
But now, says Tracy, apparent words like this: "You don't f***ing count!"
Some industry observers say the one-time A-list actor is beyond saving, and while he was once worth a reported half billion dollars, the tape suggests he may now be in some money trouble now.
"I'm paying my tax money instead of the credit card. Don't you get it?!" says the man on the tape.
"I don't think you think about resurrecting your career," Waxman says. "I think you think about how do you either save that person or stop them from further damaging the people around him."
Memorable roles on film, Tracy points out, now replaced by apparent, disturbing, real-life threats, such as this one the man was caught on tape making to Grigorieva: "You need a f***ing bat in the side of the head!"
CBS News legal analyst Jack Ford and relationship expert Cooper Lawrence, author of "The Cult of Celebrity," said on "The Early Show" Wednesday the man thought to be Gibson seems to just keep getting himself in more and more of a mess.
But Lawrence says Grigorieva's reputation isn't exactly first-rate, either, and she may have been trying to provoke the man:
Thanks for reading CBS NEWS.
Create your free account or log in
for more features.