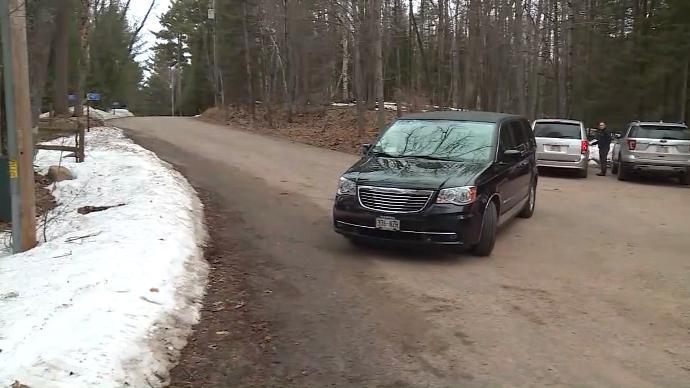 Medical helicopter crash in Wisconsin kills 3, sheriff says
HAZELHURST, Wis. -- Three flight crew members were killed in a medical helicopter crash in northern Wisconsin, according to authorities. Oneida County Sheriff's Chief Deputy Dan Hess said the wreckage was found early Friday, and that no patients were on board the Ascension Health Spirit helicopter when it crashed in Hazelhurst, a small town about 150 miles northwest of Green Bay.
The Federal Aviation Administration said the helicopter left Madison and was on its way to Woodruff when it crashed about 12 miles south of its destination.
Authorities said the last known contact with the helicopter was at 10:55 p.m. Thursday. Dispatchers received a call that the chopper was missing 25 minutes later, and at least eight agencies were involved in the search.
"It's heavily wooded terrain and hard to get to," said Tom Ryden, whose local business, R & R Motor Sports, provided three amphibious all-terrain vehicles and helped searchers reach the rural crash site. Ryden said the area is also hilly with high ridges and swamps.
The victims' identities have not been released pending notification of their families. They are believed to have died on impact, Oneida County Medical Examiner Larry Mathein told Wausau TV station WAOW. He said the body of the pilot is being sent for an autopsy under standard protocol.
The FAA, meanwhile, is sending a team to help with an investigation led by the National Transportation Safety Board. NTSB spokesman, Peter Knudson, estimated that a preliminary report will be ready in two weeks, but a full investigation could take 12-24 months, CBS affiliate WSAW-TV reports.
Tom Johnson, who said he lives close to the crash site, described hearing sounds, but wasn't initially sure what he heard, according to the station.
"Well, I woke up and I heard a loud noise and it sounded like a loud muffler," he said. "And I got up and looked outside and there was no lights anywhere and it was just dead quiet so I just went back to sleep. It was a lot of ... rotors hitting trees. Now that I know it was a helicopter, that makes sense. Since that's what it sounded like-- that chopping sound. Then it was quiet."
Thanks for reading CBS NEWS.
Create your free account or log in
for more features.