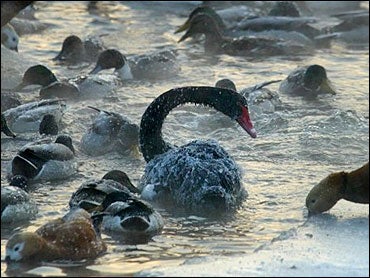 It took Mark McGwire all of four days to top himself.
McGwire hit a drive estimated at a Busch Stadium-record 545 feet, tying for the major league lead with his 16th home run in the Cardinals' 5-4 victory over the Florida Marlins on Saturday night.
"It's the best ball I've ever hit," McGwire said. "I don't think I can hit one better than that."
The Cardinals' previous record was a drive by McGwire that traveled an estimated 527 feet on Tuesday night. The team has been measuring home runs since 1988.
The estimate also beats McGwire's previous best for distance, a 538-foot homer off Seattle's Randy Johnson June 24, 1997, in the Kingdome when he played for the Oakland Athletics.
"They disappear and get real small, real quick," Marlins manager Jim Leyland said. "It's fortunate they only count as one run."
McGwire tied Colorado's Vinny Castilla for the homer lead with a drive off Livan Hernandez that struck an advertisement below luxury boxes in straightaway center field, leading off the fourth.
The Cardinals, relying on eyewitnesses and reports from the dugout and numerous opinions in the press box, finally estimated the distance in the bottom of the sixth. McGwire wasn't among those consulted.
"I was too worried about the game," McGwire said. "The game is more important than the distance of a home run."
Mike Piazza, traded from Los Angeles to Florida on Friday night in a startling seven-player deal, had a pinch-hit sacrifice fly in the seventh that tied it at 4. The Marlins' other new player, Todd Zeile, hadn't showed up by the end of the game.
Leyland said both players will start on Sunday.
Brian Jordan homered to snap a tie in the bottom of the seventh as the Cardinals broke a three-game losing streak and sent the Marlins to their sixth loss in seven games.
It took the Cardinals about a half-minute to measure Jordan's less impressive 398-foot homer. Jordan connected off Vic Darensbourg (0-5).
Hernandez struck out nine for the second straight start, matching his season high. McGwire's home run started a three-run fourth that included an RBI double by Willie McGee and a run-scoring groundout by John Mabry.
David Howard hit his 10th career home run to lead off the third.
Todd Stottlemyre (5-3) pitched the Cardinals' first complete game of the season, allowing seven hits. He struck out eight and has fanned 21 in his last two starts.
"It's fun to finish what you start," said Stottlemyre, whose last complete game was June 2, 1996 against the Houston Astros. "But it just doesn't happen too often in this game these days."
Stottlemyre's string of 10 consecutive scoreless innings ended in the first when Ryan Jackson, called up on Friday, hit two-run double. Edgar Renteria had an RBI single in the third for the Marlins.
Notes: McGwire has 40 home runs and 87 RBIs in 89 games with the Cardinals. ... The switch-hitting Howard has 10 career home runs, five from each side of the plate. ... Hernandez is among the league leaders in homers allowed with 12. ... Piazza took No. 31 from Marlins third base coach Rich Donnelly, who switched to No. 51. ... Mabry, making his second straight start after six games on the bench, has five hits and four RBIs the last two games.
©1998 The Associated Press. All Rights Reserved. This material may not be published, broadcast, rewritten, or redistributed
Thanks for reading CBS NEWS.
Create your free account or log in
for more features.