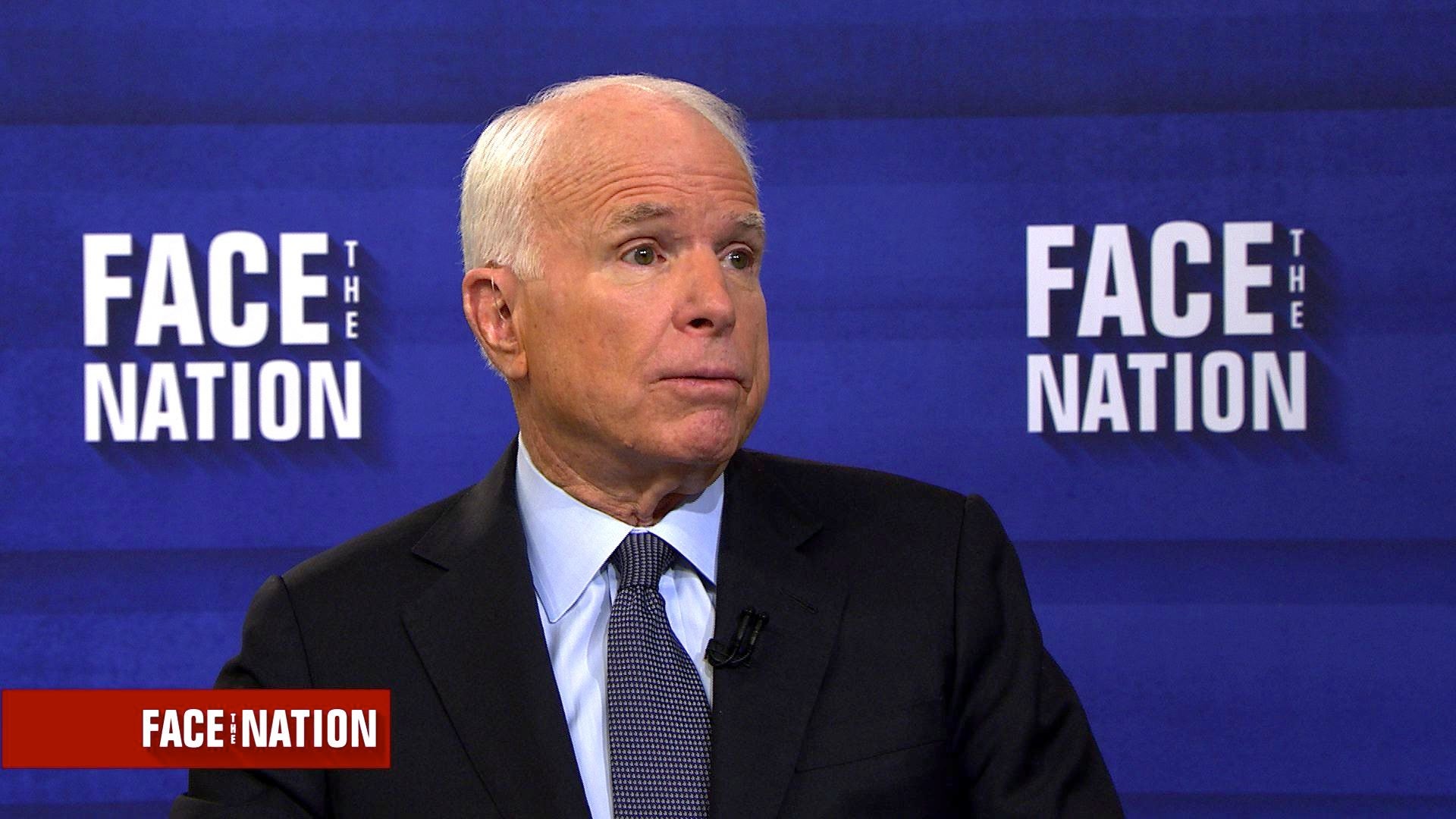 McCain says Putin "got away with" interference in U.S. election
Senator John McCain, R-Arizona, said Sunday on "Face the Nation" that Russian President Vladimir Putin "got away with" trying to change the result of the 2016 U.S. presidential election, and that there has been "no penalty" for those attempts.
"We know that Russia tried to change the outcome of our election last November. And they did not succeed," McCain said. "But there was really sophisticated attempts to do so. So far they have not paid a single price for that."
"If you were Vladimir Putin, who I've gotten to know over the years, you're sitting there and you got away with literally trying to change the outcome not just of our election. French election. Tried to overthrow the government of Montenegro, a beautiful little country," McCain said.
"And there has been no penalty whatsoever," he added.
McCain's comments came after President Trump issued a series of tweets Sunday morning saying it's time "to move forward" in working with Russia. Mr. Trump said that during his recent meeting with Putin, he "strongly pressed" the president on Russian meddling in the 2016 U.S. election, and that Putin "vehemently denied it."
"I've already given my opinion," Mr. Trump tweeted. He continued: "We negotiated a ceasefire in parts of Syria which will save lives. Now it is time to move forward in working constructively with Russia!"
McCain said that while he agrees with Mr. Trump that it is time to move forward, there still has to be a price to pay, otherwise Putin will be "encouraged to do so again."
"I mean, does anyone doubt his intentions of undermining American supremacy, undermining democracy, the principles of freedom, and all of the things that have epitomized Europe and the world since the end of World War II? For the last 70 years we've had a new world order. And that is now under severe stress not only in Europe but all over the world," McCain said.
When asked about one of Mr. Trump's tweets Sunday morning in which the president said he and Putin "discussed forming an impenetrable Cyber Security unit," McCain laughed at the notion of such a plan, saying "I am sure Putin could be of enormous assistance, since he's doing the hacking."
"I mean it's, look, I support this president. I did not support him, okay? But he is the president. I've tried to work with him wherever I can," said McCain.
Meanwhile, as the Trump administration hailed the efforts of negotiating a cease-fire in Syria with their Russian counterparts, McCain commented on Secretary of State Rex Tillerson's remarks that the U.S. had the "wrong approach" in regard to handling the Russians, saying "you can't make that up."
An emotional McCain told Dickerson, "These are the same people that use precision-guided weapons to strike hospitals in Aleppo where sick and wounded people are." He added, "I've met the White Hats. I know what the slaughter has been like. I know that the Russians knew that Bashar Assad was going to use chemical weapons. And to say that maybe we've got the wrong approach?"
Asked if he had any regrets in voting to confirm Tillerson to lead the State Department, McCain said, "Sometimes I do. But I'm still torn by the fact that the American people chose this president. And he ought to be able to have his team."
Thanks for reading CBS NEWS.
Create your free account or log in
for more features.