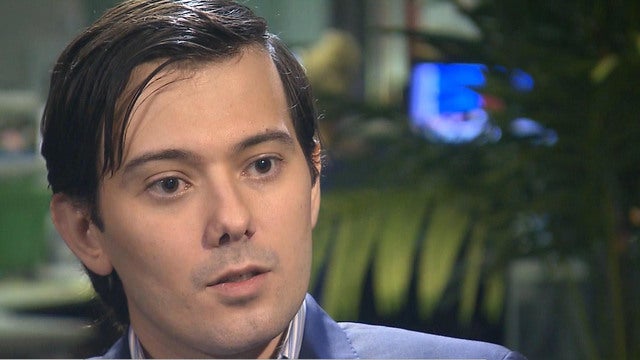 Meet the moneyman behind a controversial prescription price hike
Martin Shkreli, the drug company CEO who ignited a firestorm this week when his company increased the price of a medication by 5000 percent, is no stranger to controversy.
Shkreli currently heads Turing Pharmaceuticals, which purchased the drug Daraprim -- used by people such as cancer and AIDS patients with compromised immune systems to treat toxoplasmosis, an infection caused by a parasite -- in August. It decided to raise the price of the medication from $13.50 per tablet to $750.
While Shkreli told several media outlets Tuesday night that the company will reconsider the price hike, he did not specify what the drug's new cost will be.
It isn't the first time that Shkreli has come under fire for substantially increasing the cost of a decades-old medication.
In 2014, Shkreli was CEO of Retrophin Inc. when it acquired the U.S. marketing rights to Thiola, which is used to treat a kidney disease. Retrophin moved to increase the price of the medication from $1.50 per pill to $30 each.
Shkreli left Retrophin in September 2014 and was sued by the company for $65 million in August, claiming he violated a duty of loyalty amid a dispute over use of company funds, according to Bloomberg. Shkreli claims the suit is baseless and that Retrophin owes him $25 million in severance.
The Daraprim price increase sparked outrage among medical professionals, patient advocates and politicians, including Democratic presidential candidate Hillary Clinton, who introduced a plan to rein in high prescription prices on Tuesday.
For his part, Shkreli defended Turing's decision to raise the price of Daraprim, telling CBS News correspondent Don Dahler it represented "a reasonable profit. Not excessive at all." Shkreli said the company would use the profits to research new treatments for toxoplasmosis.
"There's no doubt, I'm a capitalist. I'm trying to create a big drug company, a successful drug company, a profitable drug company," Shkreli said. "We're trying to flourish, but we're also -- our first and primary stakeholders are patients, there's no doubt about that."
Thanks for reading CBS NEWS.
Create your free account or log in
for more features.