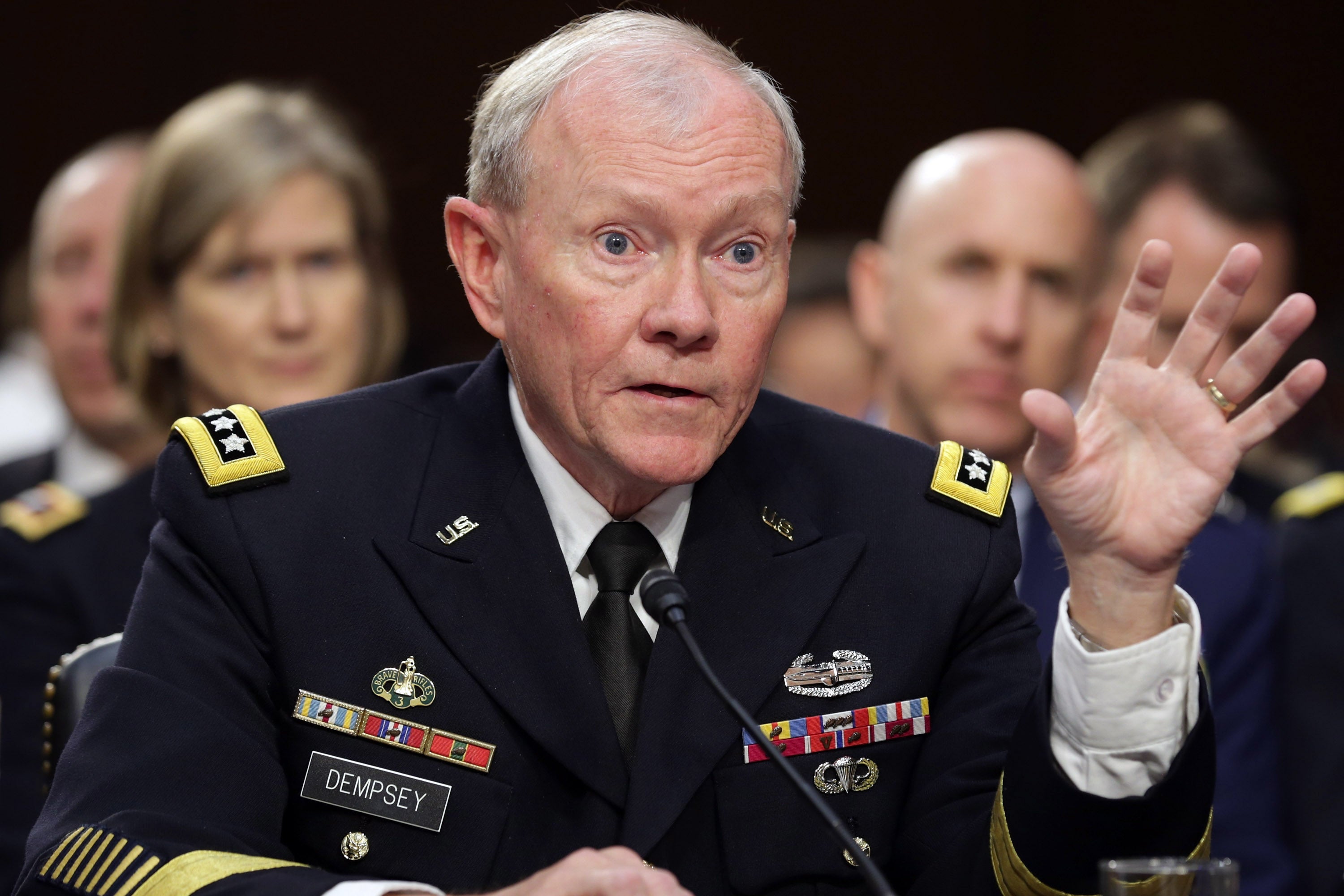 Dempsey: I'll suggest U.S. troops in Iraq if ISIS strategy fails
WASHINGTON -- The nation's top military leader told Congress Tuesday that he will recommend President Obama consider using ground troops to combat the Islamic State of Iraq and Syria (ISIS, also known as ISIL) if the expanded military campaign to the president laid out last week fails.
Army Gen. Martin Dempsey, the chairman of the Joint Chiefs of Staff, told the Senate Armed Services Committee that the main role for American advisers is to help Iraqi forces with planning, logistics and coordinating military efforts by coalition partners as they look to defeat the Islamic militants.
"To be clear, if we reach the point where I believe our advisers should accompany Iraqi troops on attacks against specific ISIL targets, I will recommend that to the president," Dempsey said.
Pressed by senators, Dempsey said he "would go back to the president and make a recommendation that may include the use of ground forces."
Obama has maintained that American forces will not have a combat mission in Iraq, saying earlier this month that would be "a profound mistake."
Dempsey and Defense Secretary Chuck Hagel faced multiple questions from lawmakers in the first high-stakes hearing to examine the president's expanded military campaign to counter the militant group. Secretary of State John Kerry is set to testify to the Senate Foreign Relations Committee and House Foreign Affairs Committee later this week.
Dempsey said Americans in Iraq are currently serving in a combat advisory role but not direct combat. If the Iraqi forces took on a complex mission to retake the city of Mosul, however, the general said he might recommend that U.S. troops to accompany Iraqi troops or provide close combat advice.
The apparent contradiction of combat-trained forces not participating directly in combat was captured in one exchange between Sen. Jim Inhofe, R-Oklahoma, and Dempsey.
"Are pilots dropping bombs in Iraq a direct combat mission and will U.S. forces be prepared to provide search and rescue mission if pilots get shot down and be prepared to put boots on the ground to make that mission be successful?" Inhofe asked.
"Yes and yes," Dempsey said.
The U.S. military conducted strikes near Baghdad against the Islamic State group, which has seized large swaths of Iraq and Syria. Mr. Obama is seeking congressional support to train and equip vetted Syrian moderates fighting both the Islamic militants and forces loyal to President Bashar Assad.
Dempsey said the United States is prepared to strike Islamic targets in Syria.
"This will not look like `shock and awe' because that is not how ISIL is organized. But it will be persistent and sustainable," Dempsey said, referring to the air bombardment at the start of the Iraq war in March 2003.
Several lawmakers have their doubts about the United States being pulled into a larger war, with increasing numbers of American troops. The president has already dispatched more than 1,000 Americans three years after combat forces left Iraq.
Many Republicans and Democrats, including Sens. Kirsten Gillibrand, D-New York and Joe Manchin, D-West Virginia, have expressed reservations about the ability to identify moderates in a country awash with rebel formations and shifting alliances. ISIS grew out of the al Qaida movement, has since been disavowed for its extreme tactics. In some instances, the moderate Free Syrian Army has teamed with al-Qaida's local franchise, the Nusra Front.
Hagel said the U.S. will monitor them closely to ensure that weapons don't fall into the wrong hands.
"There will always be risk in a program like this, but we believe that risk is justified by the imperative of destroying ISIL - and the necessity of having capable partners on the ground in Syria," the defense secretary said.
The hearing was frequently interrupted by anti-war protesters who filled the front rows at the hearing, chanting "no more war." After repeated interruptions by protesters who had to be removed from the room, the committee chairman, Sen. Carl Levin, D-Michigan, asked that the protests stop, saying, "they're not doing you and whatever your cause is any good."
Hagel said the involvement will not be "an easy or brief effort. We are at war with ISIL, as we are with al Qaeda."
Mr. Obama and Vice President Joe Biden met in the Oval Office Tuesday morning with retired Marine Gen. John Allen, who is coordinating international efforts to combat the Islamic State militants. Brett McGurk, a top Iraq adviser at the State Department, also took part in the meeting.
The House of Representatives is preparing to vote this week on Mr. Obama's proposal to arm and train moderate Syrian rebels as an on-the-ground force combat ISIS.
The proposal, which is expected to be voted on Wednesday, will be offered as an amendment to a short-term spending bill that Congress must pass in order to keep the government running past the end of September. That way, lawmakers will have the chance to cast separate votes on the proposal to train the rebels and fund the government.
The amendment authored by House Armed Services Committee Chairman Buck McKeon, R-California, authorizes the secretaries of defense and state to equip vetted members of the Syrian opposition who are fighting both Syrian President Bashar Assad and ISIS. There is no additional money given to the effort, but the Defense Department is granted permission to shift around existing funds to meet their needs.
Additionally, the amendment requires that the administration provide Congress with detailed progress reports on the plan, the vetting process, and procedures for monitoring what happens to the equipment and training given to the rebels. Mr.Obama must also tell lawmakers how arming the Syrian opposition fits into a larger regional strategy.
The language is careful to indicate that it does not authorize the use of U.S. forces in Syria, a matter that has not been debated by Congress even though some Republicans have called on the president to send U.S. troops into Syria.
"We don't want anyone to construe this specific authorization as a broader authority for the use of military force, simple as that. And if we need to readdress this issue, we certainly will," House Speaker John Boehner, R-Ohio, told reporters Tuesday morning.
Thanks for reading CBS NEWS.
Create your free account or log in
for more features.