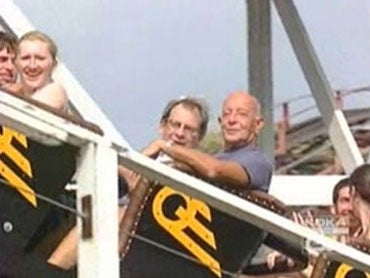 Man, 78, Rides Roller Coaster 90 Times in 1 Day
A 78-year-old man rode a Pittsburgh-area roller coast 90 times in one day - bringing his lifetime total to 4,000 rides.
Vic Kleman spent about five hours on the Jack Rabbit roller coaster at Kennywood Park in West Mifflin.
The wooden coaster is no spring chicken, either. It's celebrating its 90th anniversary - the number that prompted Kleman's marathon riding session on Sunday.
Kleman started riding the coaster in 1959, reports CBS station KDKA.
"It's fun. I'm not trying to break any records or anything," said Kleman. "It's just fun."
Kleman usually rides the Jack Rabbit, which boasts an 85-foot double-dip drop, about 20 times a visit, but this was no ordinary day. He rode it 90 consecutive times Sunday in honor of the Jack Rabbit's anniversary.
Kleman, who lives in Knoxville, Pa., and is a member of the American Coaster Enhusiasts, says he never got bored on his record setting journey.
"Every other ride, then there was someone new [who] came on. And, you know, we talked about that," said Kleman. "So, it goes faster than you think."
Kennywood presented Kleman with a certificate to verify his 4,000 trips on board the roller coaster, which has an 85-foot double dip drop.
Not surprisingly, Kleman had some advice on how to best enjoy the ride.
"Just let a little air out like, 'Ahhhh...'" he says, "you know, that helps you, and then keep your feet flat on the ground. You get more air time on the double dip."
Thanks for reading CBS NEWS.
Create your free account or log in
for more features.