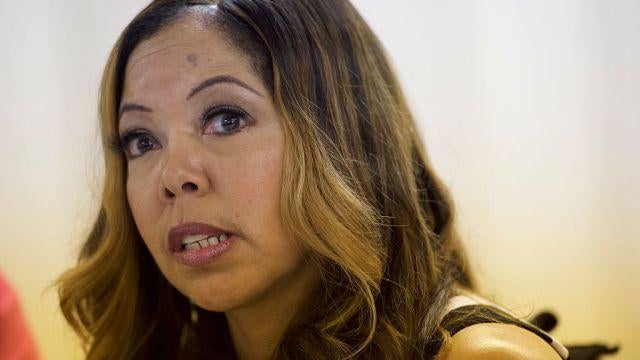 Mother of teen slain over loud music wins U.S. House seat on gun control platform
ATLANTA -- The mother of a murder victim making her first run for public office on a gun-control platform has flipped a long-red House seat that Georgia Republicans held onto just last year in what was then the nation's most expensive congressional race.
"We've sent a strong message to the entire country," Lucy McBath tweeted on Thursday after Rep. Karen Handel conceded.
"Absolutely nothing – no politician & no special interest – is more powerful than a mother on a mission," she said.
McBath became a spokeswoman for the Everytown for Gun Safety group after her son was slain in a Florida shooting. McBath made gun control a key issue. Her 17-year-old son, Jordan Davis, was fatally shot at a Florida gas station in 2012 by a white man who was angry over the loud music the black teenager and his friends had been playing in their car.
The shooter, Michael Dunn, argued that he thought he saw the barrel of a gun inside the car and was in fear for his life when he shot up the SUV. The prosecution said that the threat Dunn, a white man, perceived from the group of black teens was "only in his imagination." Dunn fired 10 shots in three short bursts, striking Davis three times. The teens were unarmed.
A jury rejected Dunn's self-defense claim and convicted him of first-degree murder. He was sentenced to life in prison in 2014.
McBath, a former flight attendant, told Elle Magazine she decided to run for office to make a difference on her son's behalf. She said she wanted to work to strengthen gun control especially after the February mass shooting at Marjory Stoneman Douglas High School in Parkland, Florida.
"I was very hurt when I found out about Parkland. I was angry because I felt like, here we go again," McBath told the magazine. "This is not going to stop, and now we have our children that are standing up for themselves because our legislatures and adults refuse to do the right thing. And I felt that this is a time when our children need our help. We need to really be about the business of preserving their futures, our own futures, and that I would do everything in my power to help push the needle on this issue in Washington."
She told the magazine she was at first fearful of becoming a lawmaker, but said "there's not much more I'm afraid of now" following her son's death.
"In my mind, the worst thing that ever could happen to a mother, to a woman, has happened to me," she said.
McBath's neophyte campaign for the suburban Atlanta seat, formerly held by Newt Gingrich, got a big boost from Democrat Stacey Abrams' efforts to increase turnout in the governor's race.
Handel, who won the seat in a special election against Democrat Jon Ossoff in June 2017, sent a letter to her supporters Thursday, saying that her careful review of the vote count shows she narrowly lost to McBath.
"It is clear that I came up a bit short," she said, offering McBath "good thoughts and much prayer for the journey that lies ahead for her."
McBath's margin of victory was narrow enough for Handel to have requested a recount. The Associated Press declared McBath the winner Thursday after Handel conceded.
Thanks for reading CBS NEWS.
Create your free account or log in
for more features.