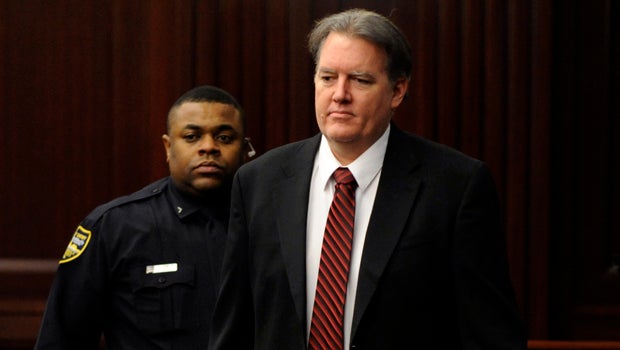 "Loud music" shooter Michael Dunn gets life in prison
JACKSONVILLE, Fla. - The man who opened fire into a car full of teenagers, killing one, after an argument over loud music, was sentenced to life without parole on Friday.
Michael Dunn, 47, was convicted of first-degree murder in the death of 17-year-old Jordan Davis, and three counts of attempted second degree murder for shooting at the other teens in the car with Davis. In his first trial, the jury deadlocked on the first-degree murder charge.
Dunn had previously been sentenced to 60 years in prison on the three attempted murder counts. The life sentence for Davis' murder was mandatory after the state decided against seeking the death penalty. According to the Florida Times-Union, Davis' father, Ron Davis, said that he and the teen's mother asked prosecutors not to seek to execute Dunn.
"Whether someone is bad or a monster or whatever it may be, I don't have the right to take their life," Davis reportedly said. "Only God has that right. I firmly believe that."
Dunn encountered the teens on the evening of November 23, 2012, when he and his girlfriend pulled up next to their SUV in the parking lot of a Jacksonville convenience store. Dunn asked the teens to turn down the music in their car and Davis took issue with his request. The two exchanged heated words as Davis sat in the back seat of the SUV.
Dunn argued that he thought he saw the barrel of a gun inside the car and was in fear for his life when he shot up the SUV. The prosecution said that the threat Dunn, a white man, perceived from the group of black teens was "only in his imagination." Dunn fired 10 shots in three short bursts, striking Davis three times. The teens were unarmed.
At the sentencing, Dunn made a short statement addressed to Davis' family: "I truly regret what happened... if I could roll back time and do things differently I would. Still, I'm mortified I took a life."
Davis' mother, Lucia McBath, tearfully addressed the court, saying that she misses her son's "wide, toothy smile." She continued, telling the court, "I raised my son to love, accept and forgive others...therefore I too must be willing to forgive. And so I choose to forgive Mr. Dunn for taking my son's life."
Thanks for reading CBS NEWS.
Create your free account or log in
for more features.