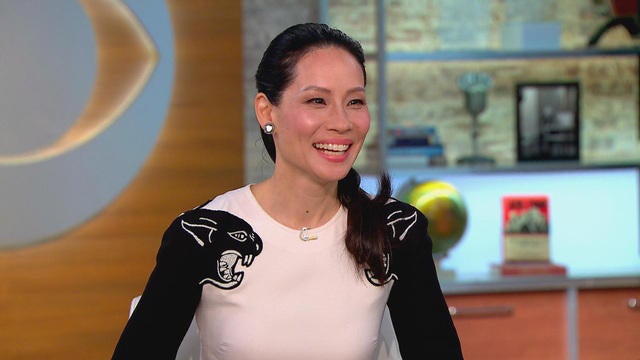 Lucy Liu on season premiere of "Elementary"
Lucy Liu first became a household name playing Ling Woo in the Emmy-winning series "Ally McBeal," and she's starred in hit movies like "Charlie's Angels" and "Kill Bill." She currently stars in the CBS crime drama "Elementary" as Dr. Joan Watson, Sherlock Holmes' investigative partner.
In tonight's sixth season premiere, Watson confronts Holmes about his bizarre behavior after the recent death of an associate.
As last season ended, Holmes was suffering from hallucinations because he'd been assaulted, and he is now ill. What's wrong with him?
"We find out that Sherlock, who's played by Jonny Lee Miller (who is fantastic and is just a darling), is basically suffering from concussions, so his mind is not his own," Liu said on "CBS This Morning." "And it changes the game up, because he's the one who innately knows and detects and is able to discover and come up with ideas that nobody else could, to discover basically whodunit. So, what happens when he's not on par with his usual self?"
And how does that affect the Holmes-Watson relationship?
"I think that he has to also be able to trust and be open to more people's opinions, and he has to also rely on Watson as a friend and also be open to being vulnerable," Liu said. "Because it's very scary when you can't be who you are at your best – and that's all he knows how to do. So, suddenly he's in a situation where, you know, he can't trust if he remembers if he did speak to someone. It becomes very terrifying for anyone, I think."
"You said your character Watson is the most patient role you've ever played. What does that mean?" asked co-host John Dickerson.
"I think the development of this character has been much more of a progression," she replied. "She was sort of a companion and she became more of a witness than someone who I've played before [who] was very decisive and aggressive and colorful."
"Impatient?" suggested co-host Alex Wagner.
"Yeah! It's a very different way to sort of discover a character, and so this is a very patient character as far as I'm concerned, in my career at least."
"Does this new role in filling the gaps in Holmes' mental problems call for a more assertive Watson?" asked Dickerson.
"She has to be more aggressive as a friend and make sure he listens to her and that she's able to take care of him more," Liu said. "I think he's so independent – and fiercely independent – to the point where she sometimes has to come in and say, 'I'm going to do this and you're going to do this.'"
Beginning in season 2 of "Elementary," Liu has also directed episodes of the series, directing two last year. "I've had a great opportunity to be a great part of a different side of this show, which I've enjoyed greatly," she said. "I love acting, I don't know if I'll ever not love it. I have a passion for it. But I have grown to really appreciate directing because you really get to work together in a team environment with the head of departments and the crew, and everything comes together. The coherence of that really opens up your world, and you really are activating every part of your brain.
The season 6 premiere of "Elementary" airs on CBS tonight at 10 p.m. ET/PT.
See more of the "CBS This Morning" interview with Lucy Liu in the video above, or watch the season 6 trailer below:
Thanks for reading CBS NEWS.
Create your free account or log in
for more features.