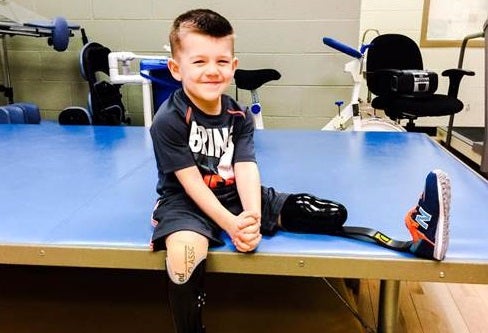 Little boy fitted with "blade feet" thanks to Boston bombing survivor
CHICAGO -- Jude is ready to run.
A little boy from Illinois has been fitted with "blade feet" thanks to help from a Boston Marathon bombing survivor, CBS Chicago reported.
Jude Hill, 5, lost his feet after a lawnmower accident two years ago.
"Didn't see Jude, didn't hear him, saw his left foot spit out of the cutting deck," his father Greg Hill recalled. "We went through a few tough months trying to find the right prosthetics for him."
Now, he has new high-tech blade feet thanks to Heather Abbott, a Boston woman who lost her leg in the marathon bombing.
"Most amputees aren't fortunate enough to afford these kind of prosthetics. I was lucky that my tragedy so public in a sense, because people reached out and helped me," she said.
"Many amputees, their amputations happen in a more private way and the whole world doesn't know about them so they aren't able to get as much help. So it was important to me to be able to give back in that way and help other people get what I have," Abbott continued.
The blade feet are made of carbon fiber and the struts are designed for heavy impact.
"Jude's running blades were designed for his weight class. I made the sockets. When he gets older, and bigger, he'll need new ones," said David Rotter, Clinical Director of Prosthetics, Scheck & Siress, which works with the University of Chicago Hospital.
"He can run a bit with his regular legs, but these are dedicated running legs so he'll be able to go much faster," said Rotter.
And Jude adapted to his new legs immediately.
"He put them on and he started running. It was pretty amazing," laughed Rotter.
Hill's father said he's always been an active boy, so these new running prosthetics are perfect for him.
"It's something to marvel at. He just took off. It's rather indescribable to put into words how well he's adapting," he said.
"It's a tool. He has the drive and the spirit but he needs the tool to be that active. Dave and his crew gives him the tool to be a normal 5-year-old boy," said Jen Hill, Jude's mother.
If you meet him, he might just challenge you to a race.
Jude ran down the hospital hallway besides Abbott, both wearing their blade legs.
"I think he's going to do great. I just told his dad I bet we'll see him in the Paralympic's someday," said Abbott.
The blade feet are donations from the Heather Abbott Foundation. She said she's paying if forward through her non-profit she founded to help people who have lost limbs due to traumatic circumstances.
His parents said all Jude wants to do is keep up with other kids. With his new blade feet, he might just pass them by.
Thanks for reading CBS NEWS.
Create your free account or log in
for more features.