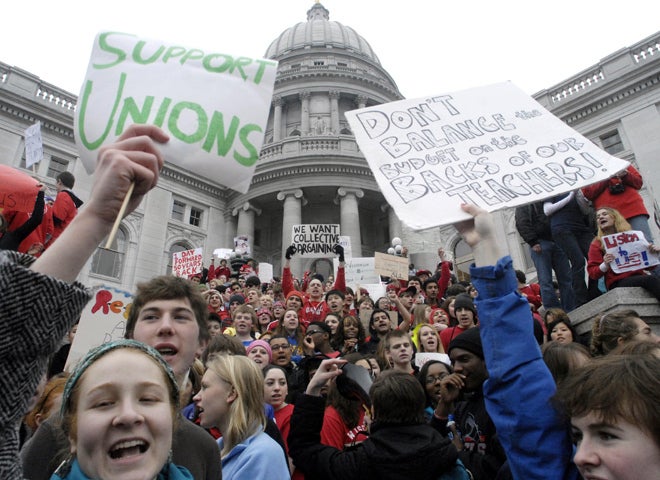 Liberals call on Obama to fulfill campaign promise, walk with Wisconsin union protesters
Back in 2007, then-Sen. Barack Obama said that if he were president, he'd be walking the picket lines in solidarity with workers if unions were ever threatened. Now, the president has that chance in Wisconsin, but the White House says President Obama has no such plans.
Massive demonstrations have gone on for days in Wisconsin, as public workers and their supporters protest Republican Gov. Scott Walker's so-called "budget repair bill," which would scale back public workers' benefits, as well as their collective bargaining rights.
Public workers and their supporters argue that eliminating most public unions' collective bargaining rights has nothing to do with the budget and that the governor should drop that element of his plan. Walker isn't budging, however -- meaning that the ongoing debate has more to do with ideology than the state budget.
On the campaign trail in 2007, Mr. Obama had this to say: "If American workers are being denied their right to organize when I'm in the White House, I will put on a comfortable pair of shoes and I will walk on that picket line with you as President of the United States."
CBS News chief White House correspondent Chip Reid asked White House Press Secretary Jay Carney about that promise today, to which Carney responded that the president has already made his position on the matter clear.
"I think that the president has different means of speaking out on issues and being heard," he said. "And, clearly, he did. He made his viewpoints known on the situation in Wisconsin, the need for people to come together."
In an interview last week with local television station WTMJ-TV, Mr. Obama said, "Some of what I've heard coming out of Wisconsin, where you're just making it harder for public employees to collectively bargain generally seems like more of an assault on unions. And I think it's very important for us to understand that public employees, they're our neighbors, they're our friends... And I think it's important not to vilify them or to suggest that somehow all these budget problems are due to public employees."
Organizing for America, Mr. Obama's political arm of the Democratic National Committee, has played a role in facilitating the protests in Wisconsin and across the country, but the organization has downplayed its role. Meanwhile, as the conflict over public sector workers spreads to other states, several of Mr. Obama's potential 2012 Republican challengers are speaking out in support of Gov. Walker.
Leaders of the House Progressive Caucus are calling on the president to go to Wisconsin and continue to voice his support for unions.
"Of course I'd like to hear more from President Obama," Caucus co-chair Rep. Keith Ellison (D-Minn.) said on MSNBC on Wednesday. " He's made some statements, he should get credit for that, we'd like to hear him make some more statements. I think President Obama should come to Wisconsin and stand with the workers."
On a conference call on Wednesday, co-chair Rep. Raul Grijalva (D-Ariz.) said, "There's a bully pulpit there that the president has and I think it needs to be used."
Amy Dean, a labor activist and former AFL-CIO official in California, told the Wall Street Journal the president could do more as the leader of the Democratic Party.
"Everybody is looking to the president on this one," she said.
Protesters in Wisconsin said the same to the Huffington Post.
"He owes it to us," said Kathie Free, a retired Milwaukee public school social worker. "Obama was not put into office just by the big money. He was put into office by millions of poor and middle-class people who walk the neighborhoods, talking to neighbors, getting the votes, and that's how Obama got in, and he has to start remember how he got in. He'd better start working for the middle class and poor people."
Not everyone on the side of the unions, however, thinks the president's presence would benefit their cause. "I don't think the president's involvement in making this a Republican and Democrat issue would be particularly helpful at this point," said Andy Stern, a former president of the Service Employees International Union, the Wall Street Journal reports.
Thanks for reading CBS NEWS.
Create your free account or log in
for more features.