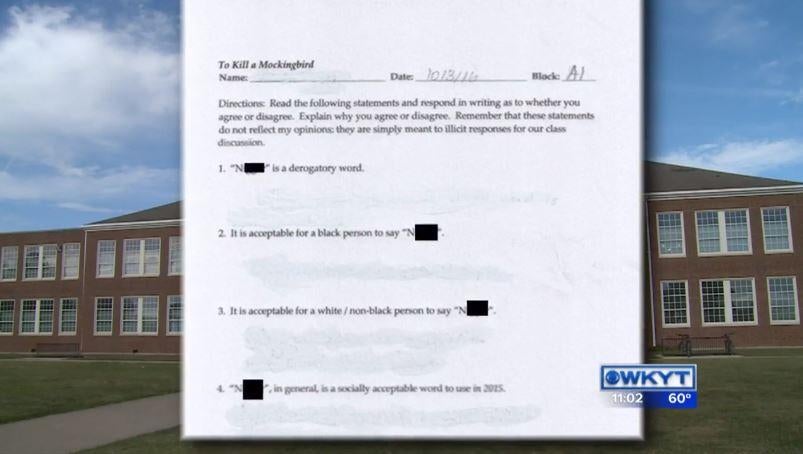 Kentucky high school apologizes for homework on the N-word
LEXINGTON, Ky. A high school principal in Lexington, Kentucky has apologized after a teacher handed out an assignment asking students to share their thoughts about the N-word.
CBS Lexington affiliate WKYT-TV reports that Lafayette High School principal Bryne A. Jacobs said Tuesday that the assignment was well-intentioned but "missed the mark." The idea was to get students to think about the derogatory language they'll encounter when reading the novel "To Kill a Mockingbird." The teacher asked seven questions, repeating the racial slur each time.
Jacobs said he was unaware of the homework assignment until it went viral online. He said the teacher has apologized to students, but did not say whether she would face disciplinary action.
A group called Central Kentucky Showing Up For Racial Justice said teachers should assign books like these with difficult topics, but this particular questionnaire was not well-planned and created an unsafe learning environment for students.
Student Kiarah Raglin told WKYT that she, along with many of her fellow classmates, felt uncomfortable when they saw the words on the paper.
"Everyone kind of laughed, it was a nervous laugh and then we kind of sat there and asked each other, did this really happen?" Raglin said.
Kiarah Raglin says she was upset about the assignment, so she showed it to her mother.
"I felt sorry for her to be in this classroom with a predominantly white classroom with a Caucasian teacher standing over her, using these words over and over. These are not words that we use in our home. These are not words that we, use- everybody likes to say 'your music'. These are not words that my child is accustomed to," Kiarah Raglin's mother, Andrea Raglin, said.
Thanks for reading CBS NEWS.
Create your free account or log in
for more features.