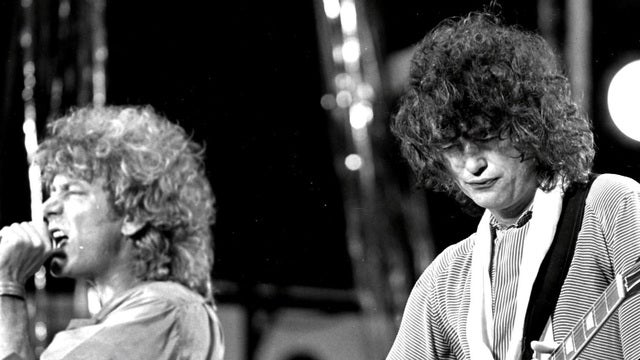 Has the chord progression in "Stairway to Heaven" been around "forever"?
In a two-hour grilling, Led Zeppelin's legendary guitarist Jimmy Page said in a Los Angeles courtroom Thursday his "Stairway to Heaven" chord progression is a common one.
Meanwhile, a lawyer for the estate of late Randy California argued it's an original stolen from Spirit's song, "Taurus."
Page said he wasn't sure of the similarities there, but compared "Stairway" to a "Mary Poppins" song, "Chim Chim Cher-ee," reports CBS News correspondent Carter Evans.
Page testified "the chord sequences are very similar because that chord sequence has been around forever."
Robert Fink, professor of musicology at UCLA, agrees and demonstrated the chord progressions of the two songs. Fink said it's a musical pattern that's centuries old, like the Italian Sonata di Chittarra from the 1600s.
"The real strength of the plaintiff's case is ... the similarity is real. So that's undeniable. The weakness of their case is that the commonness of their progression is also real," Fink said.
California wrote "Taurus" in 1967, but never filed suit against Led Zeppelin, which released "Stairway to Heaven" four years later. His estate is now arguing Jimmy Page and Robert Plant had ample opportunity to hear California's song and deliberately copied it.
"Led Zeppelin's the greatest cover band of all time. They lifted people's music, they never gave credit, and now, you know, it comes back to haunt them," Spirit's attorney Francis Malofiy said.
Jurors will now have to decide whether the riff Led Zeppelin made iconic was original enough to be owned by anybody -- or just part of the common language of music.
"This actually gets to the heart of musical copyright issues," Fink said.
Thanks for reading CBS NEWS.
Create your free account or log in
for more features.