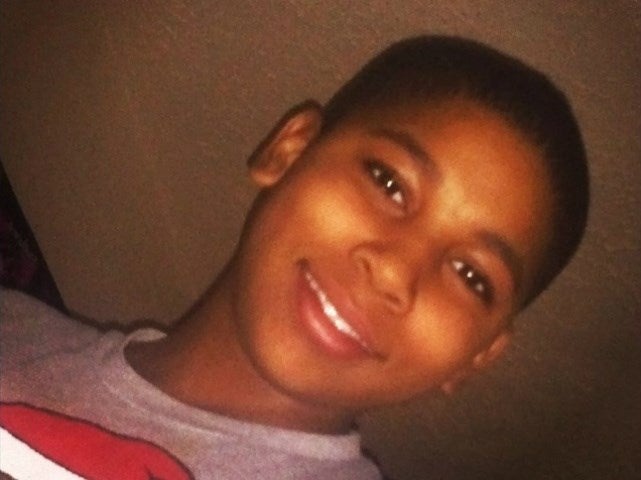 Lawyer says rookie Cleveland cop shot, killed 12-year-old
Tamir Rice, a 12-year-old Cleveland resident, went to the neighborhood playground Saturday with friends carrying a fake gun and waved it around. It cost him his life.
CBS affiliate WOIO in Cleveland reports one of the 911 callers said of the boy and his Airsoft replica gun at the time: "It's probably fake, but you know what, it's scaring the [expletive] out of people."
Police showed up. One of the officers called to the playground saw the pistol sitting on a table or bench, and watched the boy grab it and put it in his waistband, Jeff Follmer, president of the Cleveland Police Patrolmen's Association, said.
The cops had not been told the 911 caller thought the gun could be a fake, Follmer said. The Airsoft replica gun, which fires the equivalent of BB pellets, was missing its orange safety cap, which is designed to indicate its status as something other than a deadly weapon.
The officers ordered Rice to put his hands up. Police officials said the boy instead grabbed for his fake gun in his waistband.
Deputy Chief Ed Tomba said: "That's when the officer fired."
Rice died the next morning. Officials said at a news conference Monday the cops were standing 10 feet away when one of them shot the boy.
Attorney Timothy Kucharski, who has been hired by Rice's family, told WOIO that "an innocent boy was shot and killed" by a rookie officer.
The two officers involved in the shooting have been placed on administrative leave, which is standard procedure. The Cleveland Plain Dealer reported that the other officer involved is a 10-year department veteran.
"This is not a black and white issue. This is a right and wrong issue. This is not a racial issue. This is about people doing their jobs the right way," said Kucharski.
The police department said it has collected surveillance video and other evidence and will present it to the county prosecutor's office. An official also said they have yet to formally interview the officers about the incident, and that the officer who fired the fatal shot was shaken by it.
Tomba said surveillance video of the shooting is "very clear" about what occurred, but he wouldn't discuss details of what it shows.
People representing the boy's family viewed the video Monday, but police didn't release it publicly because it is considered evidence and because they want to be sensitive to the family, the community and the officer, who is distraught, officials said.
After reviewing the evidence, prosecutors will present the case to a grand jury, which will decide whether the officer was justified in using force against the boy.
Donnie Pastard a local activist with the local anticrime group, Black on Black, told WOIO he doesn't think there was racial malice involved, but that doesn't excuse what happened.
"I do not think these police officers left home to kill a black child. But I do think there's training involved there. There's the race factor involved. This is something we gonna have to talk about, whether we like it or not," said Pastard.
A 14-year-old who was at the scene on Saturday told WOIO they warned Rice about playing with fake guns on the playground.
"It could have been prevented by him going home," he said. "I wouldn't want my life to end so young. Probably had a bright future ahead of him."
On Sunday, state Rep. Alicia Reece, of Cincinnati, announced plans to introduce new legislation requiring that all BB guns, air rifles, and Airsoft guns sold in Ohio be brightly colored or have prominent florescent strips, so there is no confusion. According to federal law, toy and replica guns must have an orange tip on the barrel.
For Deputy Chief Tomba, there could have been a simpler solution to the problem.
"When an officer gives a command, we expect it to be followed," said Tomba.
Thanks for reading CBS NEWS.
Create your free account or log in
for more features.