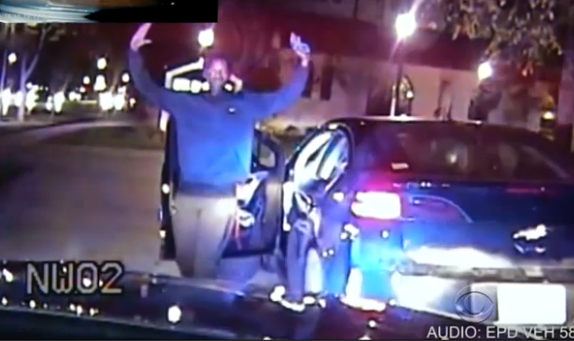 Video captures controversial arrest of black man in Chicago suburb
CHICAGO -- Police in suburban Chicago are being sued for false arrest and excessive force after a citizen called 911 to report a man breaking into a car and driving away.
What happened next was recorded by a camera in the car the suspect was driving.
On Oct. 10, 2015, a caller to the Evanston, Illinois police, identified as Blake Murphy, thought she saw someone breaking into a car.
"Um, he was African American with a black hood," Murphy said on the call.
But as a police cruiser rolled into action, Murphy began to waver.
"I don't know if I'm like racial profiling. I feel bad," she said.
The man at the wheel was Lawrence Crosby, a 25-year-old candidate for a PhD in engineering from Northwestern University, and the car was his.
A dash-cam in Crosby's car picked up his cellphone conversation as he watched the police approach.
"You know how it is with black people. They think we're always trying to do something wrong," Crosby could be heard saying.
When Crosby pulled over and surrendered, he attempted to get in front of his dash-cam to record the incident, but was tackled by four officers, who roughed him up and ran a check on the car.
"Why am I being put in handcuffs?" Crosby asked.
"We have to verify that the car is not stolen," an officer said.
When the check confirmed the car was Crosby's, one officer reacted by saying, "I said I didn't shoot you, mother f*****. You should feel lucky for that."
The video and audio came to light last week after pressure from local elected officials.
"This is something that could have been checked on a computer, and all determined without any contact between Lawrence Crosby and the police," said Tim Tuohy, Crosby's attorney.Lawrence Crosby
Murphy, the 911 caller, followed police to the scene.
"Thanks for calling," an officer said.
"Thank you. If it's his car, will you tell him I'm sorry?" Murphy asked.
"No problem," a police officer said. "We will take care of it."
They took care of it by charging Crosby with resisting arrest.
But Crosby was acquitted last year.
The Evanston Police said their officers complied with department procedures, but they are now changing those procedures, and no longer require that subjects in similar cases be forced to the ground.
Thanks for reading CBS NEWS.
Create your free account or log in
for more features.