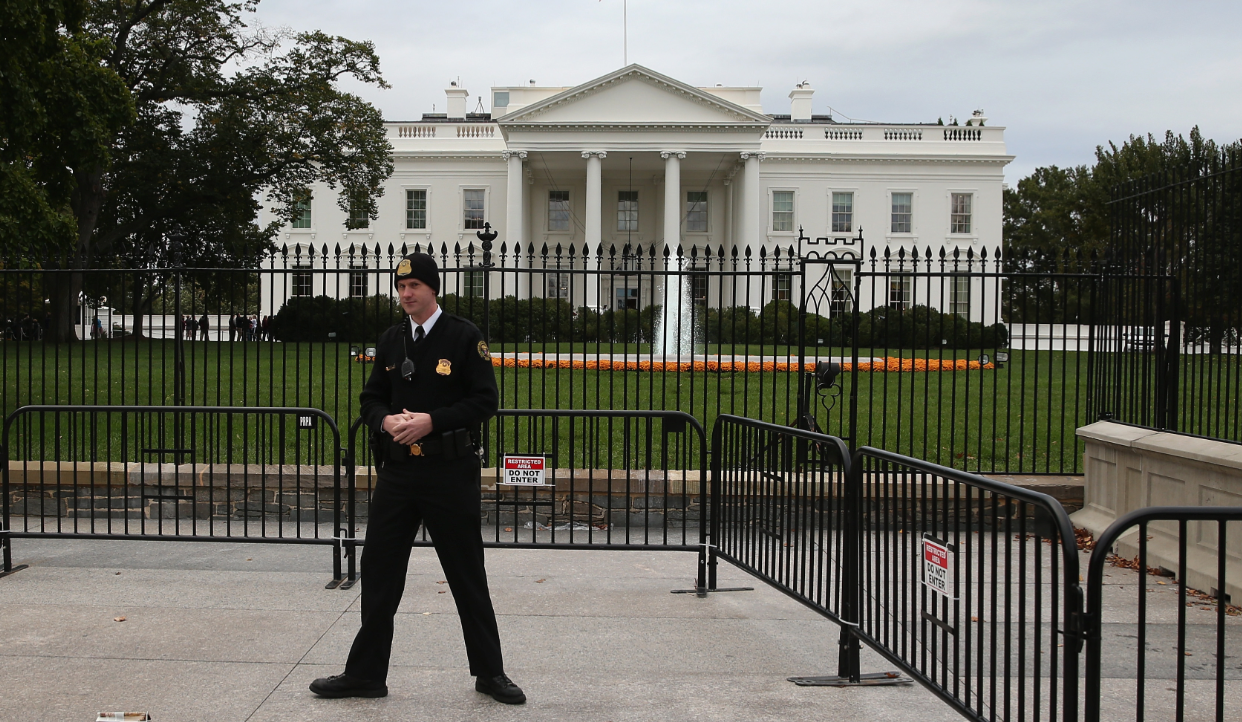 Latest White House fence jumper appears in court
The man who jumped the White House fence on Wednesday was charged Thursday with unlawfully entering the White House grounds and assaulting a law enforcement animal.
Dominic Adesanya, 23, climbed the north fence of the White House at 7:16 pm on Wednesday evening. He was immediately taken into custody by Secret Service K-9 teams and uniformed division officers, U.S. Secret Service Spokesman Ed Donovan said.
The Secret Service initially said that Adesanya would be charged with two counts of felony assault on a police officer for attacking the Secret Service dogs that helped take him down, four counts of resisting arrest and unlawful entry, and one count of making threats. But during an intial court appearance on Thursday, the suspect was only charged with two misdemeanors -- one count of unlawfully entering the White House grounds, and another for attacking the Secret Service dogs. It's possible that additional charges could be added at a later date.
The suspect was released from the local hospital where he was treated and handed over to the U.S. Marshals Service due to previous outstanding warrants.
And you can exhale that sigh of relief -- the K-9 units injured by Adesanya will be just fine. The dogs, named "Hurricane" and "Jordan," were treated for minor bruising by a veterinarian and cleared for duty.
It was not the first time Adesanya tried to breach the White House grounds this year. In July, he was arrested after jumping a security barrier around the perimeter of the executive mansion. After his initial court appearance stemming from that incident, he failed to show up to a subsequent hearing, and a warrant was issued for his arrest.
In his court appearance on Thursday, Adesanya appeared agitated, frequently raising his hand to get the judge's attention or hissing at his lawyer, CBS News' Paula Reid reports. At the hearing's conclusion, he was dragged from the room by U.S. Marshals as he shouted at the judge.
Adesanya's lawyer requested a forensic evaluation, or preliminary psychiatric screening, for his client. The judge agreed. Another hearing has been scheduled for next Monday afternoon, and the judge has ordered that the suspect's mental health screening be completed before his next appearance in court.
Adesanya was the seventh person this year to jump the White House fence this year, according to the Secret Service. The last man who jumped the fence, Omar Gonzalez, managed to make it into the White House on September 19 before he was taken down by agents.
The fallout from that incident ultimately forced then-Secret Service Director Julia Pierson to step down. Joseph Clancy, who retired as head of the president's protective division in 2011, has assumed interim leadership of the agency while President Obama mulls a permanent replacement for Pierson.
Thanks for reading CBS NEWS.
Create your free account or log in
for more features.