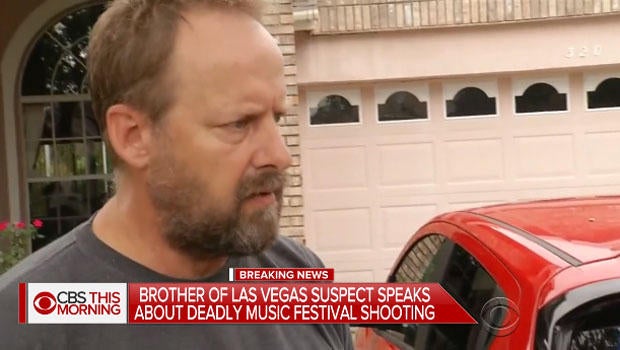 Las Vegas shooting: Suspect's family "shocked, horrified, completely dumbfounded"
LAS VEGAS -- The brother of a man suspected of opening fire on a Las Vegas concert, killing at least 58 and injuring more than 500, says his family has no idea what a possible motive could be.
The brother of Stephen Paddock, 64, said his family is "shocked, horrified, completely dumbfounded" by the shooting at a country music concert Sunday night, the deadliest in modern U.S. history. Eric Paddock of central Florida told local media, including CBS Orlando affiliate WKMG, that he can't understand what happened.
"I mean this is an asteroid that fell out of the sky," Eric Paddock said.
Eric Paddock said he last had communication with his brother after Hurricane Irma. He said his brother asked about the well-being of their mother, 90, and asked whether the family had gotten their power back.
"I can show you the text, he said, 'How's mom, did you get power?'" Eric Paddock said. "That was it. There's absolutely nothing."
Stephen Paddock had recently sent their mother a walker, he said.
Eric Paddock told reporters his brother was a multimillionaire who made much of his money investing in real estate. He also said his brother was an accountant for many years and collected coins as a child.
He repeatedly described his brother as "just a guy" who sometimes gambled on the Las Vegas strip. He was not aware of his brother having any recent financial difficulties.
The Islamic State of Iraq and Syria (ISIS) claimed responsibility for the attack, saying the shooter had converted to Islam, but provided no evidence. Nevada authorities say they believe Stephen Paddock acted alone, and no motive was yet known.
Paddock owned a single-family home in Sun City Mesquite, a retirement community along the Nevada-Arizona border, Mesquite Police Chief Troy Tanner said. He lived there with Marilou Danley, 62, who Eric Paddock said was his brother's girlfriend. Police say they don't believe she was involved.
Heavily armed police searched the home early Monday, hours after Paddock killed himself in a room at Mandalay Bay Hotel and Casino where police believe he opened fire on a crowd of 22,000 people. He was found with about 10 guns in his hotel room, officials said.
Eric Paddock said he first learned of the shooting early Sunday when all five phones in his home started ringing. He said he's been in regular communication with Las Vegas police since then.
He said his brother had no criminal history, "doesn't have parking tickets, probably," and said his brother had no political or religious affiliation, no military background and no history of mental illness.
"If he'd have killed my kids, I couldn't be more dumbfounded," Eric Paddock said.
Paddock said his brother was "not an avid gun guy at all." He said his brother had handguns and possibly a long gun, but insisted he had no machine guns and didn't know where he would have obtained them. He said the guns his brother owned were legal and he kept them in a safe.
He said he helped his brother move from central Florida to Nevada two years ago and didn't see any automatic weapons.
He begged reporters to search for possible motive.
"I hope someone figures out, because we'd like to know," Eric Paddock said.
Stephen Paddock's father was a notorious bank robber who tried to run down an FBI agent with his car in Las Vegas in 1960 and was on the agency's most wanted list after escaping from a federal prison in Texas in 1969. He was caught in 1978 and died two decades later. Eric Paddock said the family had become estranged from the father, Benjamin Hoskins Paddock, before his death.
Thanks for reading CBS NEWS.
Create your free account or log in
for more features.