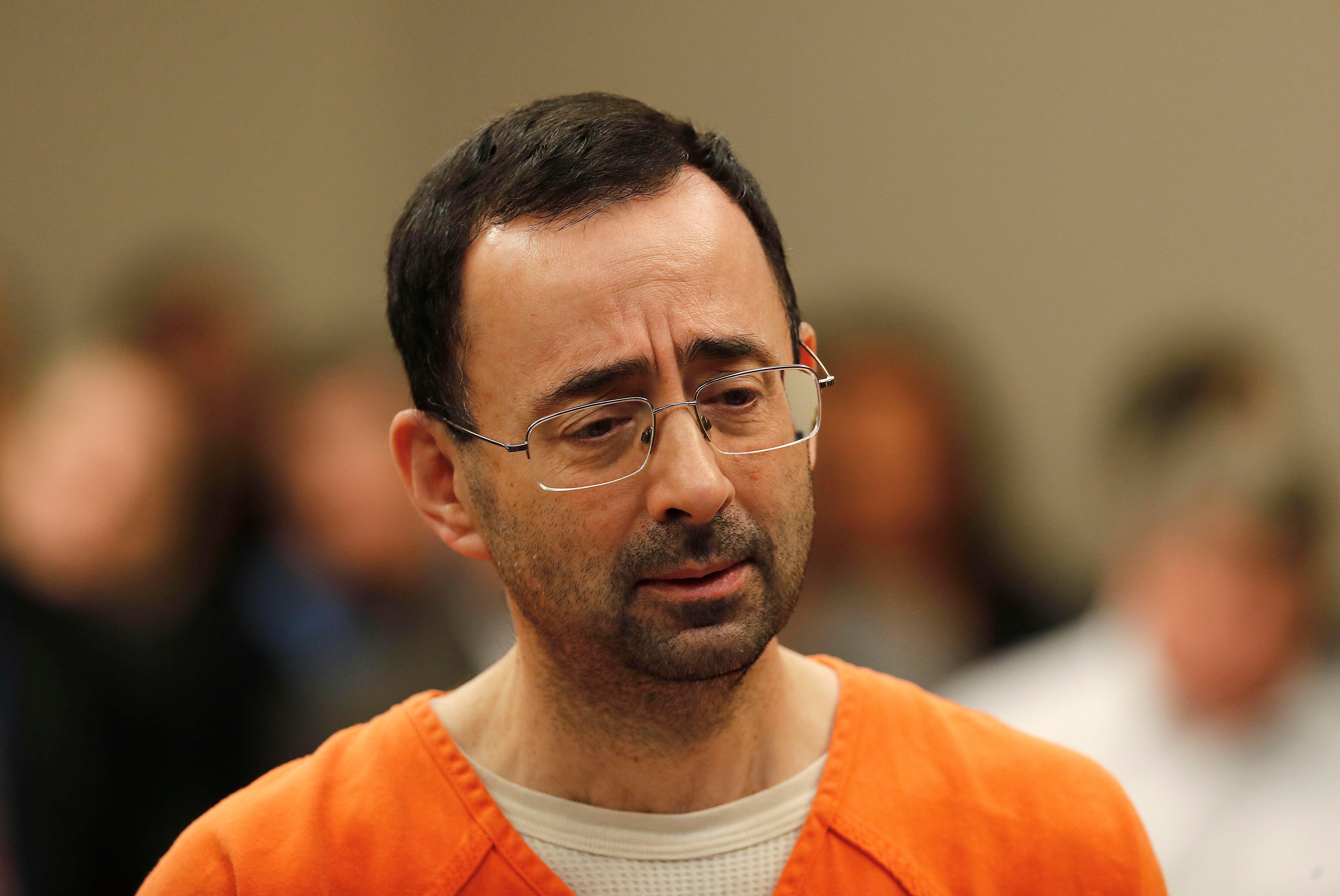 Ex-USA Gymnastics doctor Larry Nassar pleads guilty, faces at least 25 years
DETROIT -- A former sports doctor accused of molesting several girls while working for USA Gymnastics and Michigan State University pleaded guilty to seven charges of criminal sexual conduct on Wednesday.
Larry Nassar entered the plea during a hearing in Michigan's Ingham County on Wednesday. Nassar, 54, was charged with molesting seven girls, all but one of whom were gymnasts, mostly under the guise of treatment at his Lansing-area home and a campus clinic. He faces lawsuits filed by more than 125 women and girls.
Nassar asked to make a statement and said he was pleading guilty to help the community begin to heal.
"For all those involved, [I'm] so horribly sorry," Nassar said. "This was like a match that turned into a forest fire, out of control. And I pray the rosary everyday for forgiveness ... I want them to heal. I want this community to heal. I have no animosity toward anyone. I just want healing. It's time."
As part of the plea agreement, Nassar will face at least 25 years in prison, but Aquilina could set the sentence to a minimum of up to 40 years. Sentencing is set for Jan. 12 and will include statements from victims and their families. Aquilina said the sentencing hearing could last for days.
"You used that position of trust that you had in the most vile way -- to abuse children. I agree that now is a time of healing, but it might take them a lifetime of healing while you spend your lifetime behind bars thinking about what you did in taking away their childhood," Ingham County Judge Rosemarie Aquilina told Nassar at Wednesday's hearing.
Olympic gymnasts Aly Raisman and McKayla Maroney are among the women who have publicly said they were among Nassar's victims. On Tuesday, Gabby Douglas also said she is among the group of athletes who was sexually abused.
"I didn't view my comments as victim shaming because I know no matter what you wear, it NEVER gives anyone the right to harass or abuse you," Douglas wrote on Instagram.
Raisman spoke about her experience in a "60 Minutes" interview with CBS News' Dr. Jon LaPook earlier this month.
"I was in denial. I was like, 'I don't thi-- ... I don't even know what to think.'" Raisman told CBS news. "It -- you don't wanna let yourself believe but, you know, I am-- I am-- I am a victim of-- of sexual abuse. Like, it's really not an easy thing to let yourself believe that."
Raisman reacted to the hearing on Wednesday morning, saying she was "DISGUSTED."
On Twitter last month, Maroney wrote about her experience and alleged that Nasser gave her a sleeping pill at the 2011 World Championships in Tokyo and then molested her in his hotel room.
"For me, the scariest night of my life happened when I was 15 years old. I had flown all day and night with the team to get to Tokyo. He'd given me a sleeping pill for the flight, and the next thing I know, I was all alone with him in his hotel room getting a 'treatment.' I thought I was going to die that night," she wrote.
Nassar in July pleaded guilty in federal court in a separate child pornography case, CBS Detroit reports. He is scheduled to be sentenced in the child porn case in December.
In a statement, USA Gymnastics said it was "very sorry that any athlete was harmed by Larry Nassar."
"We note that affected women contacted by Michigan prosecutors supported resolution by plea, and USA Gymnastics also views Nassar's guilty plea as an important acknowledgment of his appalling and devious conduct that permits punishment without further victimization of survivors," the group said.
A spokesman for Michigan State University, which fired Nassar in 2016, said the deal "represents another important step toward justice for the victims."
"We recognize the pain sexual violence causes and deeply regret any time someone in our community experiences it. It takes tremendous courage for victims of sexual violence to come forward," Jason Cody said in a statement.
Thanks for reading CBS NEWS.
Create your free account or log in
for more features.