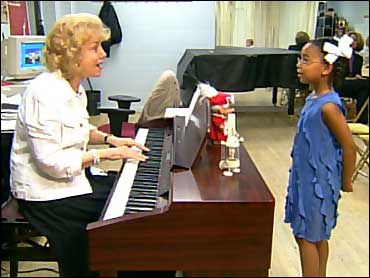 Kids' Night Out At The Met
Think of an opera singer in one of the world's great opera houses, and you might think of Domingo, Pavarotti or Callas: larger-than-life personalities with remarkable voices.
You probably wouldn't think of an 8-year-old warbling Puccini. But that, and more, is just what you'll find at the Metropolitan Opera Children's Chorus.
From "Carmen" to "Otello" to "The Magic Flute," these pint-sized Pavarottis light up the world's most famous opera stage.
And they do it with the help of Elena Doria - their tough-minded, tenderhearted coach. Correspondent Vicki Mabrey reports.
---
The Metropolitan Opera House in New York, known simply as "the Met," is home to the greatest singers in the world, performing the greatest music in the world.

A few minutes before the start of the show, a group of gypsies and street urchins are brushing up in last-minute rehearsals offstage, under the watchful eye of Doria, their maestro.

"I just want them to be the finest singers they can be for the Metropolitan Opera," says Doria.

But it's a long way, both literally and figuratively, from the classroom to that stage. And it all starts with an audition. What does a child sing to try out for the Met? Mozart? Verdi? Not a chance.

"When they sing, 'Happy Birthday,' for me, I can tell right away," says Doria. "If they're able to sing, if they can carry a tune. Right away."

Why "Happy Birthday"? "You have to make the pitch. No, it isn't so easy. You think it is," says Doria. "[But] not to sing it the way I want it performed."

Doria knows what she wants to hear, whether it's "Happy Birthday," "La Boheme," or the "Battle Hymn of the Republic."

Her musical roots go deep. Her father signed her up for piano lessons the day she was born. But Elsie Goldberg, as she was christened, soon turned to another instrument – her voice. She studied music at some of the finest schools in America, including Juilliard, before winning a Fulbright scholarship to study in Italy.

That's where she changed her name to Elena Doria, and where she made her debut in "La Traviata." What did it feel like? "Well, I swallowed a mosquito, inhaled a mosquito with an inhale and kept on singing," she says. "It was lovely. Lovely. I loved it."

Back in the United States, she sang wherever she could, until she landed in the chorus of the famed Metropolitan Opera. She remained in the chorus for 20 years, but then she chose to stop singing, and start teaching.

Why did she want to take over the Metropolitan Opera Children's Chorus? "I guess deep down, I wanted to do it," says Doria. "I'm not religious, but I think something touched my shoulder, and said, 'That's what you should do.'"

And she's been doing it now for nearly two decades -- dedicating her life to passing on her love of opera to the next generation.

Each season, she has between 80 and 90 students, ranging in age from just 3 to 14, with little or no musical training.

But in no time, she has them all reading music, breathing properly, and singing in languages they've probably never even heard before. Mozart's "Magic Flute" calls for German. Puccini's "La Boheme" calls for Italian and Bizet's "Carmen" is in French.

The children attend regular schools, and they come from as far away as New Jersey and Connecticut to practice and rehearse as often as four times a week.

"I demand a lot," says Doria. "I don't care [if they're little.] If they can't hack it, go play tennis. I don't care. They hack it, though."

This is a professional chorus, in every sense. The kids are paid for rehearsals and performances, and they sing in more than 10 different operas over 100 nights every season.

It may take a year of classes before a child is ready to sing in an opera. But week after week, Doria preps them to make sure they are ready to take the Met's sacred stage.

What are some of the things she tells her students in class? "Pay attention. Look at the conductor," says Dmitri, one of her pupils. "Don't yawn is a big thing in her class," adds another named Ben. "Or anything that you wouldn't do on stage is pretty big."

Big, however, is an understatement at the Met. Its annual budget is more than $200 million a year. Three-quarters of a million people come through its doors every season. And opera careers are made and lost here.

Most of the children in the chorus aren't looking to become professional opera singers. But there's a lot riding on their performance. Does Doria know certain vocal tricks that work with children?

"I know more tricks with every year, and this is my 19th year," says Doria. "More tricks, more different ways to tell children how to do it. Because if they don't fix it in one way, I think of another."

The average tour of duty in the chorus is three to six years. Blame Mother Nature for that. The boys have to leave when their voices change and the girls when they start to look like women.

Emmy Rossum, 18, joined the chorus when she was 7 and stayed till she was 12. She says she's never had a more inspiring teacher than Doria.

"She doesn't believe in doing your best. She believes in doing it perfectly," says Rossum. "And she believes that you have it within you. She nurtures an innate singing ability that you have."

For Rossum, that nurturing has paid off. After leaving the chorus, she pursued a career in acting. Since then, she's had a number of roles,including playing Sean Penn's daughter in the Academy Award-nominated movie, "Mystic River."

But none of her previous roles compare with the one she was offered in the spring of 2003, when she auditioned for the lead in the film version of "Phantom of the Opera." For help, she turned to Doria.

"I called up Elena because I wasn't really that familiar with the music. And she gave me the only hour that she could spare," says Rossum. "And I ran in and she helped me with that song."

Millions of moviegoers are finding out just how well Rossum has been taught. Her role could be the performance of a lifetime. But she says that she hasn't forgotten where it all began.

For the kids in the children's chorus, however, it's show time, once again. All week long they perform in different operas. And on one night, almost 30 children will take to the streets of Seville in "Carmen." And as always, Doria is in the wings, singing right along with them.

Is there a little piece of her that goes on stage with them every time they go out there?

"Sure. I go out spiritually, almost physically as far as I can get in the wings without being seen," says Doria. "Hoping it goes well, and they come off and everybody's proud."
Thanks for reading CBS NEWS.
Create your free account or log in
for more features.