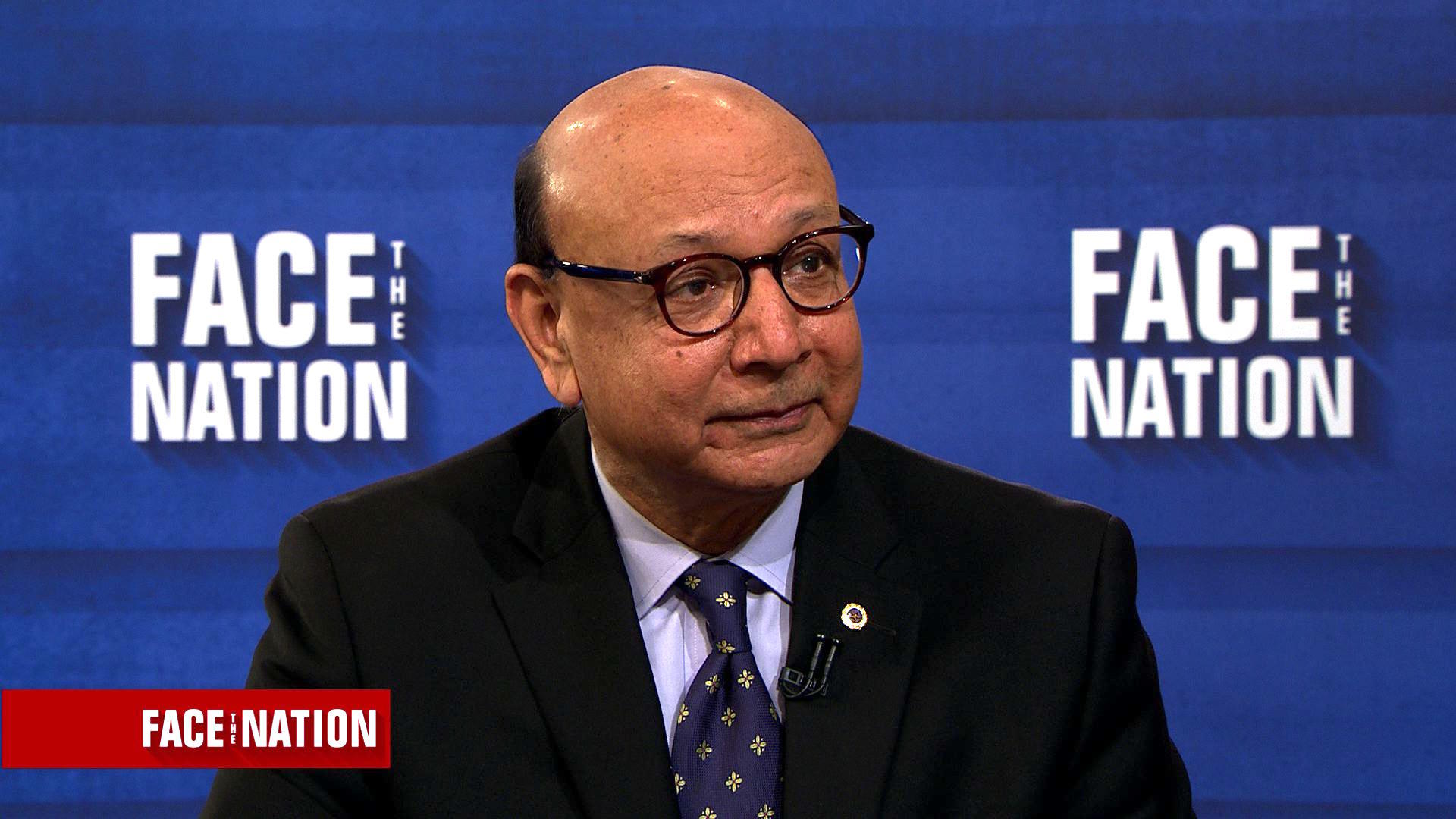 Khizr Khan says Gen. Kelly should have "refrained" from weighing in on Gold Star family controversy
WASHINGTON -- Gold Star father Khizr Khan said White House Chief of Staff John Kelly should have "refrained" from weighing in on the controversy surrounding Gold Star families, in the wake of President Trump's claim that other presidents did not call the families of fallen soldiers.
"We acknowledge his [Kelly's] sacrifices and service and his family's service. But now he is citizen of United States, should have refrained from doing exactly same thing what he was complaining about," Khan said Sunday on CBS News' "Face the Nation."
He added, "This is American tradition that when military leaders retire, they go home, collect their pension, and they maintain the dignity that they have earned."
Gen. Kelly told reporters Thursday that he was "stunned" to hear that Rep. Frederica Wilson, D-Florida, had listened to a phone call between Mr. Trump and Myeshia Johnson, the widow of Army Sgt. La David Johnson, who was killed earlier this month in an ambush in Niger that killed four soldiers. Wilson claimed the president had told Johnson that her husband "knew what he was getting into."
While the White House continues to defend the president, Khan said the administration should instead be showing "dignity and restraint" in the wake of the U.S. soldiers' deaths, saying they have made the issue into "political football."
"I offer my deepest condolence to the families of my four sons, brave hero sons that died protecting us," Khan said. "Without their sacrifice, this nation would be vulnerable. They were serving this nation. They will always be remembered. Their families will always be remembered as best of America."
He added, "I stand with them. I support them. They deserve utmost dignity and respect and privacy at this moment. That should have been quoted when this matter came to public."
Khan also said he was "shocked" to see Kelly standing next to Mr. Trump during the president's remarks on violence in Charlottesville, Virginia, over the summer. Mr. Trump compared the acts of violent demonstrators in August to that of counter-protesters, saying he condemned hatred and bigotry on "many sides."
"I was shocked to see citizen Kelly standing next to the president when he- president could not have the proper word to condemn the attack on the blessed city of Charlottesville, Virginia, by Neo-Nazis," said Khan.
He added, "Instead of advising the president that restraint and dignity is the call of the moment, former General Kelly indulged in defending behavior of the president and made the situation even worse. Our political leaders elected by the people are deserved- deserving of equal dignity and equal respect, instead of being maligned on misstated facts. And that was beyond the call of the moment."
Mr. Trump has previously lashed out at Khan, who delivered an emotional speech about his Muslim-American son -- killed in Iraq -- at the 2016 Democratic National Convention. His son was posthumously awarded a Bronze Star for his heroic actions on the battlefield.
During his speech, Khan pulled a copy of the Constitution out of his suit pocket and offered to lend it to Mr. Trump, asking if he had ever read the document written by the Founding Fathers.
"Have you ever been to Arlington cemetery?" he then asked. "Go look at the graves of brave Americans who died defending United States of America. You will see all faiths, genders and ethnicities. You have sacrificed nothing."
Mr. Trump later took to Twitter with a complaint that he had been "viciously attacked" by Khan.
Khan, author of "An American Family: A Memoir of Hope and Sacrifice," said that since his moment on the DNC stage, he's been on a journey of "hope, bridge-building and interfaith dialogue."
"We will prevail. I have seen the hope and aspiration in the eyes and in the hearts and in the minds of the people that I have dealt with throughout this nation. We are blessed to have all this," he added.
Thanks for reading CBS NEWS.
Create your free account or log in
for more features.