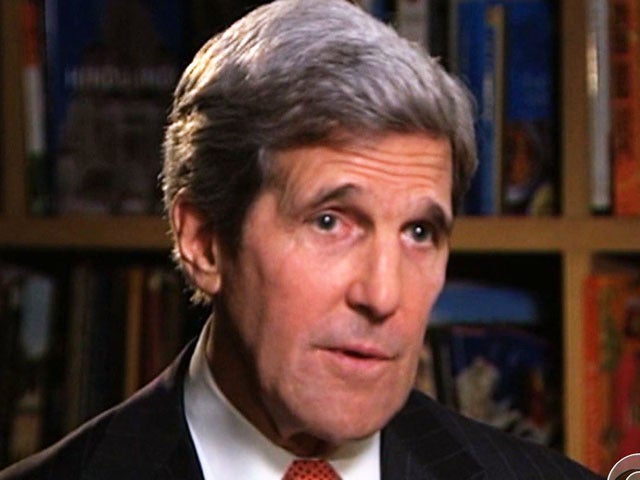 Kerry warns Russia on Snowden: "Respect the relationship"
(CBS News) NEW DELHI, India -- The global manhunt for Edward Snowden has turned into a diplomatic standoff between the U.S. and Russia, with the Departments of Justice and State -- along with the FBI and White House -- all pushing the Russian government to hand over the NSA leaker.
Secretary of State John Kerry said Monday that the U.S. is doing everything it can do to apprehend him, describing the effort to persuade Russia that it is important to uphold the rule of law and to respect the relationship between the two nations.
"I hope our friends in Russia will do what is necessary," Kerry said in an interview with CBS News.
"Our country is doing everything that's possible," he said. "We have a coordinated effort between the State Department and Justice Department, the FBI, the White House in an effort to try to persuade our Russians colleagues that this is important, important to the US, important to them, in terms of upholding rule of law and we have returned 7 prisoners to them in the last two years that they requested; I think its very important to them to adhere to the rule of law and respect the relationship."
In a press conference in New Delhi earlier in the day, Kerry suggested that Snowden was in transit and seeking refuge in a third country. Hours later, Kerry told CBS News that "all the countries in Latin America, a lot of countries have been notified about the U.S. interest in this individual."
Reporters chasing Edward Snowden stranded on Cuba-bound plane
For Edward Snowden, why Ecuador?
Complete Coverage: NSA surveillance exposed
When pressed, Kerry refused to discuss the exact whereabouts of Snowden -- describing him as "on the lam" -- but said that his last known whereabouts were in Moscow.
"I simply want to say that this is a man who is accused of three charges of espionage against his country," Kerry said. "He is a fugitive from his own acts, ironically using countries that don't have internet freedom to help him."
The secretary avoided defining what the consequences would be for Russia if it continued to harbor Snowden, who was indicted on charges of espionage last week. He also avoided directly commenting on the Chinese government's decision to allow Snowden to travel. The U.S. has requested that the Hong Kong government help arrest Snowden.
Kerry admitted to CBS News that the U.S. knew very little about Snowden's escape from Hong Kong, acknowledging that "we don't know how he got on a plane or how he traveled."
Watch: Obama says U.S. pursuing Snowden through all "appropriate legal channels," below.
The U.S. revoked Snowden's U.S. passport on June 23, the same day he left Hong Kong. Wikileaks Foundation, which says it is paying the legal bills for Snowden, reported that Snowden had been traveling under U.N. refugee status and that he was under diplomatic protection. The Ecuadorean government also announced that it had received a request for asylum from Snowden.
Critics said the State Department was too slow to respond and that it missed an opportunity to restrict Snowden's travel by revoking his passport earlier, but Kerry said it wasn't clear whether Snowden was traveling on his U.S. passport or an alternative document.
The Secretary of State defended his Department's staff and said they had been working all weekend, full time, to tackle the publicity crisis and diplomatic standoff.
"We do know that his passport was appropriately cancelled within two hours, I think, of the complaint being made public," Kerry explained.
Thanks for reading CBS NEWS.
Create your free account or log in
for more features.