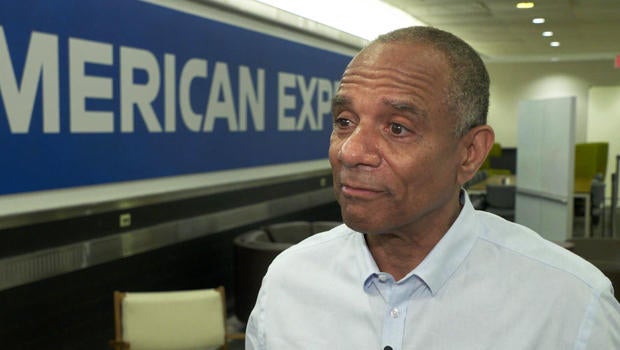 Ken Chenault on leadership and success at American Express
Ken Chenault is one of America's most respected CEOs, the former boss of no less a corporate titan than American Express. This morning CBS News Special Correspondent James Brown talks with Chenault about his road to the corner office:
It's a big day at American Express' world headquarters in New York. After 37 years (the last 17 as Chairman and CEO), this is Ken Chenault's last day, and thousands of employees have shown up to say goodbye.
He is a rock star to the green-card faithful, and their preternaturally calm leader stands up for hours patiently taking selfies.
"Ken has been an incredibly empathetic and amazing leader," says Penny Szeta. "He's really a man of the people."
Jackie Granchamps adds, "He's a celebrity!"
Chenault admits that all of this can be a bit overwhelming: "To hear people say, 'You changed my life, you are an inspiration,' how much better does it get in life?"
And what a life it has been. At the time of his retirement in February, Ken Chenault was one of just four African-Americans running a Fortune 500 company.
"Someone told me, 'I can't conceive of an African-American ever running a major division at American Express, I just don't think that's going to happen,'" he said. "My response was, 'Then you haven't met many African-Americans, because there are many qualified people who can do that job.'"
Warren Buffett has been Chenault's friend for over 20 years, and is also the largest shareholder in American Express. He called Chenault "a class act. Very simply, he's the kind of a person that you'd love to have as trustee of your will, or marry your daughter, or be your next-door neighbor or whatever it might be."
Brown asked, "You called him, 'The gold standard of CEO leadership.' Pretty high praise. What did you mean by that?"
"If you were going to be appointed as a CEO of a major corporation, you couldn't do better than to look at not only what Ken has accomplished, but the way he's done it," Buffett replied.
Born in 1951, Chenault grew up in a mostly African-American neighborhood on Long Island, New York, the third of four children. His father was a dentist and his mother a dental hygienist.
When asked to describe his upbringing, Chenault said, "I had two parents who really cared about us a great deal. I'll never forget the headmaster of the school telling me this story, when I was about to graduate from high school, saying, 'When your mother was investigating our school, she said, I want an environment where, if one of my children has the opportunity, they can be President of the United States.'"
He attended the exclusive Waldorf School, and then went on to Bowdoin College in Maine, during very turbulent times.
Brown asked, "What kind of influence did what America was going through at that time have on you?"
"It had a profound influence on me," Chenault said. "I received opportunities as a result of Brown v. Board of Education. And so to be there and to witness and to be involved in the civil rights movement was very important. But at the same time I wanted to be open to people from all over the world."
His world view expanded when he went on to Harvard Law School, and while there a keener focus came into view when he met his future wife, Kathryn.
"One of the things that attracted me to Ken was his intelligence, the way he treats other people, and his integrity," Kathy Chenault said. "Those are the qualities my mother had told me to look for."
They were married in 1977. Kathy became a lawyer as well. And after brief stints in law and consulting, Ken's career took off: "I had no idea when I was in law school that I was going to pursue a career in business. What I did know is that I wanted to be a leader."
In 1981, Chenault was recruited by American Express, and he took on a big challenge right away, choosing to run the merchandise services unit which sold products through the mail: "The only problem was, they were losing money. And I really was able to put together a team and figure out how to motivate people to do things that they didn't think were possible. And we went from generating $100 million in sales and losing money, to over $700 million in sales. And it was one of the most formative experiences of my career."
That began a meteoric rise at Amex, propelling Chenault to president and COO in 1997, and then into the corner office in 2001.
Brown asked, "What was the first thing that you did when you got the news?"
"I really reflected on what it meant – what it meant for me, what it meant for the company, what it meant for African-Americans,," he replied. "I really saw it as a privilege."
His leadership was tested in 2001, just months after being named CEO, when American Express lost 11 employees and suffered major damage to its headquarters during the 9/11 attack.
"It was a horrific tragedy for the world and for America," Chenault said. He assembled all Amex employees in the tri-state area to Madison Square Garden, where he told them, "Our company is sound, our hearts are even stronger, and our minds will get clearer. We will overcome."
He told Brown, "Part of it was to give them faith and confidence that this company would in fact continue."
American Express rebuilt. It was tested again by the Great Recession of 2008. Buffett said, "It was a scary time for anybody running a big financial institution. He kept his head while others were losing theirs, essentially."
Chenault held the top job for 17 years, and now, at 67, he is taking his leadership to Silicon Valley, as a New York-based venture capitalist, and board member of Facebook and Airbnb.
"Has technology and digital done enough to change the broader society? I think there's more to do there," Chenault said.
But for Ken and Kathy, and their sons, Kenneth and Kevin, it has been an emotional goodbye. American Express employees have gathered to show their appreciation of 37 years of service.
"Every country we went to, people were crying," Kathy said. "It's – it was emotional. I was crying, you know?"
She cried again when asked to describe the reaction from employees about Ken. Her husband held it together for the most part, but he got a bit emotional when addressing employees on the last day of his tenure: "Thank you, thank you, for giving me the opportunity of my life. I love you."

For more info:

Story produced by Alvin Patrick.
Thanks for reading CBS NEWS.
Create your free account or log in
for more features.