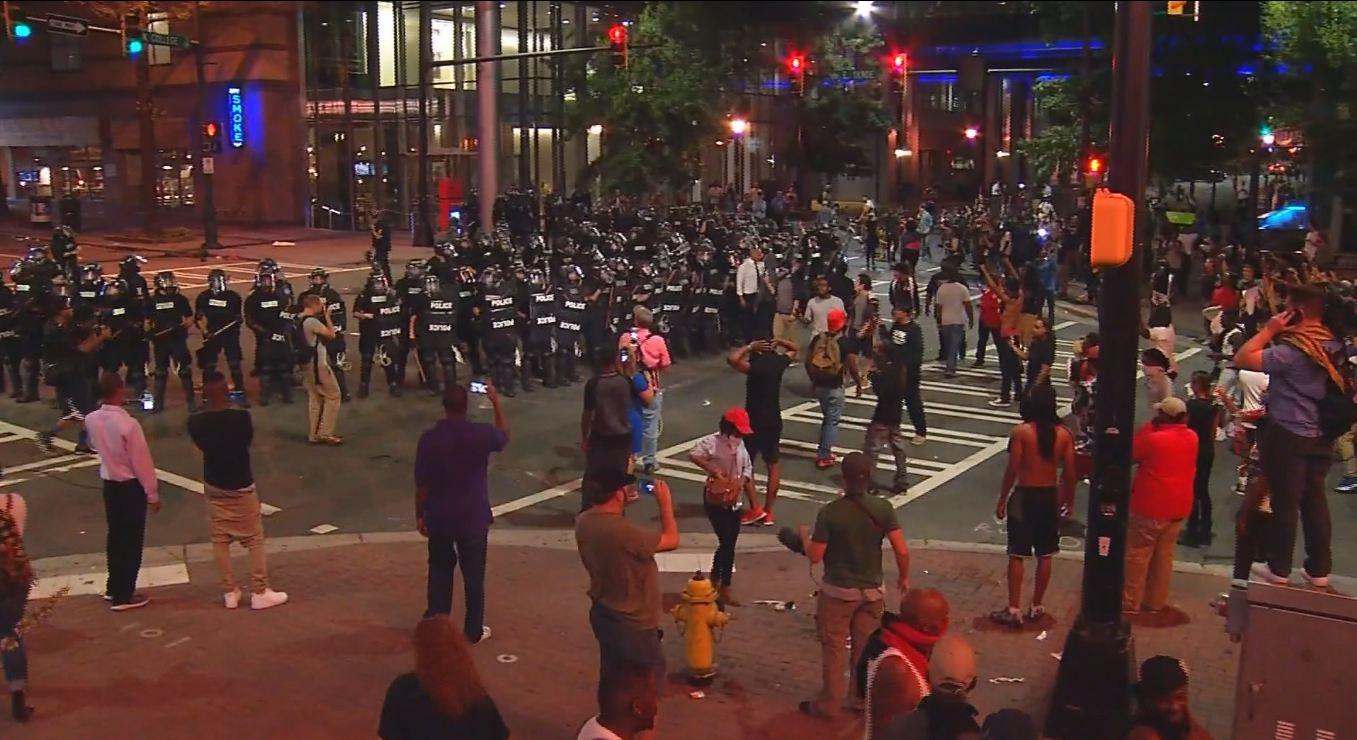 National Guard called in as violent protests roil Charlotte
North Carolina's largest city is under a state of emergency, after another night of violence over the police killing of a black man. The governor has ordered the National Guard to Charlotte, where thousands of workers at Bank of America's downtown headquarters have been told to stay home Thursday.
For the second straight night, the streets of Charlotte erupted in violence as protesters clashed with police over the death of 43-year-old Keith Lamont Scott, reports CBS News correspondent David Begnaud.
One person was shot during the protest, who city officials initially said had died, but they backtracked, and now say he is on life support. We're told Charlotte police never fired a shot.
"The whole reason we had to protest was because somebody was shot unarmed. Another unarmed person is shot today," said protester Gloria Merriweather, choking up on tears.
Police ordered the crowds to disperse after some protestors started damaging businesses. Officers fired tear gas and flash grenades, but hundreds of people remained well after midnight.
Police and journalists were attacked, store and car windows smashed and a night that started as a peaceful prayer vigil had descended into chaos.
"Yes we came down here to protest but we can't tear up downtown. That's not going to solve anything," said a protester.
Four officers suffered non-life-threatening injuries and at least three civilians were hospitalized. At one point, several protesters ran onto Interstate 277, stopping traffic and surrounding drivers.
"Some of this is just absolutely insane, like these people didn't do anything to us. If you're going to revolt against somebody, revolt against the people who deserved it," said another protester.
"My heart bleeds for what our great city is going through," North Carolina Governor Pat McCory told CBS News affiliate station WBTV-TV about the two nights of violence.
The Federal Justice Department is still determining whether or not they will open an investigation into Scott's death. In a statement, Scott's wife, Rakeyia Scott, said they still have more questions than answers surrounding the shooting, but they are calling for an end to the violence.
Thanks for reading CBS NEWS.
Create your free account or log in
for more features.