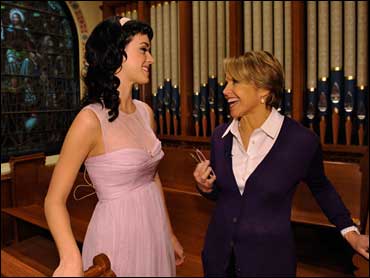 Katy Perry On Religion & Her Parents' Past
Katy Perry may be known for her wild stage outfits and bi-curious ode to sexual experimentation, but it's her parents, she explains to Katie Couric, who may be the real wild ones.
"My parents have stories. They probably have better stories than I do," she says in an interview on Katie Couric's "All Access" Grammy Special, to be broadcast Wednesday, Feb. 4 (9:00-10:00 PM, ET/PT) on CBS.
The daughter of travelling ministers, Perry reveals that despite their devout Evangelical beliefs, her parents have a past that's more rock star than religious - her mother dated rock legend Jimi Hendrix and her father hung around with 60's counterculture icon, Timothy Leary.
"He was part of the Strawberry Fields Forever," Perry says about her father. "[But] they found God, you know? They needed to find God. Not that they needed to find God, God found them, really."
Perry visits a New York City church with Couric, where she explains her religious upbringing, which included the Pentecostal practice of speaking in tongues. "You know, there was a movie or a documentary called 'Jesus Camp,'" Perry tells Couric, "and I watched it and I was like, 'Oh my Gosh, I didn't know they had behind-the-scenes footage of my childhood!'"
Now the girl who grew up listening to the soundtracks of films such as "Sister Act" - 1 and 2 - and "The Preacher's Wife," is nominated for Best Pop Vocalist for her controversial chart-topper, "I Kissed a Girl." And her parents couldn't be prouder.
"They may not be singing along with everything," she says, "but they are very happy."
"All Access" will also feature Couric's interviews with Justin Timberlake, Lil' Wayne and Taylor Swift and appearances by the Jonas Brothers, Carrie Underwood, John Legend, Ne-Yo, Metallica and many more.
Thanks for reading CBS NEWS.
Create your free account or log in
for more features.