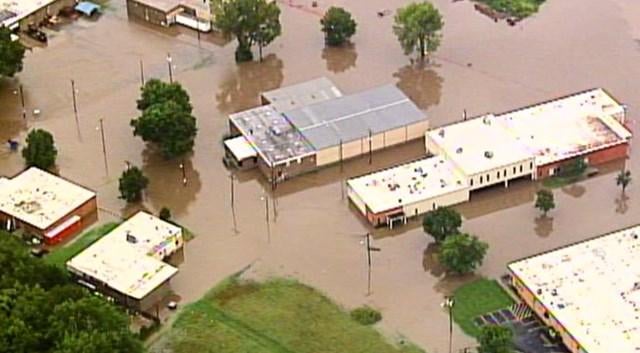 Heavy rains soak parts of Kansas City; death blamed on flash flooding
KANSAS CITY, Mo. -- Several streets were flooded and blocked off from traffic in the Kansas City area on Tuesday after overnight rains pounded the region, prompting numerous rescues of stranded motorists and others who scrambled to safety atop rooftops.
Authorities say 56-year-old Robert Dean Schoenhals, of Pleasanton, drowned after his car was swept away by floodwaters caused by thunderstorms that pummeled the region. Crews located his body about 2½ hours after the accident. A deputy saw Schoenhals try to drive through high standing water on a highway shortly before 4:50 a.m. when the car hydroplaned off the road and entered a ditch with deep, rushing water.
The Sheriff's Office says the car was found unoccupied about 45 minutes later some 150 yards from where it first entered the water. Schoenhals' body was found about 7:20 a.m., about 75 yards from his vehicle.
Kansas City's police and fire departments reported receiving more than 270 water-related calls. Sixty two of them were for water rescues, CBS News' Adriana Diaz reports from Overland Park, Kansas.
At least 6,000 people lost power in the region, Diaz reports.
According to CBS affiliate KCTV, a flood warning was issued for Indian Creek. Police officers and firefighters went door to door within neighborhoods. Residents were asked to evacuate voluntarily.
As much as 9 inches of rain fell on one city neighborhood between Monday night and Tuesday morning. A large swath of the region saw 4 to 6 inches of rain.
Much of the water has receded and flushed out through drains -- where some whirlpools were created in a local creek, Diaz reports.
Also in Overland Park, fire officials said a family of seven -- three adults, four children -- and at least one pet sought safety on the roof of a house after flooding along the Blue River inundated the one-story structure. Firefighters had been waiting for the waters to recede before making any move to assist the family down from its perch, but a civilian came to the rescue with a military-style truck and helped those stranded people to safety, ending their eight-hour ordeal.
Rescuers early Tuesday helped a woman who sought refuge in a tree. Authorities said she had been watching flooding along the Indian Creek from her vehicle when the waters flipped her car and pinned it against the tree.
Portions of the creek rose to nearly 3 feet above the previous record from June 2010, according to the National Weather Service. But river levels were quickly receding Tuesday across the region, according to the weather service's website.
The flooding prompted several schools in the region to either cancel Tuesday's classes or delay the start of them. In some cases, schools cited busing issues linked to the flooding.
Thanks for reading CBS NEWS.
Create your free account or log in
for more features.