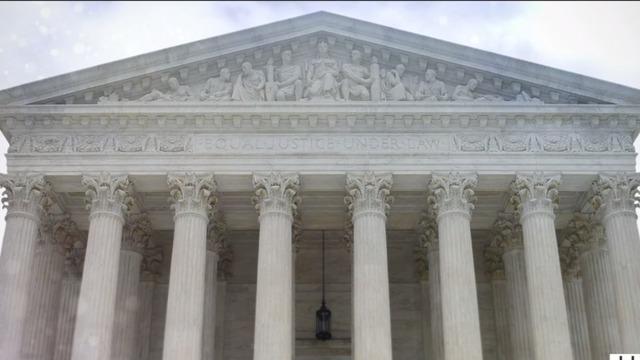 Justice Department files DACA appeal with Supreme Court
The Department of Justice on Thursday asked the U.S. Supreme Court to take up a case in which a judge temporarily blocked the Trump administration from ending the Deferred Action for Childhood Arrivals program. The DOJ asked the Supreme Court to review a decision in the Department of Homeland Security v. Regents of the University of California, essentially asking the highest court in the land to leapfrog lower courts.
Earlier this week, the administration appealed a district court's ruling -- temporarily blocking the end of DACA -- to the 9th Circuit Court of Appeals. That court has yet to hear the case.
"It defies both law and common sense for DACA -- an entirely discretionary non-enforcement policy that was implemented unilaterally by the last administration after Congress rejected similar legislative proposals and courts invalidated the similar DAPA policy -- to somehow be mandated nationwide by a single district court in San Francisco," Attorney General Jeff Sessions said in a statement earlier this week, before the request was officially made to the Supreme Court. "It is clear that Acting Secretary Duke acted within her discretion to rescind this policy with an orderly wind down. This was done both to give Congress an opportunity to act on this issue and in light of ongoing litigation in which the injunction against DAPA had already been affirmed by the Supreme Court. We are now taking the rare step of requesting direct review on the merits of this injunction by the Supreme Court so that this issue may be resolved quickly and fairly for all the parties involved."
The request comes as Congress is battling over what to do about DACA, which expires March 5. Mr. Trump suddenly announced he would end protections for immigrants who came to the U.S. illegally but as children, leaving the problem for Congress to fix.
Last week in a meeting with congressional leaders, President Trump said he would support a clean DACA bill. But later, he said any such bill would also have to include border security reforms and immigration for a wall bordering the U.S. and Mexico.
CBS News' Paula Reid contributed to this report.
Thanks for reading CBS NEWS.
Create your free account or log in
for more features.