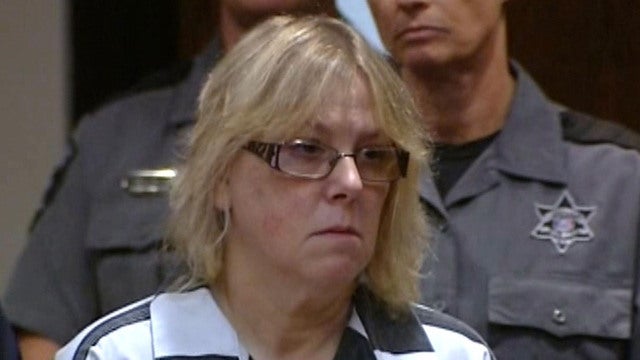 Joyce Mitchell's confession: A tale of sex, subterfuge
The written confession of Joyce Mitchell, the woman who helped killers Richard Matt and David Sweat escape from a New York prison in June, tells a tale of sex and subterfuge, reports CBS News correspondent Anna Werner.
The 51-year-old former prison supervisor said Matt "made [her] feel special."
In April of this year, they were alone and Mitchell said he "grabbed [her] and kissed [her]....with an open mouth kiss."
In May, Mitchell described more physical contact. Then that same month, Matt asked for something unusual: "two hacksaw blades," she wrote.
She later discovered "inmate Matt and inmate Sweat had cut a hole in the wall and were going down into the pipes."
Mitchell said she kept their secret for weeks, explaining "Matt told me they were getting out and we were all going to be together."
Mitchell denied she ever had a "physical relationship" with Sweat, although she admitted to taking some "naked photos" of herself for Matt to give to Sweat.
Mitchell also revealed in her confession Matt had given her "two pills to drug [her] husband Lyle" so she could sneak out of the house and pick them up outside the prison. But it didn't happen. Mitchell said she suffered a panic attack and went to the hospital instead.
Tuesday, Mitchell cried as she entered a guilty plea to one felony and one misdemeanor charge just weeks after admitting to investigators she helped Sweat and Matt with their escape.
"She got in over her head into something she never should have started but she did," Mitchell's attorney Stephen Johnston said.
Mitchell's husband Lyle sat behind her in court.
"He's upset, there's no question about it, but he's clearly been sticking behind his wife does not believe the allegations of a conspiracy for murder," Johnston said.
Mitchell is expected to be sentenced from two and one-third years to seven years in prison. District Attorney Andrew Wylie said on Tuesday, had Mitchell not agreed to plead guilty, she may have faced more charges.
Thanks for reading CBS NEWS.
Create your free account or log in
for more features.