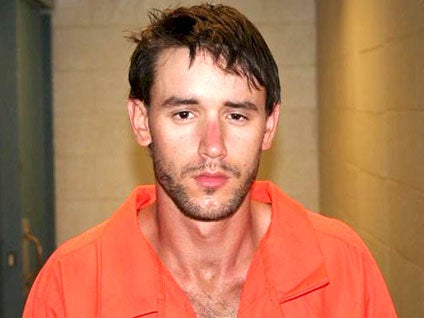 Joshua Komisarjevsky, Conn. home-invasion killer, tries not to think about murders
(CBS/AP) SOMERS, Conn. - Joshua Komisarjevsky, convicted killer of Connecticut woman Jennifer Hawke-Petit and her two daughters, said in a death row interview that he suffers no nightmares and has nothing to say to the only survivor of the brutal 2007 attack.

Pictures: Petit Family Murders
"I try really hard not to think about it," Komisarjevsky said Monday of the crime.
Komisarjevsk, 31, told The Associated Press in his first interview since he was convicted that there isn't anything he could say to Dr. William Petit "that will restore the lives lost."
He also declined an opportunity to express remorse for the killings.
"I guess my reaction is not the reaction society expected," Komisarjevsky said.
He was convicted last year in a crime that unsettled notions of suburban safety and featured prominently in Connecticut's death penalty debate. He said he agreed to speak to a reporter out of curiosity.
Komisarjevsky and his co-defendant, Steven Hayes, were both convicted of the murders. Hayes raped and strangled Hawke-Petit, while Komisarjevsky sexually assaulted her 11-year-old daughter, Michaela. The preteen girl and her 17-year-old sister, Hayley, were then tied to their beds and died of smoke inhalation after the house was doused in gas and set on fire.
Last month, Connecticut Gov. Dannel P. Malloy signed a new law that ends the state's death penalty for future crimes but does not apply to those already on death row. Many had insisted that the death penalty remain for previous cases so that Komisarjevsky and Hayes would not be spared.
"In order for some to swallow this bitter pill, it was inevitable that we would be left out," Komisarjevsky said.
In the last half-century, Connecticut has executed only one inmate - serial killer Michael Ross, who was put to death in 2005 after voluntarily waiving his appeals.
"I don't think I'll be executed against my will," Komisarjevsky said. "I think if I volunteer the state will execute me."
Asked if he would consider volunteering, Komisarjevsky said, "I have my days. I think everybody on death row has their days. Some days you'd consider it. Some days you don't."
Still, he said he feels a responsibility to "those who stand behind me," saying they would be hurt by his execution. He didn't specify who his supporters were, although he said his parents and a few friends visit him in prison.
"The reality of my situation is that I'm going to die in prison," he said. "It's simply a matter of what age. It's a very surreal experience to be judged so worthless that society wants you dead."
Asked if he is remorseful, he did not offer a direct answer. He said he has trouble expressing emotion.
"I like everyone else has to get up every day and look in the mirror," Komisarjevsky said.
Complete coverage of the Petit family murders on Crimesider
Thanks for reading CBS NEWS.
Create your free account or log in
for more features.