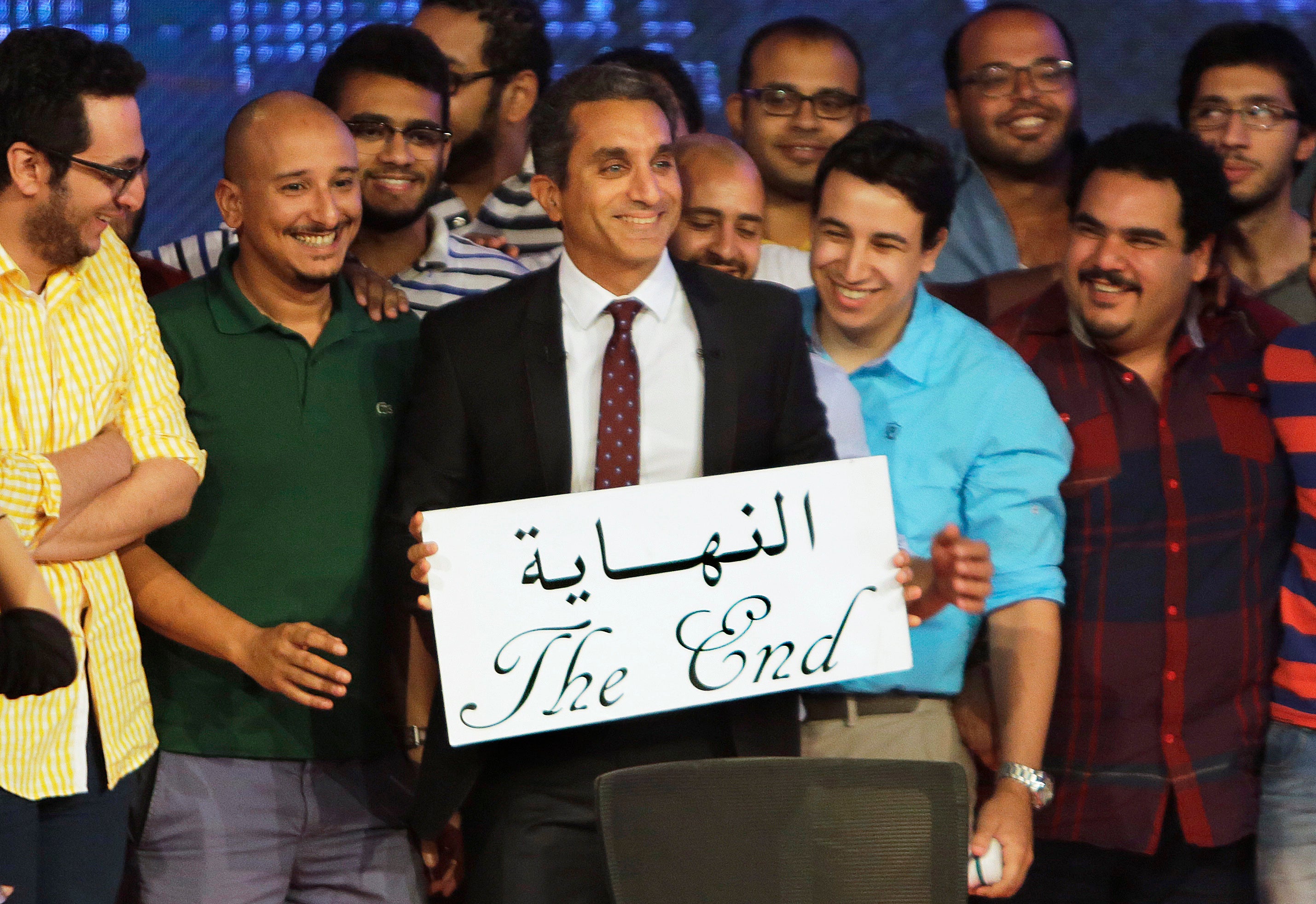 Jon Stewart bids farewell to Egyptian comic
Jon Stewart opened last night's broadcast of "The Daily Show" by bidding farewell to Egyptian comic Bassem Youssef -- who some call "The Jon Stewart of Egypt" - after learning that Youssef's popular comedy show would no longer air.
"Bassem Youssef and his team did a tremendous show under harrowing conditions," Stewart said last night. "And while they're not on the air for now, their work will continue to inspire us all here at this show."
Youssef held a press conference earlier in the day to announce that he would end his political comedy show, "El-Bernameg," because of mounting pressure from the government and fear for his family's safety.
"I'm not a revolutionary and I'm not a warrior. I was expressing my views once a week. The present climate in Egypt is not suitable for a political satire program," Youssef told reporters. "I'm tired of struggling and worrying about my safety and that of my family."
Youssef modeled his television program on "The Daily Show," and the two comics struck up a friendship. As Youssef struggled to produce comedy under threat of prosecution and physical harm from Egyptian authorities, Stewart made a public show of support by traveling to Cairo to appear as a guest on "El-Bernameg." In turn, Youssef came to the U.S. and appeared twice as a guest on "The Daily Show."
In March, Stewart spoke to 60 Minutes about his support of Youssef's comedic efforts, calling him "heroic" and "amazing." To hear the two men talk about their relationship and to see their appearances on each other's shows, watch the Overtime video in the player above.
Youssef closed shop on his popular satire just days after former Egyptian military chief Abdel Fattah el Sisi won the presidential election in Egypt.
Last night on "The Daily Show," Stewart mocked Egyptian authorities for pressuring Youssef to fold: "Sisi says, 'I will show my people what a powerful and courageous leader I am by making sure that guy doesn't make fun of our sectarian violence, 14 percent unemployment and hyper-inflated food prices'... Why get rid of injury when you can get rid of insult?"
Thanks for reading CBS NEWS.
Create your free account or log in
for more features.