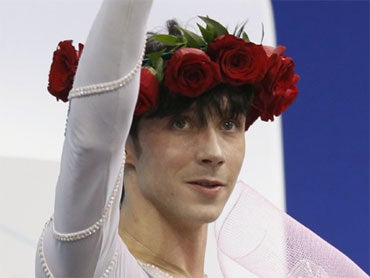 Johnny Weir, Figure Skater, Comes Out as Gay
Never a fan of labels, Johnny Weir is giving himself one: He's gay.
The figure skater comes out in his new book, "Welcome to My World," but said in an excerpt published in the Jan. 17 issue of People magazine that being gay "is the smallest part of what makes me me."
"I'm not ashamed to be me," Weir wrote. "More than anyone else I know, I love my life and accept myself. What's wrong with being unique? I am proud of everything that I am and will become."
PICTURES: Out in the Spotlight
Weir's autobiography will be released Tuesday. He starts a book tour in New York the same day.
The three-time U.S. champion is one of skating's most colorful, oversized and popular personalities, and he enjoys challenging convention. He once posed for a photo shoot in a skirt and stilettos, and was targeted by animal-rights activists after adding white fox fur to one of his costumes at last year's U.S. championships.
But he repeatedly avoided questions about his sexual orientation, saying he didn't want to be defined by labels. After broadcasters on French-language RDS made derogatory comments about Weir's masculinity during last year's Vancouver Olympics, the skater again refused to answer the question, saying he wanted people to see him "for who I am, not what I am."
"All the gay websites couldn't figure out why I was such a jerk that I wouldn't talk about it," Weir wrote. "But pressure is the last thing that would make me want to 'join' a community. ... The massive backlash against me in the gay media and community only made me dig my 'closeted' heels in further."
Asked why he decided to come out now, Weir told People he never felt he was in the closet. His parents have always supported him, and his sexual orientation is "not an issue" with his family. But Weir knows that isn't the case for everyone, particularly teenagers.
"With people killing themselves and being scared into the closet, I hope that even just one person can gain strength from my story," Weir told People.
In his book, Weir said he realized "there was something different about me" as a 6-year-old when he watched "Pretty Woman" and was attracted to Richard Gere. He writes about being picked on by students in middle school after he started skating, and finding a haven at the ice rink.
"By puberty, I knew that I was gay," he wrote. "But I didn't worry about it much. As a serious skater, I was way too busy."
Weir, who is currently in Russia, is taking the year off from competition. But he hasn't ruled out returning in hopes of making a run at the Sochi Olympics in 2014.
Thanks for reading CBS NEWS.
Create your free account or log in
for more features.