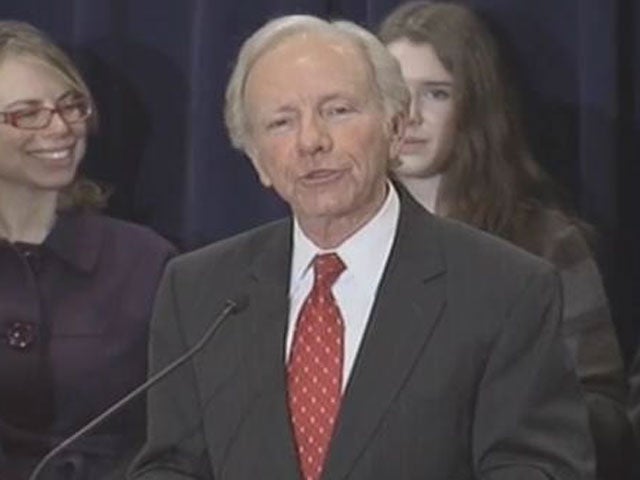 Joe Lieberman Urges Unity as He Prepares for "Next Chapter"
In a Stamford press conference on Wednesday, Independent Sen. Joe Lieberman of Connecticut confirmed reportsthat he will not seek re-election in 2012, joking that he had promised his wife he'd leave the Senate "when Regis leaves television."
"This was not an easy decision for me to make ...but I know it is the right decision," Lieberman said.
"I have decided it is time to turn the page to a new chapter, and so I will not be a candidate for re-election to a fifth term in the U.S. Senate in 2012," he continued. "I have loved serving in the Senate and I feel good about what I have accomplished. But I know it is the right decision and, I must say, I am excited about beginning a new chapter of life with new opportunities."
Lieberman, flanked by his wife, children, and grandchildren, pledged to continue to work for his constituents in the coming years - and said that his decision to retire could perhaps help him serve them more effectively.
"I do not intend today to be the end of my career in public service," Lieberman said. "Having made this decision not to run enables me to spend the next two years in the Senate devoting the full measure of my energy and attention to getting things done for Connecticut and for our country."
An independent who caucuses with Democrats, Lieberman would likely have faced an uphill battle for re-election: he has over the years alienated Democrats and Republicans alike with his moderate views on a number of issues, including gay rights (which he supports), the wars in Afghanistan and Iraq (of which he was a strong advocate) and the 2008 presidential bid of Republican John McCain (for which he actively campaigned). In 2006, Lieberman lost the Senate Democratic primary to Ned Lamont, and proceeded to run - and win - as an Independent candidate.
"I know that some people have said that if I ran for reelection, it would be a difficult campaign for me. So what else is new? It probably would be a difficult campaign for me," Lieberman acknowledged. "But I have run many difficult campaigns before."
He added: "I've never shied from a good fight and I never will."
In his remarks, the 68-year-old, four-term senator emphasized his long-touted belief in putting the interests of voters ahead those of political partisanship.
"Along the way, I have not always fit comfortably into conventional political boxes--Democrat or Republican, liberal or conservative. I have always thought that my first responsibility is not to serve a political party but to serve my constituents, my state, and my country, and then to work across party lines to make sure good things get done for them," Lieberman said.
Noting that his political career was inspired by John F. Kennedy, Lieberman said the two had fought for many of the same things: "service to country, support of civil rights and social justice, pro-growth economic and tax policies, and a strong national defense - so maybe that means JFK's politics wouldn't fit neatly into today's partisan political boxes any more either," Lieberman said.
He also urged for unity among Congress.
"Whatever the partisan or policy differences that divide us, they are much less important than the shared values and dreams that unite us and that require us to work together to make progress for all," Lieberman said. "To me, that is what public service and leadership is all about."
In a statement following Lieberman's announcement, Democratic Senatorial Campaign Committee Chairman Senator Patty Murray pledged that his seat would "stay Democratic in 2012."
"For 22 years, Joe Lieberman has been an independent voice for the people of Connecticut and has served in the Senate with distinction," Murray wrote. "Democrats will win this seat next November. Connecticut is one of the few states in the country that withstood fierce Republican headwinds last cycle. With President Obama at the top of the ticket and a galvanized Democratic electorate, this seat will stay Democratic in 2012."
Lieberman is the third Senator so far who has said he will not run for re-election in 2012: North Dakota Democratic Senator Kent Conrad announcedhis impending retirement yesterday, and Republican Senator from Texas, Kay Bailey Hutchison, made a similar announcementlast week.
Thanks for reading CBS NEWS.
Create your free account or log in
for more features.