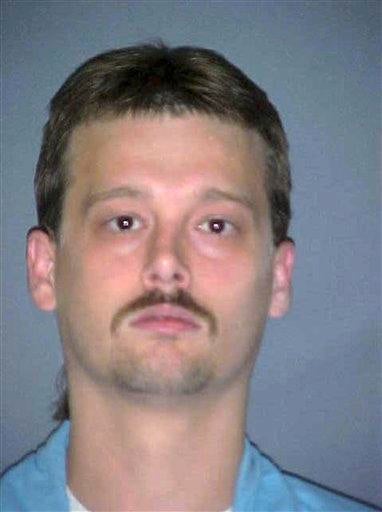 Jeffrey David Matthews Execution: Oklahoma Executes Inmate for '94 Slaying of 77-Year-Old Great-Uncle
MCALESTER, Okla. (CBS/AP) Jeffrey David Matthews, an Oklahoma death row inmate whose execution was postponed three times, was executed Tuesday for the 1994 murder of his 77-year-old great-uncle.
Matthews, 38, was pronounced dead at 6:09 p.m. at the Oklahoma State Penitentiary, according to a state Department of Corrections spokesman.

Matthews was convicted of first-degree murder in the death of Otis Earl Short, who was shot during a robbery at his home.
Matthews, strapped to a hospital gurney with needles in his arms, addressed six family members who witnessed his execution.

Some of the prison's 76 other death row inmates loudly banged the heavy steel doors of their cells in tribute to the condemned man.
"Let my mother know I love her," Matthews said as he looked through a window separating the death chamber from the room where family members and spectators were seated.
"I love you, too," replied a woman, whose name wasn't released by prison officials.
"I just want to thank everyone for their support," Matthews continued. "I also want to thank all my buddies on death row. I hear you banging."
Matthews said he left final notes to his family as well as the family of the victim, but he never directly addressed 10 of the victim's family members who also witnessed the execution.
"I hate to see you all in this situation," Matthews told his relatives. "I'm sitting here enjoying my last moments. Enjoy your lives."
Shortly before the lethal drugs began flowing at 6:04 p.m., Matthews looked at his family members and said with a smile: "I think that governor's phone is broke. He hadn't called yet."
Former Gov. Brad Henry twice granted stays last year to give defense attorneys time to investigate Matthews' claims of innocence.
A third stay was granted after defense attorneys objected to plans to substitute a drug in his lethal injection.
Prosecutors contended that Matthews was one of two men who stormed into Short's home east of Rosedale. Trial testimony indicated Matthews shot Short once in the head at close range with a .45-caliber pistol and that the second man, Tracy Dyer, cut the throat of his wife, Minnie Short.
The men searched the house for almost two hours, eventually leaving in Otis Short's truck with $500 in cash and a .32-caliber pistol. Minnie Short survived the attack but later died of natural causes. Matthews was arrested the day after the attacks.
Matthews is the second Oklahoma inmate executed this year.
Thanks for reading CBS NEWS.
Create your free account or log in
for more features.