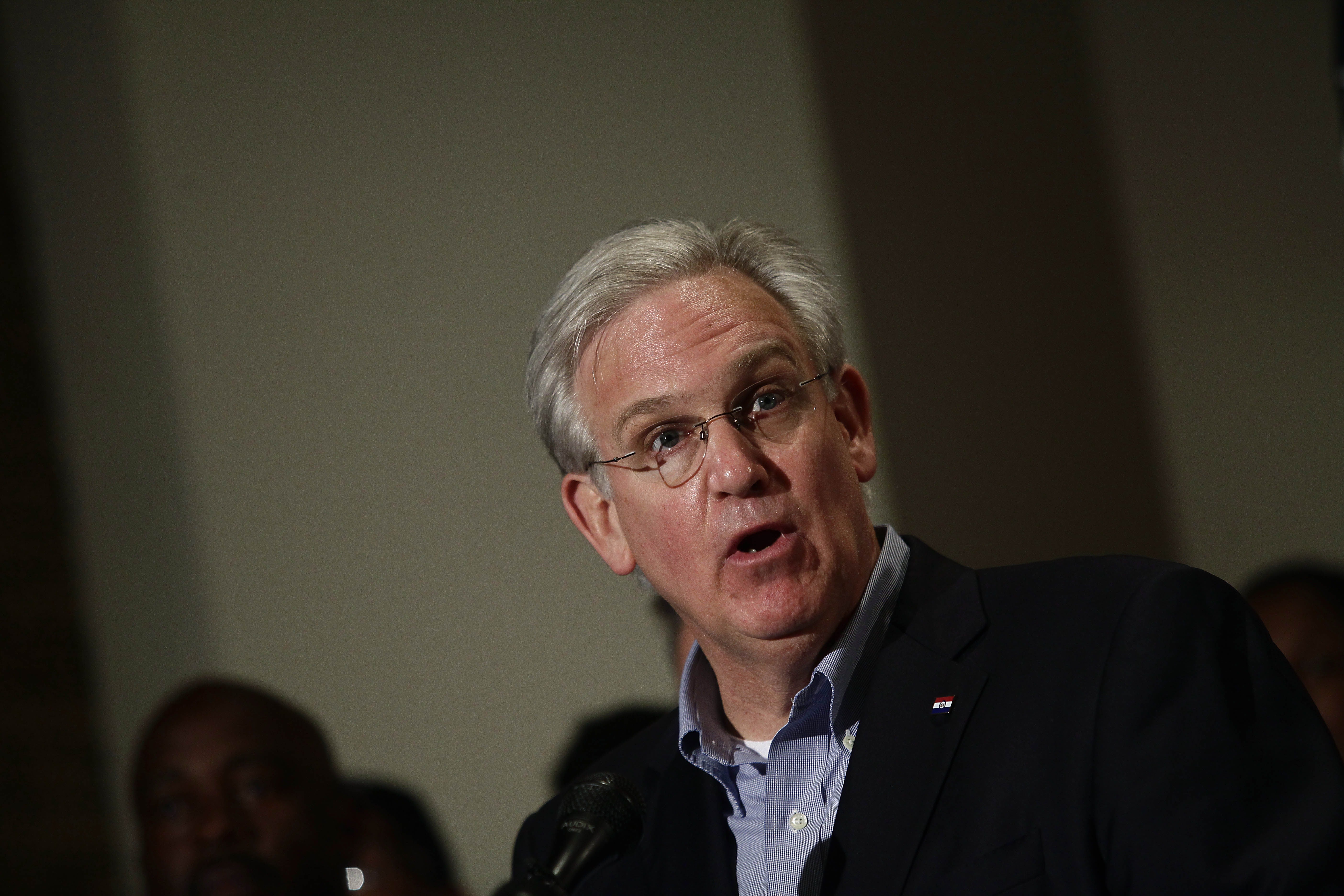 Jay Nixon on possibility of controversial Ferguson cop being charged
It's a possibility the police officer who shot and killed unarmed black teenager Michael Brown earlier this month may not ultimately face charges stemming from the incident, Gov. Jay Nixon, D-Mo., acknowledged Sunday.
The shooting by Ferguson, Mo., police officer Darren Wilson, who is white, sparked several weeks of heated protests and racially charged confrontations between law enforcement officers and protesters in the small town.
Nixon told CNN he's confident "justice will be served" in the case, but he suggested it's a possibility that no charges will be filed.
"All of those things could happen," he said when pressed on a range of possible conclusions.
Nixon also defended the local prosecutor in charge of the case, Robert McCulloch, who has faced questions about his ability to oversee a fair investigation. Critics point to McCulloch's decision in 2000 to not charge two police officers who killed two unarmed black men.
McCullogh "has the office that people here have elected him. And, you know, you don't want to pre-judge any of this," Nixon said. "I do know that everybody is working hard. I think the Justice Department being involved, the local prosecutor being involved, the investigators being involved -- there is a lot of folks working on the street out there to make sure they get this one right."
The incident in Ferguson and the heated protests that resulted prompted President Obama this week to order a review of a program conferring military-grade equipment on local police departments after some deemed the police response to the protests excessive.
Nixon welcomed that review, saying it's an "appropriate" step and a "worthy discussion that we ought to have around the country."
Attorney General Eric Holder, who visited Ferguson this week, also applauded the president's decision in a statement released Saturday.
"This equipment flowed to local police forces because they were increasingly being asked to assist in counterterrorism," Holder said. "But displays of force in response to mostly peaceful demonstrations can be counterproductive. It makes sense to take a look at whether military-style equipment is being acquired for the right purposes and whether there is proper training on when and how to deploy it."
Former New York City Police Commissioner Ray Kelly, who played a key role in the law enforcement response to the terrorist attack on September 11, 2001, told ABC News that the program has been "very positive" for law enforcement, but he allowed that some tweaks may be needed.
"I think the military equipment, the distribution of excess military equipment, has to be examined," he said. "The optics...are not good. People get uneasy when they see Humvees, military vehicles, heavy weapons. I think the fundamental question is what is the need? Do we need that equipment? And does it make people feel like the police are...occupying on me?"
Rep. William Lacy Clay, D-Mo., who represents Ferguson in Congress, said Sunday that he was "alarmed" by the police response to protesters, and he welcomed the review of the equipment transfer program.
"I went to Ferguson and walked with the demonstrators and saw this heavily armed police force, tactical units pointing sniper rifles at my constituents who were there exercising their constitutional rights," he told CBS News' "Face the Nation." "So that is what alarmed me, and I applaud and appreciate the president's quick response to our concerns."
And Sen. Rand Paul, R-Ky., offered some bipartisan cover for the argument that the program ought to be re-examined, questioning the necessity of providing millions of dollars in high-tech equipment to law enforcement officers in remote areas.
"Homeland Security gave $8 million to Fargo to fight terrorism in Fargo, North Dakota," Paul told NBC News. "And I say if the terrorists get to Fargo, we might as well give up."
Thanks for reading CBS NEWS.
Create your free account or log in
for more features.