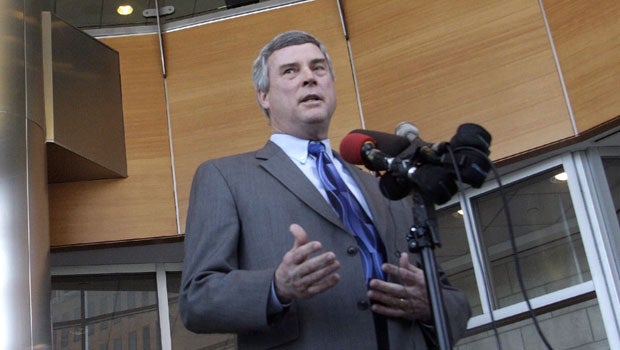 Background of prosecutor in Ferguson case has some questioning probe's credibility
FERGUSON, Mo. - The Missouri prosecutor overseeing an investigation into the fatal shooting of 18-year-old Michael Brown has deep family roots among police: his father, mother, brother, uncle and cousin all worked for St. Louis' police department, and his father was killed while responding to a call involving a black suspect.
The connections now are being cited by some local residents and black leaders who question whether St. Louis County Prosecuting Attorney Bob McCulloch can remain impartial. Brown, who was black, was fatally shot in the St. Louis suburb of Ferguson on Aug. 9 by local police officer Darren Wilson, who is white.
Grand jurors may begin hearing the case Wednesday, though it could be weeks before they decide whether to indict Wilson on state criminal charges. The U.S. Justice Department is conducting a separate civil rights investigation, which could also result in charges.
President Obama said Monday that he is dispatching Attorney General Eric Holder to Ferguson to meet with FBI agents and Justice Department personnel conducting the federal criminal investigation into the shooting.
A private autopsy, commissioned by Brown's family, was conducted Sunday. But CBS correspondent Bob Orr reported that it is not likely to be considered by prosecutors. Dr. Michael Bade, the pathologist who did the autopsy said he did not find gunpowder on Brown's body, which suggest the shooting was not at close range, but he couldn't be sure because Brown's clothes were unavailable.
He also did not see X-rays taken that would show exact bullet wound locations on the body. However, an autopsy done by St. Louis County will be used by prosecutors. But because of wide public distrust, the Justice Department will conduct a third autopsy on Brown.
McCulloch's spokesman, Ed Magee, said Monday that the prosecutor plans to remain in charge of the case, despite mounting pressure to step aside amid violent clashes between police and protesters demanding that Wilson be charged.
McCulloch, a Democrat who has been in office since 1991, referenced his father's death in his initial campaign. He survived a Democratic primary earlier this month and faces no Republican opposition in his re-election bid.
Protesters questioned his objectivity when grand jurors returned no charges against two officers who fired 21 bullets into a vehicle in June 2000, killing two black men during an attempted drug arrest.
But at the time, McCulloch said his father's 1964 shooting by a black man at a public housing complex was an "incredibly irrelevant facet" as he sought to "make sure everybody gets a full and fair hearing." McCulloch was 12 when his father was killed.
U.S. attorneys also reviewed the case and decided a year later not to bring any civil rights charges against the officers.
In Ferguson, a predominantly black suburb of St. Louis, many residents say they have long been harassed and intimidated by the police department, which has just three black officers on its 53-member force. They also have little confidence in McCulloch.
"He's not going to prosecute the police officers," said Robert Fowler, a 48-year-old electrician. "In the ghetto ... every police officer, he's letting go free. They call it justifiable homicide."
McCulloch recently told CBS affiliate KMOV: "I've been as fair and impartial and done as thorough of a job as we could."
Police allege that Brown failed to move out of the center of the street when Wilson asked him to, and a scuffle ensued before he was shot. Witnesses say Brown had his hands up as Wilson fired multiple rounds.
Wilson, a six-year police veteran who had no previous complaints against him, has been on paid administrative leave since the shooting. Associated Press reporters have been unable to contact him at any addresses or phone numbers listed under that name in the St. Louis area.
In some other prominent cases - most notably, the 2012 racially charged shooting of 17-year-old Trayvon Martin in Florida - special state prosecutors have been appointed to determine whether to pursue charges. That at times occurred only after local authorities took no action.
But under Missouri law, it "would be highly, highly, highly unusual" for a prosecutor to step aside merely because of racial tensions in a high-profile case, said Peter Joy, a Washington University law professor who directs the school's Criminal Justice Clinic.
In Missouri, "the buck stops with the head prosecutor" in each county, Joy said.
Missouri law allows two avenues for outside prosecutors: The local prosecutor can ask for help from the governor, who can appoint the state attorney general's office to the case; or a court can appoint a special prosecutor if the elected one has a conflict of interest.
Police shootings don't automatically qualify as conflicts of interest and often are handled by local prosecutors.
"Just because the case is really hot and really controversial would not be a reason why I would seek a special prosecutor," said Eric Zahnd, a Kansas City-area prosecutor and past president of the Missouri Association of Prosecuting Attorneys.
But some black leaders - including U.S. Rep. William Lacy Clay Jr., St. Louis County Executive Charlie Dooley and state Sens. Maria Chappelle-Nadal and Jamilah Nasheed - have called on McCulloch to consent to a special prosecutor.
Nasheed started an online petition that has gotten about 25,000 signatures in four days seeking a special prosecutor.
"In the past, justice has not been achieved in these types of police shootings," said Clay, who represents the area. "So I have no comfort with local-authority prosecution, the judicial system or even police conducting a thorough and conclusive investigation that delivers justice to the family of Michael Brown."
"Simply put: he has a natural bias," added Chappelle-Nadal. "My community doesn't trust him."
Thanks for reading CBS NEWS.
Create your free account or log in
for more features.